'QAnon Shaman' Jake Angeli Willing to Testify at Donald Trump's Impeachment Trial
U.S. Capitol rioter Jacob Anthony Chansley, also known as "QAnon Shaman" Jake Angeli, has indicated his willingness to testify in the impeachment trial of former President Donald Trump, his lawyer told Newsweek on Friday.
Speaking to Newsweek by phone, attorney Albert Watkins said his client, who was arrested on January 9, "accepts responsibility" for having been incited by Trump and "feels strongly that he needs to do everything he can to help the government."
"He has come to the conclusion and been made acutely aware of the fact that what has happened is instead of being the patriot who's trying to help his president save his country, he was made the fool," Watkins said.
"If there's going to be something more than a circus proceeding with clowns doing backflips during the impeachment proceedings, you have to have someone who was incited testify," the lawyer added.
An adherent to the radical QAnon conspiracy theory, Chansley's eccentric get-up rendered him one of the most recognizable faces of the attack. The Arizona native roamed the Capitol's halls shirtless with an American flag in hand, wearing face paint and a furry hat with horns. He had previously appeared at pro-Trump rallies in the same outfit.
The 33-year-old was charged with civil disorder, obstruction of an official proceeding, entering and remaining in a restricted building, disorderly and disruptive conduct in a restricted building, violent entry and disorderly conduct in a Capitol building, as well as parading, demonstrating and picketing in a Capitol building.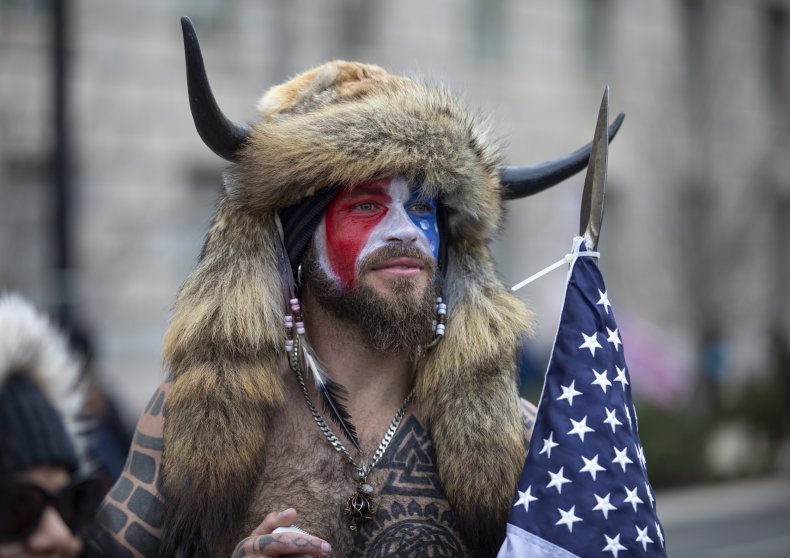 Watkins blamed President Trump for his client's involvement of the storming of the Capitol, which left five dead.
"President Trump has spent his adult life honing and perfecting, either by design or by absence of mental acuity, the art of speaking in a fashion which does not involve a subject, a verb, a direct object, and a period," he told Newsweek. "He has spent the better part of four plus years [...] saying things that are erroneous, misleading, some outright lies."
Chansley, who requested a pardon from Trump that never materialized, had previously expressed feeling betrayed by the former president.
"You're disillusioned when you are under the spell of a man that you love, that's your president, that you believe in, that you believe in his words, you act in reliance of those words, and now you find yourself in jail," Watkins told Newsweek.
"And he walked into the sunset down to Florida with his back squarely turned toward my client and others [...] and he pardoned his cronies, and he pardoned Lil Wayne, and my client and others who feel like they really did heed the call of the president did, in fact, feel betrayed," he continued.
Watkins said he has not directly spoken with senators or representatives about getting his client to testify during the impeachment proceedings.
This week, another insurrectionist gone viral faced a hurdle after a judge blocked his release.
Eric Gavelek Munchel, also known as "zip tie guy," was seen holding plastic hand restraints inside the Capitol building in photos widely viewed as disturbing.