QAnon Supporter Marjorie Greene Who Said Muslims 'Marry Their Sisters' Wins Georgia Primary
A QAnon believer who reportedly made a string of racist comments could be set to take a seat in the U.S. House of Representatives next year after winning a primary runoff in a heavily Republican district on Tuesday.
Marjorie Greene, who has professed her belief in the discredited conspiracy theory, won the runoff election against neurosurgeon Dr. John Cowan in Georgia's 14th Congressional District, according to The Associated Press. Greene thanked supporters on Twitter and vowed to "stop socialism" after she beat Cowan by nearly 20 percent with 72 percent of the vote counted on Tuesday night.
Greene, who describes herself as a "conservative wife, mother, and businesswoman who 100% stands with President Trump and against the left-wing socialists who want to wreck our country," also received the most votes in Georgia's June primary. She more than doubled Cowan's total but failed to reach a threshold that would have avoided a runoff.
The GOP candidate has been under fire for months over past remarks that indicate her support of the popular conspiracy, which claims without evidence that Satan-worshipping Democrats involved in a child sex trafficking ring are secretly working against President Donald Trump as part of a "deep state."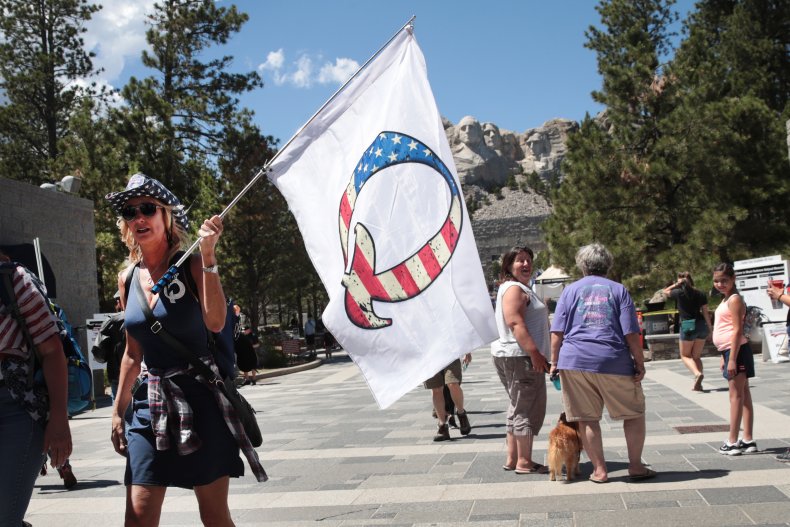 In one video originally posted by Greene, she praised "Q," the alleged "informant" in the conspiracy theory that began in 2017, as "a patriot." It is not clear whether "Q" is even a single person, let alone an informant, since the supposed figure posts anonymously to online messaging boards, typically making failed predictions forecasting that Trump is about to arrest prominent figures who are secretly part of the plot against him.
She has also been criticized by politicians and pundits of both parties who say she has a history of engaging in racist rhetoric. Politico reported in June that Greene had posted several hours of footage to Facebook that included comments comparing Black Lives Matter activists to the Ku Klux Klan and insisting that Black people should be "proud" of Confederate monuments while calling them "slaves to the Democratic party."
She also is said to have dubbed Democratic victories in the 2018 midterms "an Islamic invasion" and denounced Muslims as pedophiles who "marry their sisters," while comparing George Soros, a Jewish philanthropist who is a popular figure in right-wing conspiracy theories, to a Nazi.
"Ms. Greene's words are outrageous and agonizing for the Black, Jewish and Muslim communities that she would be representing were she to win this seat," Abdullah Jaber, the executive director of the Georgia chapter of the Council on American-Islamic Relations, said in a statement obtained by Newsweek.
Several figures of both parties denounced Greene's comments and endorsed her opponent in the runoff, including some who could find themselves working with Greene next year if she wins in November.
"The comments made by Ms. Greene are disgusting and don't reflect the values of equality and decency that make our country great," House Minority Whip Steve Scalise said in a statement to Politico. "I will be supporting Dr. Cowan."
However, several other prominent Republican figures have endorsed Greene despite her rhetoric, including congressmen Matt Gaetz, Andy Biggs and Jim Jordan.