Georgia's 14th congressional district looks likely to become represented by a believer in the "QAnon" conspiracy theory, after a devotee's strong showing in Tuesday's primary.
Candidate Marjorie Greene has professed support for the far-right conspiracy theory and other extremist views multiple times on social media. After Tuesday's primary she touted her devotion to President Donald Trump while denouncing "lawless" Democrats who she claims are in favor of crime.
"President Trump needs me in Congress to have his back against these Socialist Extremist Pro-Criminal Democrats and their radical anti-American agenda," Greene said in a Facebook post on Wednesday. "Democrats are now the party of lawlessness. They defend looters and rioters. They want to cut our police. And they want to open our borders and make America a Socialist country."
Greene did not win the primary outright and will face neurosurgeon Dr. John Cowan in an August 11 runoff election. However, her chances of winning the runoff look good after gaining 41 percent of the vote compared to Cowan's 19 percent. The winner of the GOP primary is also likely to win the general election in November, as the district is heavily Republican.
Greene, a construction company owner who has largely self-financed her run, has reportedly spent over $1 million dollars on the campaign. Her potential Democratic challenger, Kevin Van Ausdal, is said to have around $1,000 in cash on hand. In addition to financial and demographic advantages, she enjoys the support of several prominent Republicans, including endorsements from GOP congressmen Matt Gaetz and Jim Jordan.
On Tuesday, Greene expressed outrage after Facebook removed a campaign video featuring her posing with an AR-15 assault rifle while urging "antifa," or anti-fascist activists, to "stay the hell out of northwest Georgia." Facebook said the ad violated a policy against encouraging gun violence. Greene told Fox News that the social media platform was "defending terrorists."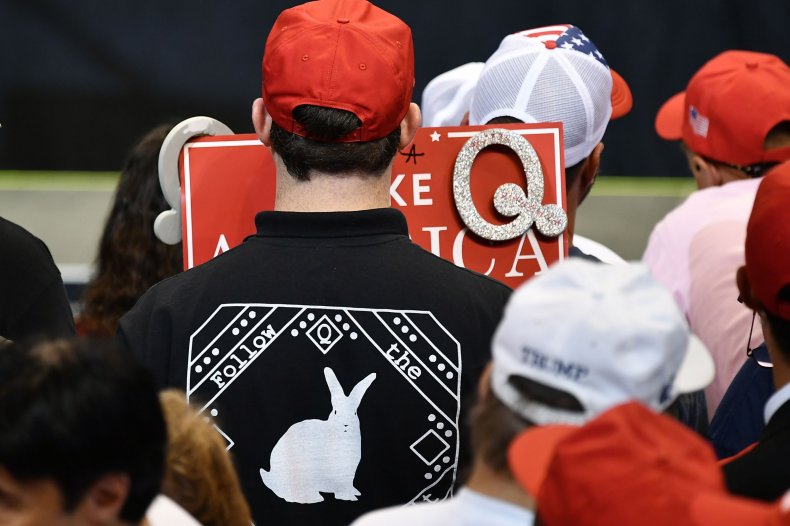 Last month, The Atlanta Constitution-Journal reported that Greene was one of at least two Georgia GOP candidates for Congress photographed posing with right-wing activist Chester Doles. Doles is a convicted felon who was a leader in the Ku Klux Klan with ties to several other white supremacist groups, although he claims his current "American Patriots USA" group is free of racism.
Newsweek reached out to Greene for comment. This article will be updated with any response.
The QAnon conspiracy theory centers on anonymous postings from a purported informant called "Q," first appearing on the 4Chan imageboard website in 2017. Claims from "Q," which are entirely unsourced and provided without evidence, purport that Trump is fighting a "deep state" controlled by Satanists, Democrats and other "elites" who are involved in child sex trafficking and plot to destroy the president.
The conspiracy has remained popular among extremists despite "Q" repeatedly making predictions that are later proven to be false, typically forecasting that Trump is on the verge of arresting prominent figures who are secretly part of the plot against him.
On May 19, a different Republican QAnon believer won Oregon's primary election for a seat on the U.S. Senate. Jo Rae Perkins is expected to face off against incumbent Democrat Sen. Jeff Merkley in November.