Queen Camilla's Expert Recovery After Stumbling on Heel During Wales Visit
Queen Camilla made an expert recovery from a shoe mishap while on her first visit to Wales as queen consort alongside her husband King Charles III on Friday, after her heel got stuck in a crack at Llandaff Cathedral.
The royals traveled to Wales ahead of the state funeral of Queen Elizabeth II on Monday as part of an accession tour of all four nations that make up the United Kingdom.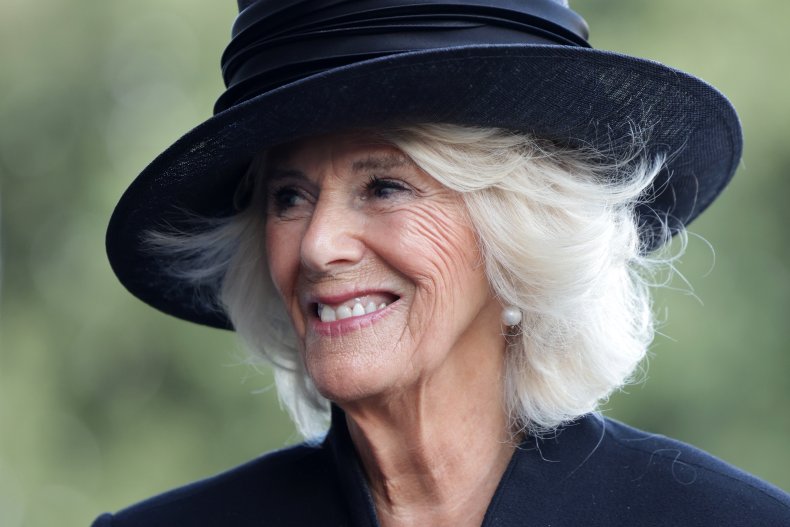 The Welsh visit started with a service of reflection and prayer for the life of the late queen who died in Scotland at the age of 96 on September 8.
After the service, Charles and Camilla processed down the aisle with members of the clergy, and at one point, the queen had to hold her husband back after her heel got stuck halfway through.
Camilla expertly handled the mishap with a smile and quickly dislodged the offending footwear before meeting with members of the local community and going on a walkabout with schoolchildren.
A video of the moment the queen realised her shoe was trapped was recorded by Sky News and uploaded to the social media platform TikTok where it has been viewed nearly half a million times.
Commenters on the clip have praised Camilla's quick recovery.
"She handled that really well," wrote one, with another adding:
"Aww she handled tht well I'd of face planted the floor lol."
"She looks like you could have a good laugh with her! 😁" read a further comment.
Following the service the king and queen attended a special session at the Senedd (Welsh Parliament) where an offer of condolence was made to Charles regarding the death of his mother.
In response, the king took the opportunity to state his admiration for Wales and the Welsh people, while passing on his title as Prince of Wales to his son, William.
"I take up my new duties with immense gratitude for the privilege of having been able to serve as Prince of Wales," he said.
"That ancient title, dating from the time of those great Welsh rulers, like Llywelyn ap Gruffudd, whose memory is still rightly honored, I now pass to my son, William, whose love for this corner of the Earth is made all the greater by the years he himself has spent here."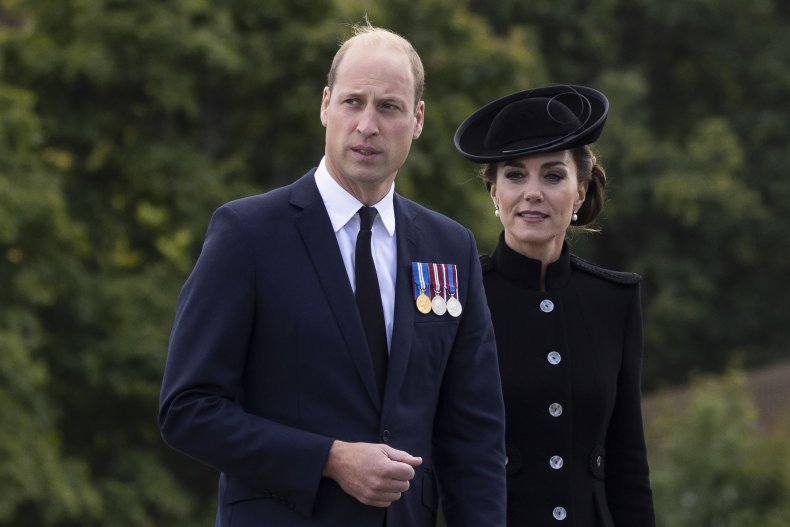 Charles made William and wife Kate the new Prince and Princess of Wales as one of his first actions as king and announced it during his address to the nation on September 10.
"Today, I am proud to create him Prince of Wales, Tywysog Cymru, the country whose title I have been so greatly privileged to bear during so much of my life and duty," he said.
"With Catherine beside him, our new Prince and Princess of Wales will, I know, continue to inspire and lead our national conversations, helping to bring the marginal to the center ground where vital help can be given."
Kate is the first royal to use the title of Princess of Wales since the death of Princess Diana 25 years ago. When Camilla married Charles in 2005, she technically became the Princess of Wales but she did not use the title out of respect for Diana, instead adopting her husband's secondary title as Duchess of Cornwall.