Queen Cancels Prince Andrew's Birthday Party after Being 'Hoodwinked' over Epstein Interview: 'He's Absolutely Finished'
The Queen has reportedly canceled Prince Andrew's birthday party after it emerged she did not sanction his interview on his ties to convicted sex offender Jeffrey Epstein.
The Sunday Times reported that the Queen will now hold only an intimate family dinner to mark Andrew's 60th birthday in February next year. She has canceled the party that she had planned to host for her second son, according to the newspaper.
Many in royal circles feel the Queen was "hoodwinked" by her son over his interview with BBC Newsnight's Emily Maitlis, according to The Times.
The newspaper cited sources close to the Queen who say that although she is "privately supportive" of Andrew, she is "deeply frustrated" at how the scandal is overshadowing the work of other members of the Royal Family. But she was photographed going horseback riding with Andrew on the grounds of Windsor Castle on Friday in an apparent show of support.
In the week after the Newsnight interview aired, Andrew announced he would be stepping back from public duties. He also reportedly resigned from his role with his flagship business project Pitch@Palace and a number of businesses, charities and universities began to cut ties with him.
More than 20 charities have ended their association with the prince, according to The Times, and he is expected to resign from 160 more imminently.
"He's absolutely finished," royal biographer Penny Juror told the newspaper. "If Andrew is no longer representing or supporting the monarch in any capacity, or doing good charitably, what's the point of him?"
Her comments came after it emerged that the Queen had not approved Andrew's interview with Newsnight, contrary to earlier reports that she had.
"The Queen did not give her approval. The fact that notion has somehow been put about has aggrieved people in the [royal] households," a royal source told The Times. The source said Andrew had a conversation with his mother, explaining that he was planning to address his ties to Epstein, but "without going into any details."
Newsweek has contacted Buckingham Palace for comment.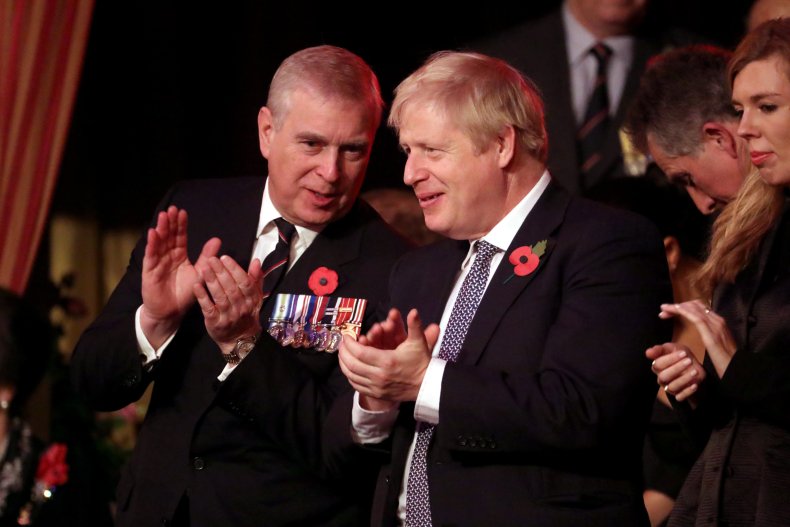 In the interview with Newsnight, Andrew spoke for the first time about his friendship with Epstein, who was found dead in his jail cell while awaiting trial on sex trafficking charges earlier this year.
He also addressed allegations that he had sex with a teenage girl Epstein had groomed. Andrew denied ever having sex with Virginia Roberts, now known as Virginia Giuffre. She has claimed she was forced to have sex with Andrew on numerous occasions starting from when she was 17.
"I can absolutely, categorically tell you it never happened," he said. "I have no recollection of ever meeting this lady, none whatsoever."
After the interview aired, Andrew faced a backlash from critics who said he expressed a lack of remorse for the friendship with Epstein and didn't show compassion for Epstein's victims.
This chart, provided by Statista, show the favorability of British royals.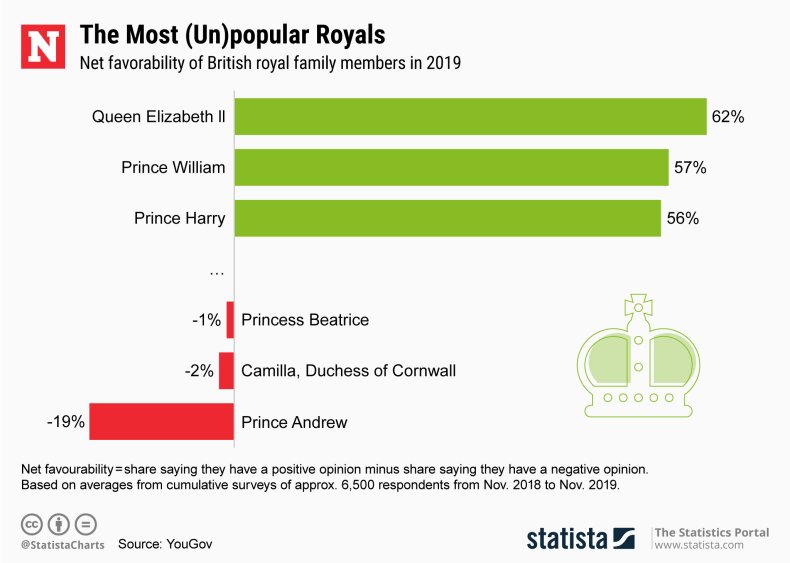 In a statement on Wednesday, Andrew said he continues to "unequivocally regret my ill-judged association with Jeffrey Epstein."
He added: "It has become clear to me over the last few days that the circumstances relating to my former association with Jeffrey Epstein has become a major disruption to my family's work and the valuable work going on in the many organisations and charities that I am proud to support.
"Therefore, I have asked Her Majesty if I may step back from public duties for the foreseeable future, and she has given her permission."
Andrew added that he would be willing to help any law enforcement agency with any investigations related to Epstein. "His suicide has left many unanswered questions, particularly for his victims, and I deeply sympathise with everyone who has been affected and wants some form of closure," he said. "I can only hope that, in time, they will be able to rebuild their lives."