Queen's Corgis Appear for Final Farewell as Funeral Procession Approaches
Queen Elizabeth's final pets were brought out to say farewell to the monarch as her coffin was driven to its final resting place at Windsor Castle.
A well known animal enthusiast, especially of dogs and horses, the queen's corgis and pony Emma waited for her funeral procession to pass by in a sweet gesture to the late monarch.
Queen Elizabeth II long loved corgis and owned more than 30 during her time on the British throne.
At the time of her death on September 8, the queen had four dogs, including two corgis named Muick and Sandy, a Dorgi called Candy, and two Cocker Spaniels.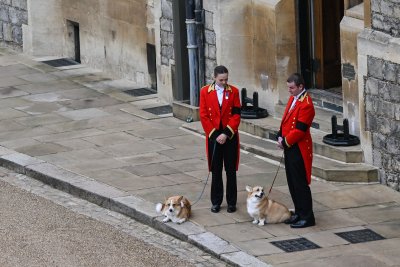 Muick and Sandy were brought out at Windsor Castle to wait for the state hearse carrying the queen's coffin to pass by on its way to the committal service at St George's chapel.
The young dogs waited patiently with palace staff outside, keeping a close eye on proceedings.
They were also comforted by Prince Andrew who gifted the dogs to his mother and will take care of them after her passing.
Also spotted waiting for her old friend was the queen's Fell pony, Emma, standing with Windsor Castle's stud groom and manager, Terry Pendry.
The 26-year-old pony was one of the queen's favorite horses and was spotted with Emma as recently as last month.
The welfare of the queen's pets was one of major concern for people around the world in the hours after her passing with many reacting to the touching moment in Windsor.
"The sad face of the front corgi had me," wrote one person on Twitter.
Another added: "Seeing the queens corgis waiting for her has me UNWELL."
And a third commented: "Openly sobbed at the queen's corgis and pony waiting for her at Windsor Castle."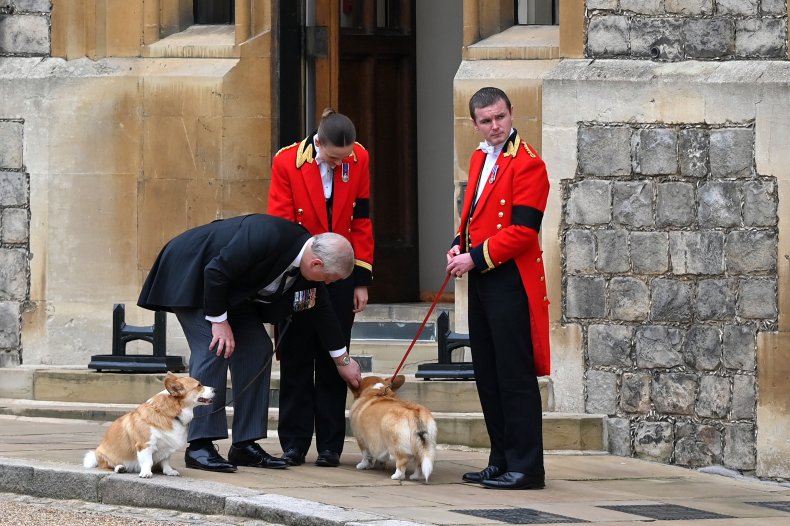 Queen Elizabeth fell in love with the corgi breed when she was still a princess and her father King George VI gifted her one of the breed for her 18th birthday.
Named Susan, the queen bred all beloved pet and all of the subsequent royal corgis descended from her.
The late queen also helped to create a new breed of dog called a dorgi, which is a combination of a corgi and daschund. The dorgi was created when one of the queen's Corgi bred with Princess Margaret's daschund Pipkin to create a cross between the two.
Queen Elizabeth II died on September 8 at Balmoral Castle in Scotland and her state funeral was held at Westminster Abbey in London on Monday.
Her coffin was then led on a procession past London landmarks including Buckingham Palace, before it was put into the state hearse for the drive to Windsor Castle.
Thousands of people lined the streets of London and the route to Windsor to bid farewell to Britain's longest-serving monarch.
Queen Elizabeth was laid to rest alongside her father, mother and sister in the Royal Vault at the George VI chapel in Windsor Castle.
Her late husband Philip who died last year, will be moved from his position in the Royal Vault to be laid next to his wife of 74 years.