Queen Elizabeth II's Most Famous Tiaras: What Happens Next?
Some of the most instantly recognizable elements of Queen Elizabeth II's ceremonial wardrobe were her array of dazzling jewels—chief among them her unparalleled collection of historic tiaras.
At every major state banquet or diplomatic reception, foreign visit and gala performance, Elizabeth II could be instantly seen in a crowd with the help of her sparkling headwear.
Throughout her 70-year reign, the late queen relied on a small number of favorite tiaras which she would wear repeatedly, from the Girls of Great Britain and Ireland tiara inherited from her grandmother to the diamond and ruby circlet designed for Queen Victoria by Prince Albert.
According to reports, Queen Elizabeth II had one of the largest private jewelry collections in the world, and now the discussion turns to what will happen to the queen's most iconic pieces after her death at the age of 96 on September 8.
Here, Newsweek looks at the queen's collection of famous tiaras, how she came to accumulate them and what will happen to them after her death.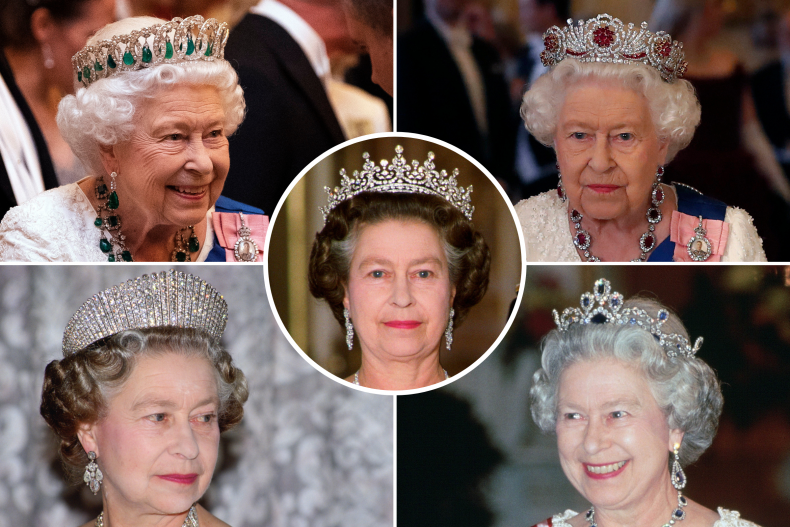 Where Did Queen Elizabeth's Tiaras Come From?
The queen amassed a large collection of tiaras throughout her lifetime, either gaining access to those designated as crown property when she became queen in 1952 or inheriting the impressive collections of her grandmother Queen Mary and mother Queen Elizabeth, The Queen Mother.
In addition to the historic pieces she inherited, the queen also added to her collection herself by having new tiaras made.
At least three grand additions to the tiara treasury were bought or commissioned by the late queen; a ruby and diamond floral motif creation, an aquamarine and diamond diadem made using stones given as a gift from the government of Brazil and a sapphire and diamond tiara fashioned from a historic necklace purchased from the estate of a European princess.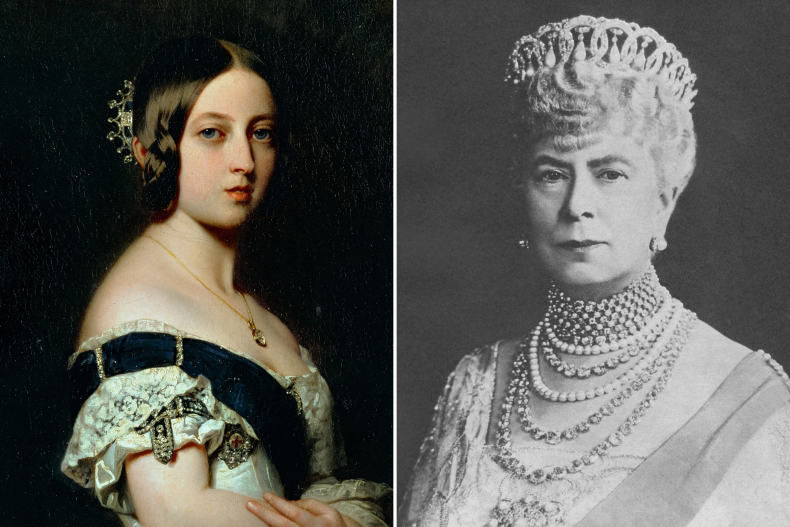 What Happens Next?
After the death of Queen Elizabeth II, all property belonging to and associated with the crown was transferred to the care of her eldest son, now King Charles III.
There is an important distinction between the queen's personal property and that of the crown. The queen's personal jewels that she was given or owns outright were hers to dispense with as she so chose. However, as other monarchs have done before her, it is likely that upon her death she bequeathed the majority of her collection to the crown for future queens to wear.
The formalization of a jewelry collection designated for the use of queens and queen consorts was undertaken by Queen Victoria who, upon her succession, inherited a number of historic pieces that until then could have been sold or given away.
With an appreciation for the historical and sentimental associations connected with jewels, Victoria's setting up of a system that kept royal jewels within the royal system meant that they would not be lost, sold or broken up.
As a result, British queens have a large and historically significant collection at their disposal.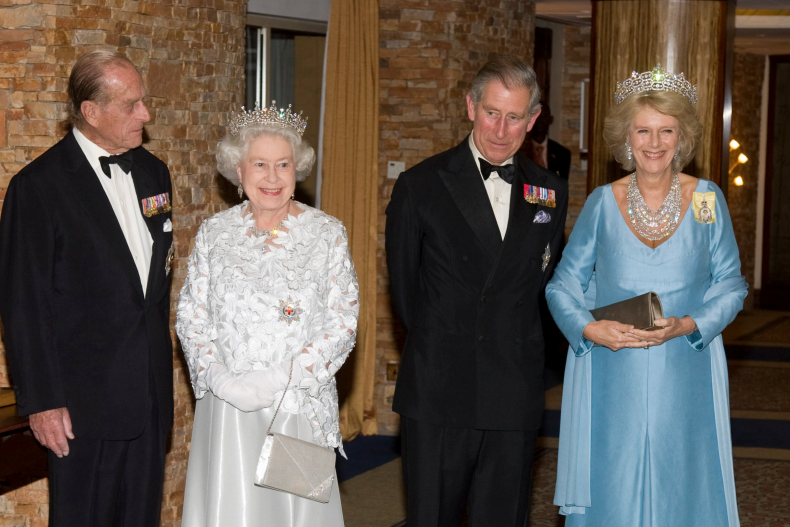 Each successive monarch or their consort has added to the crown's collection, including Queen Mary, Elizabeth II's grandmother, who had many important pieces made for her including the lover's knot tiara later worn by Princess Diana and Kate Middleton.
With the pieces left to the crown now in the custodial care of King Charles, it is likely he will put them at the disposal of his wife, Queen Camilla.
For any pieces that Elizabeth II did not choose to leave to the crown, it is possible she may have bequeathed them to family members. However, this is unlikely owing to inheritance tax structures in the U.K. Anyone who inherited a piece of jewelry of great value would likely need to sell it to pay the 40 percent tax placed on anything over £340,000 ($393,000).
The monarch, according to custom and a 1993 memorandum on royal taxation, is not required to pay inheritance tax so it is more likely that personal jewelry of value owned by the queen was left to Charles.
As well as being worn in the future by Camilla, Charles may choose to loan the late queen's tiaras and jewelry to members of his family for formal events such as weddings, state banquets, visits and the future coronation.
There is also the possibility that a number of the most famous pieces will be displayed at royal residences over time for the public to see.
Queen Elizabeth II's Most Famous Tiaras
From her most worn diamond diadem given to her as a wedding present to the grand jewelry smuggled out of revolutionary Russia worn for her last diplomatic reception, Queen Elizabeth II's tiaras always stole the show.