Queen Elizabeth II Friends With Queen of Denmark, Call Each Other Nicknames
The Queen of Denmark has given a rare interview about her long-standing friendship with her distant cousin Queen Elizabeth II to mark the latter's Platinum Jubilee.
Queen Margrethe of Denmark, who is celebrating her Golden Jubilee this year, and Elizabeth II are the only two reigning queens in Europe at present.
Margrethe, 82, is related to the queen through their shared ancestor King Christian IX of Denmark, the father of Elizabeth's great grandmother, Queen Alexandra. The pair are also related through Margrethe's mother who was a descendant of Queen Victoria through her granddaughter Princess Margaret of Connaught.
The distant cousins have formed a friendship over the long years of their reigns and in her interview with ITV, the Danish queen revealed that the two monarchs use family nicknames to address one another.
"Both yourself and Her Majesty Queen Elizabeth have nicknames," interviewer Lucy Watson told Margrethe. "Yours is Daisy and hers is Lilibet. When you chat to each other [do you use them?]"
"Yes," she replied. "Oh yes, that's the way we have known each other always."
"That is what we call each other when we see and speak to one another. We are definitely affectionate, but I don't want to splash it all over the place!" she added.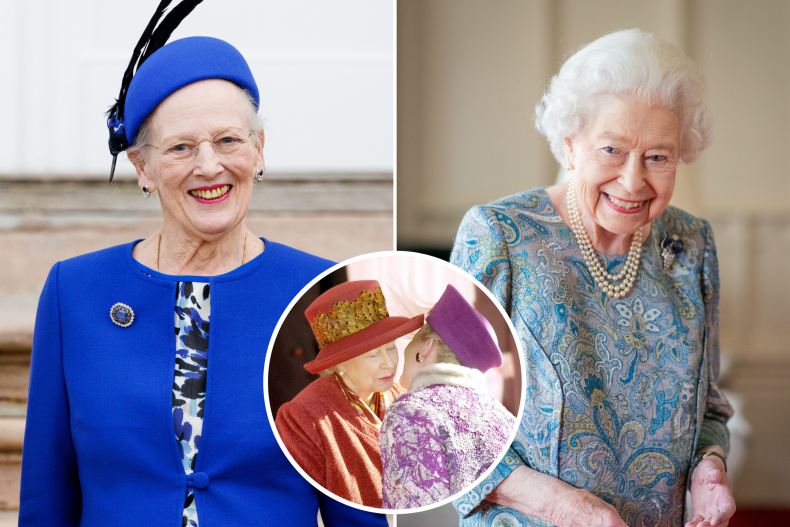 Elizabeth's nickname "Lilibet" was adopted in childhood when in her earliest years she was unable to pronounce her first name properly. The nickname is used by those closest to the queen and in 2021 Prince Harry and Meghan Markle paid tribute to the monarch by naming their daughter Lilibet Diana Mountbatten-Windsor.
Margrethe's nickname was given to her by her family as it was the nickname of her grandmother Princess Margaret of Connaught (later Crown Princess of Sweden). Margrethe is known as "Aunt Daisy" to many of the European royals and wears a famous daisy diamond brooch on formal occasions.
The Danish queen, who is 14 years Elizabeth's junior, went on to describe how her cousin had acted as an example for her in the way she dealt with the burden of queenship.
Elizabeth was only 25 when she acceded to the British throne on the death of her father, George VI, in 1952.
"When I was growing up, I hoped I wouldn't be as young as that when my father died," Margrethe told Watson.
"It made an enormous impression on me. The fact that she was dedicating her life. I understood what that meant. This is for life. That is the whole point of my life. And I know she sees that too."
"When I was growing up, my mother and father said to me, look at what they do in England, and I could see that it could be done and it was worthwhile and you could live a very full life with it, even with a heavy schedule and demanding job.
"Both she and I see it as a dedication, but also a job."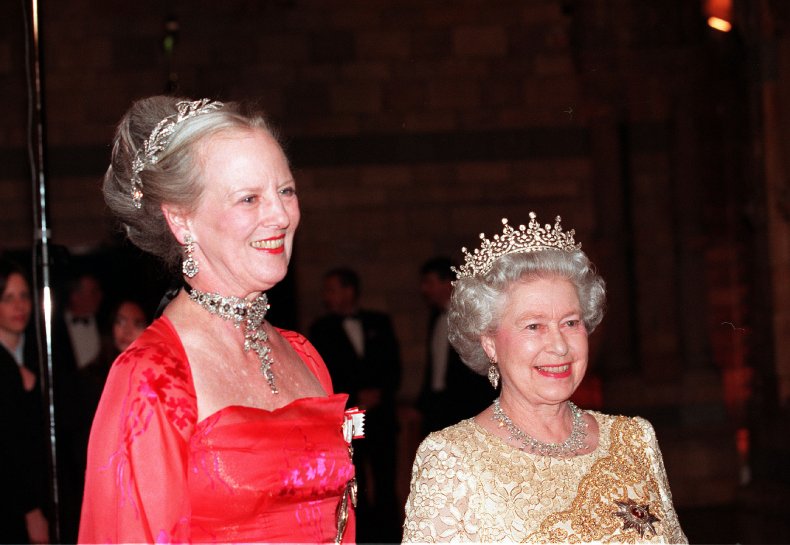 The two queens see each other whenever possible in London as the 96-year-old Elizabeth no longer travels abroad.
"She always invites me for lunch when I am in London," Margrethe said, "when we talk about family, how things are going in this country and that country and what the children are up to."
The last time that the Danish queen visited London was for the service of thanksgiving for Prince Philip in March. Margrethe was also a cousin of the prince's, again through Queen Victoria and her Danish ancestor. Philip was born a prince of Greece and Denmark.
Margrethe's own husband Prince Henrik died in 2018.
Summing up her tribute to Elizabeth in honor of her jubilee, Margrethe said:
"Queen Elizabeth and I were both young people when we started, and so there was a lot of 'Yes, let's just do it!' When you are young, you look to the future all the time.
"[The Platinum Jubilee] is a very great moment and celebration. My heart really goes out to her. She is on her own now and she is bearing up beautifully.
"Good and bad have happened in her life and she is most impressive. It is a duty, but you also have to love your duty. That is something Queen Elizabeth and I share."