Queen Elizabeth II Pays 'Very Personal' Tribute to Prince Philip With Butterfly Brooch
Queen Elizabeth II wore a butterfly-shaped brooch during her COP26 climate change address, in a poignant tribute to her late husband, Prince Philip, and his work on wildlife conservation.
In a pre-recorded speech released on Monday, the 95-year-old monarch wore the Onslow Brooch and sat near a photograph of her husband of 73 years, who died in April.
The diamond and ruby jewellery was a wedding present from close friend the Countess of Onslow dating back to 1947 when she married Philip at Westminster Abbey.
In the background she had a photograph of Philip surrounded by appropriately named Monarch butterflies. The image dates from February 1988, when the Duke of Edinburgh visited the winter habitat of the then-under threat butterfly in Sierra Chincua, Mexico.
Ingrid Seward, author of Prince Philip Revealed, told Newsweek: "She very seldom brings her own personal life into her speeches.
"This speech would have been written for her. She probably said I want to put something in about Philip so she may well have penned that bit herself with her private secretary.
"Its very personal that she's made this tribute to Philip."
The reference point highlighted Philip's longstanding commitment to wildlife and the environment, though there may even be deeper symbolism as their caterpillars hibernate in cocoons before emerging transformed as butterflies.
While it is not clear whether the metaphor was intended by Elizabeth, the life cycle appears to mirror efforts to build back better after the hibernation of COVID-19 lockdown.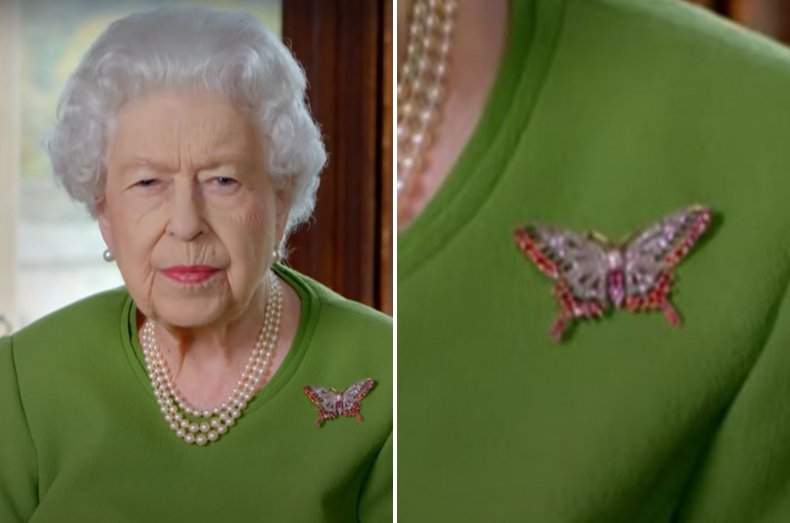 The duke died in April while Britain was still experiencing coronavirus restrictions and as a result he had a scaled down funeral where the queen sat alone.
In her address, Elizabeth told world leaders including President Joe Biden of her pride in her husband's call to confront pollution.
She said: "This is a duty I am especially happy to discharge, as the impact of the environment on human progress was a subject close to the heart of my dear late husband, Prince Philip, The Duke of Edinburgh.
"I remember well that in 1969, he told an academic gathering: 'If the world pollution situation is not critical at the moment, it is as certain as anything can be, that the situation will become increasingly intolerable within a very short time ... If we fail to cope with this challenge, all the other problems will pale into insignificance.'
"It is a source of great pride to me that the leading role my husband played in encouraging people to protect our fragile planet, lives on through the work of our eldest son Charles and his eldest son William. I could not be more proud of them."
Royal biographer Angela Levin wrote on Twitter: "Fascinating that the Queen had a butterfly broach on her dress and a photo of her late husband surrounded by butterflies. The butterfly is supposed to give a message from the deceased that they are ok and just living in another realm."
The Royal Collection Trust website says of the photo: "Prince Philip was the first President of the World Wildlife Fund UK, from its formation in 1961 to 1982, and International President of WWF (now World Wide Fund for Nature) from 1981 to 1996.
"On behalf of the WWF in February 1988, he visited the threatened winter habitat of the Monarch butterfly in Sierra Chincua, Michoacan State, Mexico, where this image captured the moment he was surrounded by a cloud of the butterflies."