Queen Elizabeth II Sits Alone as Royals Mourn Prince Philip Amid Coronavirus
Queen Elizabeth II has been photographed sitting alone at Prince Philip's funeral in an "incredibly moving image" Saturday.
Members of the royal family were left tearful during the COVID-secured funeral service to the world's longest-serving royal consort.
The Duke of Edinburgh's death was marked with a minute's silence at 3 p.m. GMT while Prince Harry, Prince William and Prince Charles were among those to attend.
However, the queen sat alone in St. George's Chapel at the scaled down service, before just 30 guests.
Philip's coffin was driven through Windsor Castle on the back of a green Land Rover that he helped design before his passing.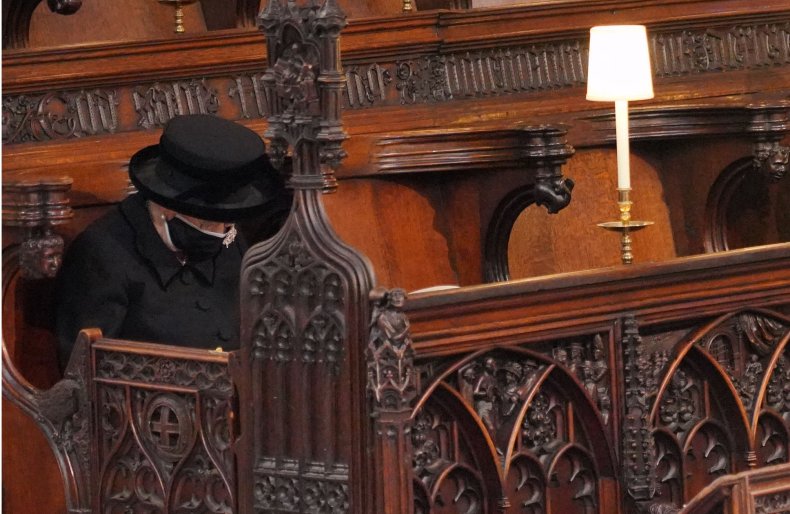 Journalists in Windsor noticed tears on the faces of the duke's relatives as his closest friends and family said their goodbyes.
The Royal Marines played the "Last Post" during a service that Philip played a significant role in designing himself, though changes were made after his death due to the pandemic.
Closest to the queen inside the chapel was Prince Andrew, said to be her favorite son, but who stepped back from public life in disgrace after the Jeffrey Epstein scandal.
However, he was several seats away from his 94-year-old mother, who hung her head as the world marked the passing of her husband.
Royal expert Victoria Murphy of Town and Country wrote: "This is an incredibly moving image of the Queen alone today."
A military band played outside the chapel and afterwards there were gun salutes in honor of Philip, who saw active service in the Royal Navy during World War II.
Prince Charles, wife Camilla, Duchess of Cornwall, Prince William, Kate Middleton and Prince Harry were all among the guests at the service.
Harry and William did not walk side by side behind the coffin as they were separated by cousin Peter Phillips.
However, the brothers were seen speaking to each other outside the chapel afterwards, raising hopes they may begin to heal their damaged relationship.
The Dean of Windsor told the service: "We are here today in St. George's Chapel to commit into the hands of God the soul of his servant Prince Philip, Duke of Edinburgh.
"With grateful hearts, we remember the many ways in which his long life has been a blessing to us.
"We have been inspired by his unwavering loyalty to our Queen, by his service to the Nation and the Commonwealth, by his courage, fortitude and faith.
"Our lives have been enriched through the challenges that he has set us, the encouragement that he has given us, his kindness, humour and humanity.
"We therefore pray that God will give us grace to follow his example, and that, with our brother Philip, at the last, we shall know the joys of life eternal."