Why Queen Elizabeth II Pulling Out of Major Royal Event Could Help Her Honor Philip
Queen Elizabeth II has pulled out of a major royal event just two weeks before a memorial to husband Prince Philip.
The Monarch, 95, cancelled her attendance at the Commonwealth Day service at Westminster Abbey on March 14, months after two health scares in October and November 2021.
However, there is a Service of Thanksgiving in memory of Prince Philip's life due to take place at Westminster Abbey, in London, on March 29.
Buckingham Palace has not indicated whether the queen will be able to attend and did not state why she pulled out of Commonwealth Day.
However, Ingrid Seward, author of Prince Philip Revealed, told Newsweek one possibility is that Elizabeth may be saving her energy to honor her husband a month before her 96th birthday.
She said: "It could be that she's not going to risk all of that walking and sitting at the Commonwealth Day Service in order to be able to go to Prince Philip's memorial, or it could be that she really can't sit for any length of time.
"With the best will in the world they're pretty long and you're not exactly comfortable."
Commonwealth Day aims to celebrate the relationship between the 54 countries of the Commonwealth, made up predominantly of Britain and nations previously part of its former Empire.
Elizabeth, who is head of the Commonwealth, pulled out of a series of high profile engagements, including the COP26 climate change conference, in November, citing undisclosed health reasons.
She then sprained her back, leading her to cancel her attendance at November's Remembrance Sunday service, where Britain stops to mark the sacrifice of its war dead.
Since then, she caught and survived COVID-19 after experiencing mild symptoms.
Seward said attending Philip's memorial service will mean a lot to Elizabeth, but she still may have to cancel for health reasons.
She said: "I think she'd feel all the people that were going would expect her to be there and it's all his charities.
"It's very personal. That doesn't mean she will be there because if she's not able to move she's not going to be there."
Penny Junor, author of The Duchess, told Newsweek: "She's a very old lady and leaving home and walking around, up aisles in cathedrals and abbeys, is very difficult for her.
"Whether she will attend Prince Philip's memorial I think we just have to wait and see.
"If she is having difficulty getting around, as she said she is, then it's nothing terribly surprising."
The queen released a Commonwealth Day message on March 14: "In this year of my Platinum Jubilee, it has given me pleasure to renew the promise I made in 1947, that my life will always be devoted in service.
"Today, it is rewarding to observe a modem, vibrant and connected Commonwealth that combines a wealth of history and tradition with the great social, cultural and technological advances of our time.
"That the Commonwealth stands ever taller is a credit to all who have been involved."
Prince Philip died on April 9, 2021, and the queen famously sat alone at his funeral on April 17, 2021, due to COVID-19 restrictions.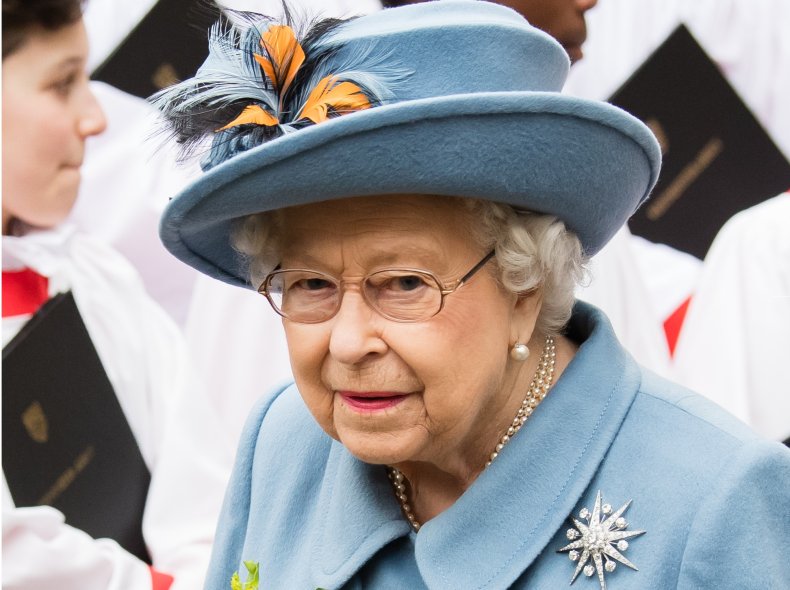 For more royal news and commentary check out Newsweek's The Royal Report podcast: