As Queen Attended Philip's Funeral Alone in Lockdown, Downing Street Partied
British Prime Minister Boris Johnson's Downing Street staff partied just hours before Queen Elizabeth II attended her husband's funeral alone last year during COVID lockdown, it has been revealed.
The PM's office has apologized to the Queen on Friday after it emerged two separate drinks parties were held at Downing Street on April 16, 2021, on the eve of Prince Philip's funeral.
The following day, Elizabeth attended the funeral service of Philip, the Duke of Edinburgh, at St George's Chapel in Windsor Castle, just outside London, where she sat alone.
During that time, indoors and outdoors mixing was severely limited by anti-COVID restrictions, and Britain was in a period of public mourning.
"It is deeply regrettable this took place at a time of national mourning and No. 10 [Downing Street] has apologized to the Palace," Johnson's spokesman told a press briefing on Friday.
Newsweek has contacted Buckingham Palace for comment.
The U.K. leader's spokesman refused to comment on whether Johnson would privately apologize to the Queen, but said he recognized the public's "significant anger" about the events. Johnson is facing calls to resign over the parties.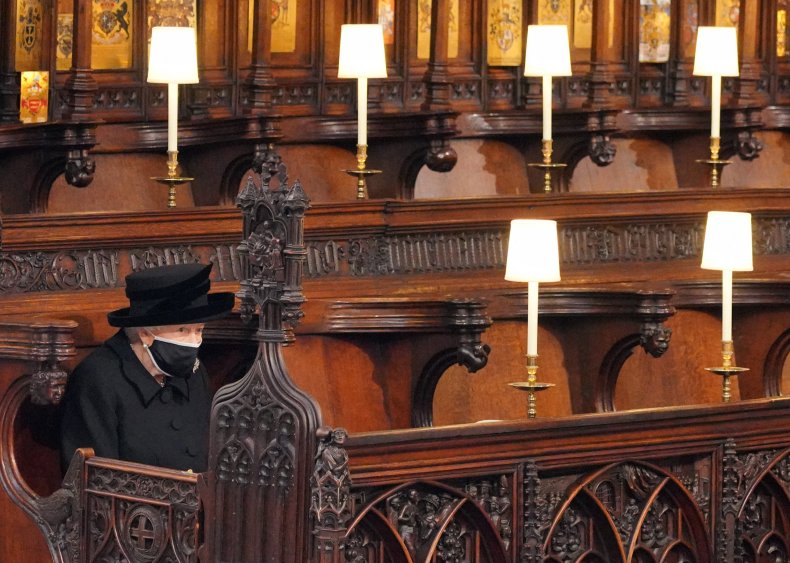 The Daily Telegraph reported two separate drinks events were held for the departure of two colleagues, including James Slack, the prime minister's director of communications.
Another party was reportedly held in a basement for one of the prime minister's photographers.
The events last April reportedly continued into the early hours in the Downing Street garden, and at one point a staff member took a suitcase to a nearby store to purchase bottles of wine.
Staff members danced and spilt wine on carpets, while music was played out of a laptop, The Telegraph reported.
One partygoer allegedly broke a swing belong to Johnson's son, Wilf, after attempting to sit on it.
COVID-19 restrictions at the time prohibited mixing indoors except for members of the same household.
"You must not socialise indoors except with your household or support bubble. You can meet outdoors, including in gardens, in groups of six people or two households," official guidance at the time stated.
The day after one of these parties, Elizabeth attended the funeral of her husband of 73 years, Prince Philip, who had died aged 99.
"You've heard from the prime minister this week. He's recognized No 10 should be held to the highest standards and take responsibility for things we did not get right," Johnson's spokesperson said.
The prime minister was reportedly at his country estate at the time of the parties, which were attended by about 30 people, The Telegraph reported.
Slack, now deputy editor-in-chief at the U.K's tabloid The Sun, also apologized on Friday.
"I wish to apologize unreservedly for the anger and hurt caused," he said. "This event should not have happened at the time that it did. I am deeply sorry, and take full responsibility."
The revelations have prompted a wave of calls for Johnson's resignation, from both opposition politicians and members of the leader's Conservative party as well.
"Sadly, the prime minister's position has become untenable," said former Johnson supporter and Conservative lawmaker Andrew Bridgen. "The time is right to leave the stage."
Meanwhile, an online petition titled "Bring Downing Street Partygoers to justice" has gathered more than 83,000 signatures.
Earlier this week, Johnson apologized for attending a separate gathering in Downing Street's garden, in May 2020, while the U.K. was under another strict lockdown.
A vote of no-confidence for the prime minister can be triggered if 54 of the 360 Conservative members of parliament write letters to the chairman of the party's "1922 Committee" demanding it.