Queen Elizabeth II Under Pressure to Cut Ties With Dubai Ruler Who Hacked Charles' Lawyer
Queen Elizabeth II will likely "distance" herself from Dubai's ruler after a court ruled he hacked the phones of his ex-wife and Prince Charles' former U.K. lawyer, a royal expert says.
Sheikh Mohammed bin Rashid Al Maktoum used government-grade spyware Pegasus, produced by Israeli intelligence company NSO Group, to hack Princess Haya, London's High Court ruled October 6.
Judge Sir Andrew McFarlane ruled that, on the balance of probabilities, the Prime Minister of the UAE abused his position to snoop on Haya and her team.
The princess' close circle were also hacked, including Fiona Shackleton, a former partner at royal law firm Farrer and Co.
She was Prince Charles' lawyer and has also represented Prince William and Prince Harry.
McFarlane said in a scathing judgement: "The findings represent a total abuse of trust, and indeed an abuse of power, to a significant extent.
"It is an abuse which has been compounded by the manner in which the father [Maktoum] has contested these allegations and instructed his lawyers.
"Despite the weight of evidence, the fact of hacking was never conceded, nor was the fact that such hacking had been by Pegasus.
"At no stage has the father offered any sign of concern for the mother, who is caring for their children, on the basis that her phones have been hacked and her security infiltrated."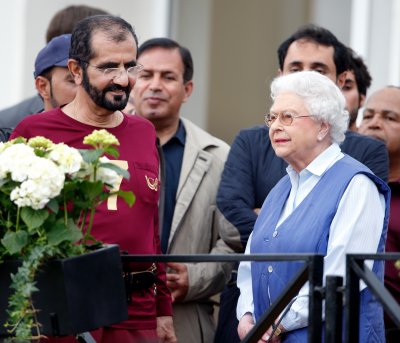 Quoted by The Daily Mail, Joe Little, managing editor of Majesty magazine, said: "Despite the Queen's well-established equestrian links with the sheikh, in light of these findings it seems likely that she will distance herself from him, at least in public. The Queen has known Princess Haya since she was a child and is fond of her."
The scandal is the latest example of the British Royal Family being embarrassed by connections with Middle Eastern leaders with questionable human rights records.
Prince Andrew was criticised on a number of occasions during his years as a trade envoy.
Meghan Markle also drew attention after wearing chandelier earrings given to her by Saudi Arabian Crown Prince Mohammad Bin Salman, known as MBS, even as pressure was mounting over his role in the death of journalist Jamal Khashoggi.
The Duchess of Sussex first wore the jewellery during an October 2018 tour of Australia and the South Pacific and again at a birthday event for Prince Charles the following month.
This latest scandal, involving Maktoum, has led to calls not only for a change in stance from the royals but also from the U.K. Government.
Chris Bryant, an opposition Labour MP, said: "The Foreign Office needs to do a proper inquiry into our relationship with Dubai and I would have thought the Foreign Secretary will be summoning in the ambassador for a 'meeting without coffee.'"