Queen Elizabeth II Was Never Destined for Throne—Until Crisis Changed Her Fate
Queen Elizabeth II's life was changed forever when her uncle chose love over power, abdicating the throne to marry an American divorcee.
Britain's longest-reigning head of state was not originally meant for the role, having been born to the second son of King George V.
Everything changed when she was 10 years old and her uncle, Edward VIII, gave up the crown to marry Wallis Simpson in 1936 as Europe careered towards war.
Edward, historians would later claim, was a Nazi sympathizer, meaning Simpson may have spared Britain a terrible fate.
However, for Elizabeth's family, the abdication crisis exposed her father to the full pressure of kingship just three years before the country was plunged into World War Two.
King George VI was the first British monarch to visit America but the war exacted a huge toll.
The Royal Family website wrote: "His greatest achievements came during the Second World War, when he remained for most of the time at Buckingham Palace (the Palace was bombed nine times during the war).
"He and his wife, Queen Elizabeth, visited severely bombed areas in the East End of London and elsewhere in the country, gained him great popularity.
"The King developed a close working relationship with his wartime Prime Minister, Winston Churchill, as most of Europe fell to Nazi Germany."
It added: "By 1948, it seemed that Britain had overcome the worst hardships of the post-war years, but the strain of the World War Two and the tensions of the post-war period had taken their toll on the King's health.
"The King failed to recover from a lung operation, and died in his sleep on 6 February 1952 at Sandringham; he was aged 56."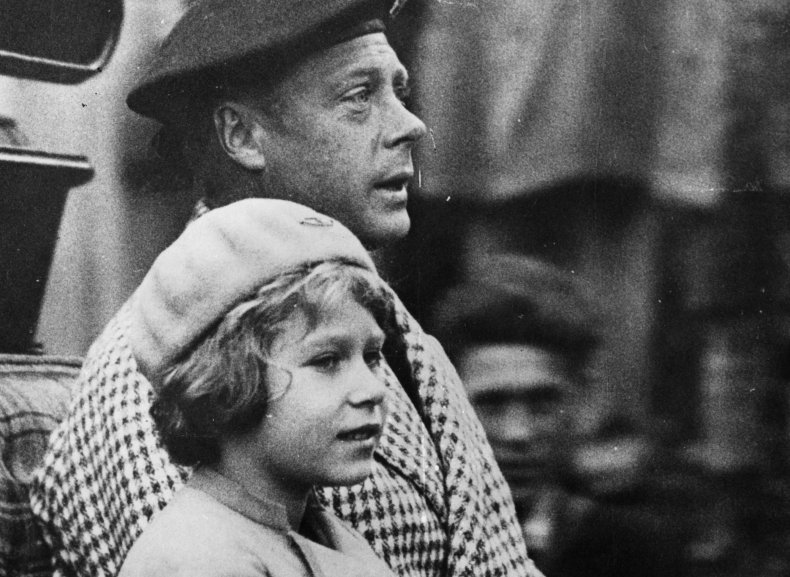 It was against this backdrop that Elizabeth ascended the throne, aged 26.
It came just 44 years after women in the U.K. first got the vote, towards the end of World War One, and 24 years after women were given equal voting rights with men.
It also came five years after she made her case to her future subjects on her 21st birthday, in Cape Town, South Africa, famously pledging her "whole life" to public service.
In a radio broadcast on April 21, 1947, she said: "This is a happy day for me; but it is also one that brings serious thoughts, thoughts of life looming ahead with all its challenges and with all its opportunity."
She added: "Will you, the youth of the British family of nations, let me speak on my birthday as your representative?
"Now that we are coming to manhood and womanhood it is surely a great joy to us all to think that we shall be able to take some of the burden off the shoulders of our elders who have fought and worked and suffered to protect our childhood."
It now falls to her son to ask a similar question of the British public as a whole as the U.K. prepares for its first new head of state since 1952.