Queen Elizabeth Seen Working Just Two Days Before Her Death
Two days before Queen Elizabeth II passed away, the longtime British monarch was seen working in photos taken in the Drawing Room at Balmoral Castle in Aberdeen, Scotland.
Elizabeth met on Tuesday with Liz Truss at Balmoral to appoint her as the new U.K. prime minister following the resignation of former Prime Minister Boris Johnson. In photos showing Elizabeth before and during the meeting, she is seen sporting a cane and handbag and having what appears to be a pleasant exchange with Truss. These photos provide what may be the final glimpse of Elizabeth for the public prior to her passing.
Fears for the Queen's wellbeing mounted quickly Thursday after Buckingham Palace released a statement saying that the monarch's doctors were "concerned" for her health and recommended that she remain under supervision. At 1:30 p.m. ET, the Royal Family issued a statement via Twitter confirming that Elizabeth had passed away at Balmoral at the age of 96. With a 70-year reign, she was Britain's longest-serving monarch.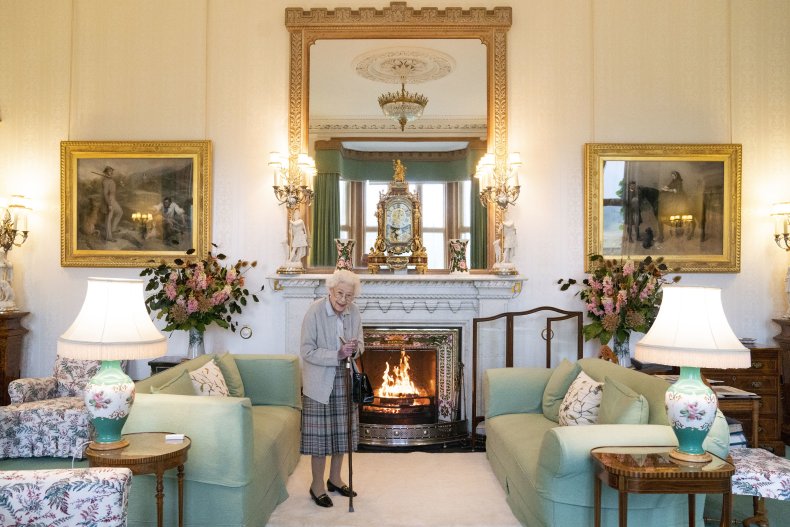 Previously holding the title of the Prince of Wales, Charles Philip Arthur George succeeded his mother as Britain's monarch. The eldest child of a monarch inherits the role automatically upon the death of their predecessor, according to an article on the website of Britain's Parliament.
In a statement, King Charles wrote that the death of his mother is "a moment of the greatest sadness for me and all members of my family."
"We mourn profoundly the passing of a cherished Sovereign and a much-loved Mother," he continued. "I know her loss will be deeply felt throughout the country, the Realms and the Commonwealth, and by countless people around the world. During this period of mourning and change, my family and I will be comforted and sustained by our knowledge of the respect and deep affection in which The Queen was so widely-held."
Since the Royal Family confirmed her passing, messages of grief and remembrance have poured in from within the U.K. and around the world.
Truss, who earlier on Thursday tweeted that all of Britain would be "deeply concerned" by the initial news on Elizabeth's condition from Buckingham Palace, delivered a statement calling her death a "huge shock to the nation and to the world."
"Queen Elizabeth II was the rock on which modern Britain was built," Truss said. "Our country has grown and flourished under her reign. Britain is the great country it is today because of her."
U.S. President Joe Biden and First Lady Jill Biden released a joint statement saying that Elizabeth was "more than a monarch" and "defined an era."
"In a world of constant change, she was a steadying presence and a source of comfort and pride for generations of Britons, including many who have never known their country without her," the statement read. "An enduring admiration for Queen Elizabeth II united people across the Commonwealth. The seven decades of her history-making reign bore witness to an age of unprecedented human advancement and the forward march of human dignity."
French President Emmanuel Macron shared a picture of Elizabeth on Twitter following her passing, and wrote in another tweet that she "embodied the British nation's continuity and unity for over 70 years."
"I remember her as a friend of France, a kind-hearted queen who has left a lasting impression on her country and her century," he added.