'The Queen's Gambit': Anya Taylor-Joy Talks Season 2 After Golden Globes Win
The Queen's Gambit left the 2021 Golden Globes with two awards, with the Netflix show winning for best-limited series and best actress going to Beth Harmon star Anya Taylor-Joy. The awards success has left fans of one of the most-watched Netflix shows ever wondering whether they will get a second season of the chess drama, based on the book by Walter Tevis.
As the award for best-limited series suggests, there is little chance of the show returning for more episodes. For those without a grasp of TV lingo, a limited series is a show which only has a limited number of episodes across one season, with a definitive ending.
This is something that Taylor-Joy brought up in an interview shortly after her Golden Globe win. Asked by Entertainment Tonight about the prospect of a Season 2, the New Mutants actor said: "Not to disappoint anybody, but we just never thought about it. It was always a sapling to tree transition. You see her grow, you leave her in a good place. So we were genuinely surprised when people were like, 'Where's Season 2?'"
However, she did say that, were the show's Golden Globe success to cause Netflix to order another series, she would be open to returning. She added: "That being said, I adore the entire team that made it and I would jump at the chance to work with them again."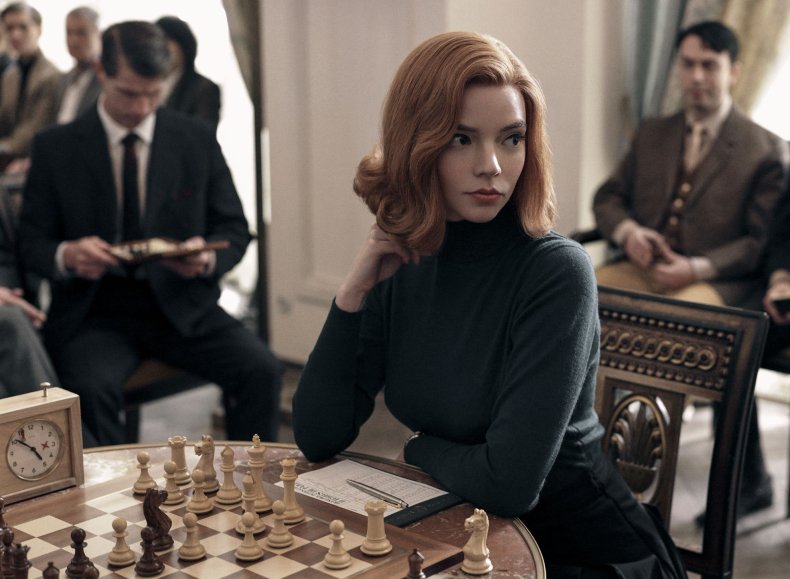 Whether this is the truth or the usual Hollywood interview platitudes is impossible to say. However, Golden Globe wins have been one of the reasons why limited series have been got surprise renewals in the past.
Big Little Lies, for example, was supposed to last for only one season, but was then extended after winning four Golden Globes for best-limited series, supporting actress (Laura Dern), supporting actor (Alexander Skarsgard) and best actress (Nicole Kidman).
Like Big Little Lies before it, The Queen's Gambit is also based on a book whose plot was used in full for the series. However, this could be key to why we will not get a Queen's Gambit Season 2—Big Little Lies author Lianne Moriarty was able to write a new novella from which the plot of Season 2 was taken. Queen's Gambit author Walter Tevis, meanwhile, died in 1984.
Taylor-Joy's comments to ET mirror what she said in February to Deadline, when the actor said: "It's so surreal and very wonderful that people want a second season, because we never thought about it, there was no discussion about it. That said, never say 'never' in Hollywood."
In the same interview, however, she added: "I said to myself, 'If we were shooting tomorrow, I know exactly what I'm doing, I know how I want to do it, I understand this woman so well.'"
Most importantly, however, the show's creators have ruled out a second season. Executive producer William Horburg, for example, said to Deadline: "We felt that the series had a satisfying endpoint and we'd allow the audience to fill in the space as to what happens next for Beth Harmon. Nothing has changed, despite fans demanding more on my Twitter feed. Scott [Frank, the show's creator] and I feel really happy about the completeness of Beth's story."
The Queen's Gambit is streaming now on Netflix.