Queen's Guard Collapses: How Long Are British Guards' Shifts?
The four days of Queen Elizabeth II's lying in state got off to a rocky start when one of the queen's guards collapsed by her coffin.
The queen's body arrived in Westminster Hall on Wednesday, where people have been given the chance to file past and pay respects. Unfortunately, just after midnight U.K. time, a guard, a member of the Royal Company of Archers, collapsed.
When contacted for comment, the House of Lords acknowledged the incident but had no further details about the wellbeing of the man. "A member of the vigil was temporarily taken unwell and had to withdraw from the vigil," they told Newsweek.
The footage was captured in a live feed, as fellow guards and security rushed to help him.
He was one of many standing in formation around Elizabeth's coffin, but how long is each guard expected to stand on duty?
How Long Are the Guards' Shifts?
Surrounding the queen's coffin in Westminster Hall are three ceremonial units as she lies in state.
Overnight in the U.K., standing on each corner of the raised platform (catafalque), were members of the Gentlemen at Arms, the Royal Company of Archers and the Yeomen of the Guard.
Royal guards are standing to protect the queen on rotational shifts round the clock. These are broken up into four different six-hour shifts for each soldier, 24 hours a day until the queen's funeral on Monday.
Within these six-hour shifts, the guards swap over from standing on the catafalque every 20 minutes.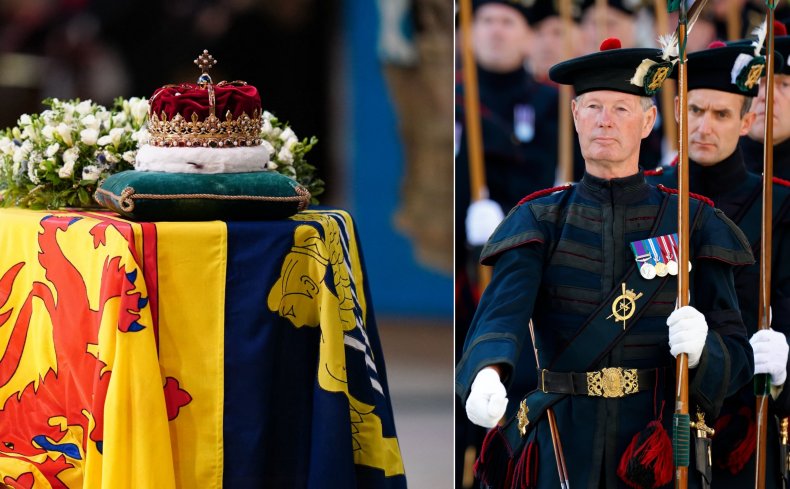 What Happened to the Guard Who Collapsed?
It was during one of the shift swaps that a member of the Royal Company of Archers collapsed. In the seconds leading up to his fall, he could be seen swaying, and even toppled off the platform at one point, but managed to stay on his feet.
He collapsed at 12:26 a.m. U.K. time and police officers were seen rushing to his aid. All of the other guards remained motionless protecting the queen's coffin.
The live feed from inside Westminster Hall cut off and instead displayed a wide shot of the Houses of Parliament in Westminster instead. Almost eight minutes later, the live feed returned to inside Westminster Hall where the public continued to file past the coffin and members of the three units stood guard.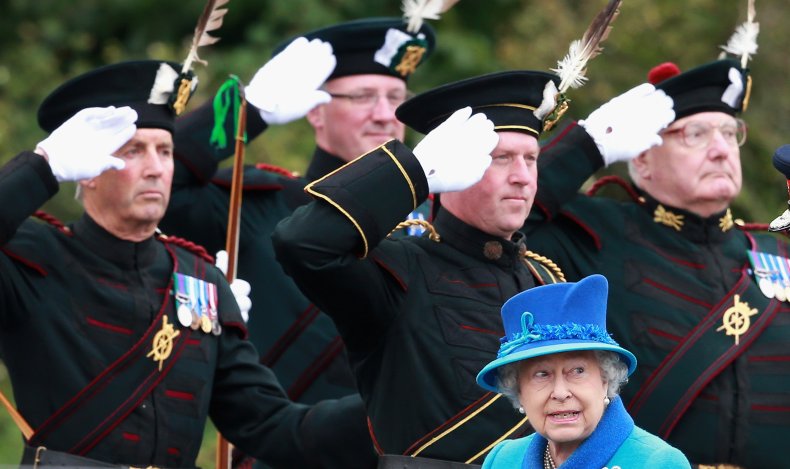 People lining up around London to see the queen lying in state took to social media to comment on how the line had stopped around this time. People across social media expressed their well-wishes for the collapsed guard, but no information has yet been released on his condition.
Newsweek has reached out to Buckingham Palace for further comment.
Update 9/15/2022 9:20 a.m. ET: This story has been updated with a comment from the House of Lords.