Quick History of Nikola Motor Company, the Embattled Hydrogen and Electric Vehicle Startup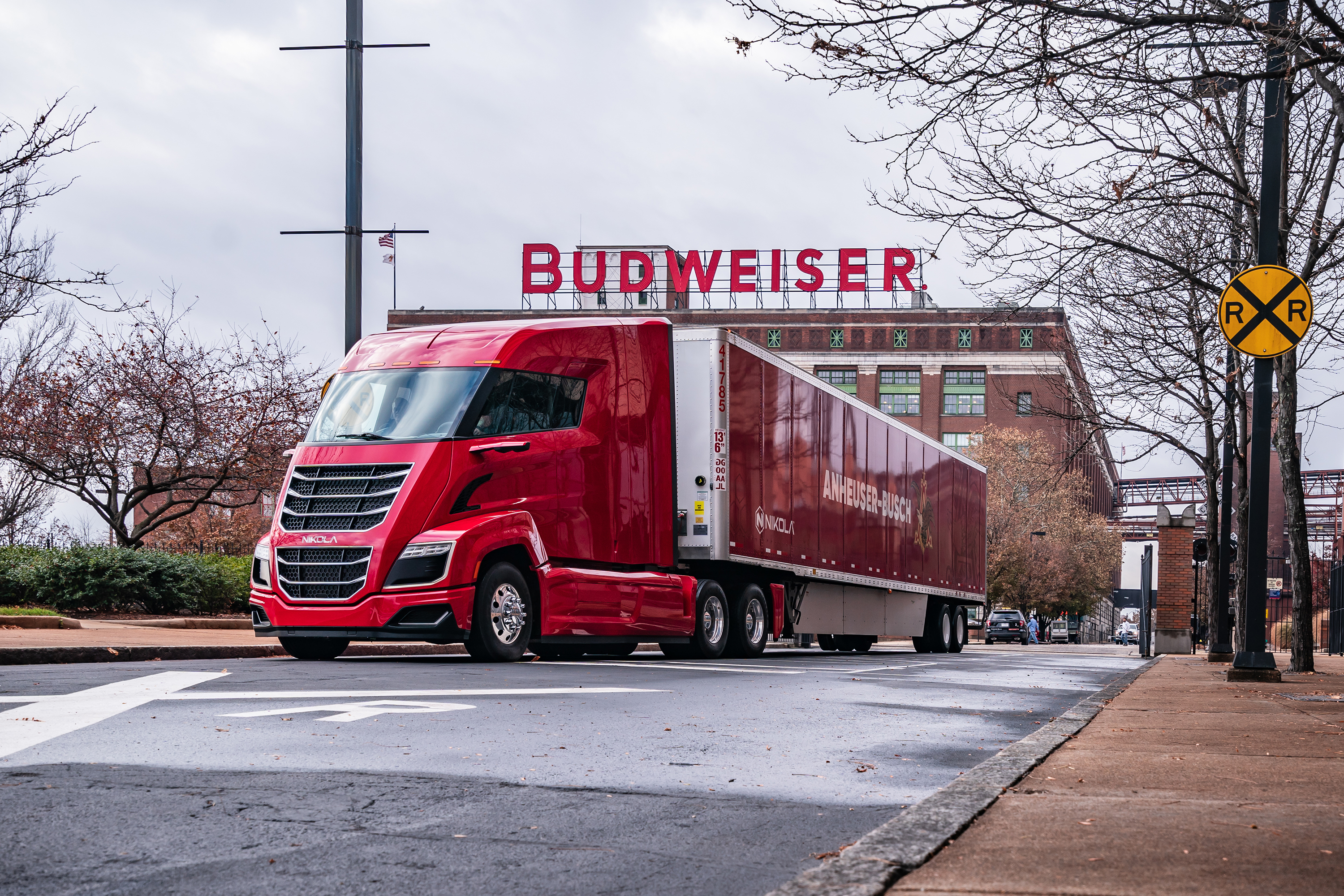 On Thursday, Trevor Milton, the founder and former executive chairman of Nikola Corp., was indicted by a federal grand jury on three counts of fraud for lying about the business to investors. He also faces civil securities fraud charges from the Securities and Exchange Commission.
Nikola has long faced scrutiny from investors, automotive enthusiasts and the media regarding its pathway to vehicle deliveries. Here's a look back at the history of the company and the moves it's making in 2021.
2014
Milton founded the startup as Nikola Motor Company in 2014 with a $2 million investment from metals manufacturer Worthington Industries.
2016
In 2016, the Phoenix-based company unveiled the Nikola One, a hydrogen-fueled Class 8 semi truck. Intended to be a sleeper cab with 8 wheels, the design included a 320 kilowatt-hour EV battery that supplied six traction electric motors for 1,000 horsepower and 2,000 pound-feet of torque. The model was to get its 300 kilowatts of power and 1,200-mile range from hydrogen fuel cells.
After announcing the truck, the company said that it had received 7,000 pre-orders, amounting to more than $2.3 billion.
2018
In 2018, Anheuser-Busch placed a provisional order for up to 800 leases of Nikola One. The move was part of a larger plan to decrease the beer company's carbon emissions by 25 percent by 2025.
The Nikola NZT was a prototype utility task vehicle concept unveiled in 2016. Equipped with either a 72- or 107-kilowatt-hour battery, the company said its power plant was capable of delivering 555 horsepower. Development of the vehicle was cancelled after the powersports division was shuttered in 2021 to focus on trucks.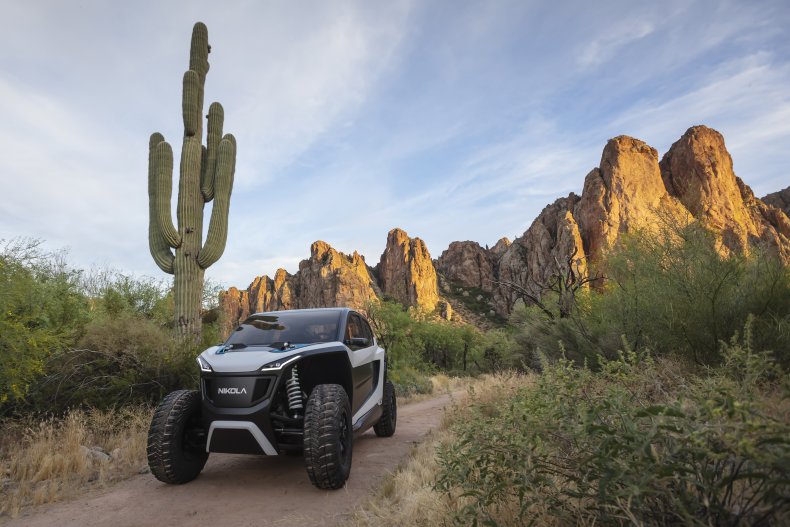 A military-grade version of the NZT, called the Nikola Reckless, was an off-road concept displayed in 2018 that was also scrapped.
Following Tesla Motors' unveiling of its Tesla Semi in 2017, Nikola filed a $2 billion lawsuit against the electric carmaker alleging that it had infringed on six patents, pointing to numerous similarities in their respective designs. Litigation is ongoing.
2019
Early in 2019, the company hired Mark Russell as company president while Milton became executive chairman. Russell had previously served as president and CEO of Worthington. Shortly afterward, the Nikola Two, another hydrogen-powered Class 8 truck, was announced. Nikola advertises that the model delivers 645 horsepower and takes about 20 minutes to refuel. Production is expected to begin in 2024. The Nikola Tre, its European counterpart, was also announced in 2019.
The company also revealed the WAV, a personal watercraft device.
2020
In February 2020, a midsize electric pickup truck called Badger debuted. Initially, Nikola planned hydrogen fuel-cell and all-electric versions of the model.
Nikola went public in March 2020 as part of a merger with VectoIQ Acquisition Corp., a special purpose acquisition company, and ended its first trading day with a valuation of more than $28 billion.
On September 8, 2020, the company announced a partnership with General Motors. For an 11-percent stake in Nikola, GM had agreed to use its manufacturing facilities to start production of the Badger.
A few weeks later, Milton resigned as executive chairman after a report was released accusing the company of fraud. In November 2020, GM announced that it would provide the company with fuel-cell technology but cancelled plans to take the stake and produce the Badger. The Badger concept was subsequently cancelled.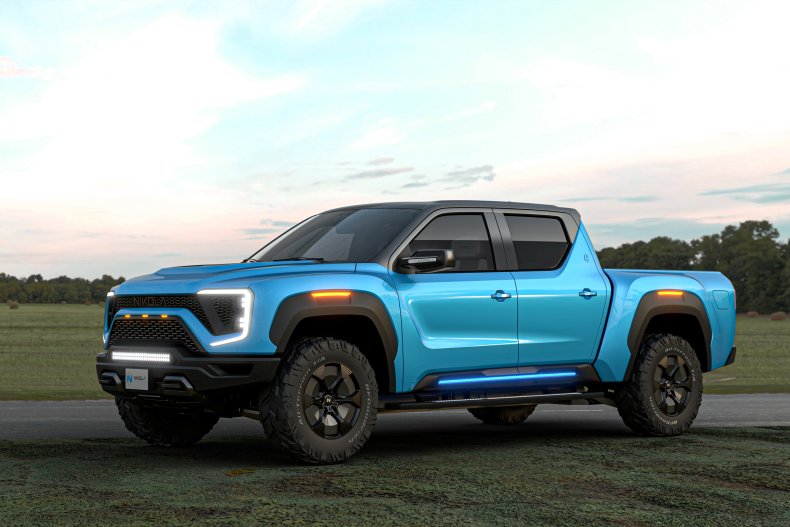 In September 2020, it was widely reported that the Securities and Exchange Commission had launched a probe into allegations of fraud against Nikola. An investigation by the U.S. Department of Justice followed.
On September 21, 2020 Milton resigned from Nikola.
2021
Nikola cancelled its powersports division in the first quarter of 2021 to concentrate efforts on the trucks side of its business.
Earlier this year, the company announced that it has invested $50 million in a new hydrogen plant in the Wabash Valley and expanded its sales and service footprint to 51 dealerships in nine states.