Quintin Jones Petition Calling for Death Row Inmate's Life to Be Spared Surpasses 150K Signatures
More than 150,000 people have signed a petition urging Texas Gov. Greg Abbott to spare the life of Quintin Jones, a death row inmate whose execution is scheduled for Wednesday.
Jones, 41, is set to die by lethal injection at 6 p.m. CDT (7 p.m. EST) at the Walls Unit prison in Huntsville. He was sentenced to death for killing his 83-year-old great-aunt Berthena Bryant in 1999.
But his advocates say he has turned his life around in the two decades he has been on death row and doesn't deserve to be put to death for a crime he committed when he was 20. His family has forgiven him and also oppose his execution.
"Jones has accepted full responsibility for his crimes and has repeatedly expressed profound remorse and regret," the "Clemency for Quin" website says.
"He committed the crime when he was 20 years old, after a tragic childhood of violence and abuse that was as nightmarish as anyone could imagine. In the 20-plus years he has spent on death row, he has transformed himself into a decent, compassionate, thoughtful person."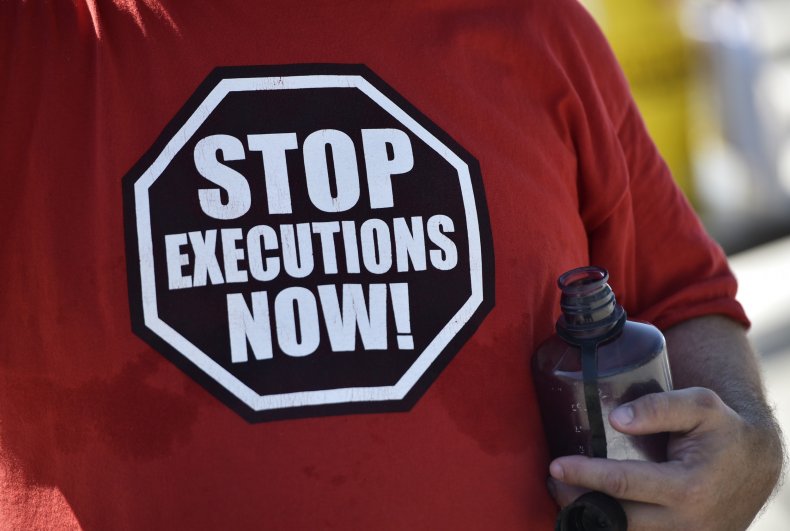 A Change.org petition calling on the state's Republican governor, Greg Abbott, and the Texas Board of Pardons and Paroles to commute Jones' sentence to life imprisonment without parole has amassed more than 155,000 signatures as of early Tuesday.
The petition argues that Jones' case is "fraught with numerous troubling details."
They include that the state's argument for Jones' "future dangerousness" was based on discredited science and a flawed methodology.
The petition also said there were disparities in his treatment based on race, as the white leader of a gang Jones was apparently in, Ricky "Red" Roosa, was convicted of two murders, but sentenced to life imprisonment with parole. Roosa was 38 at the time of his crimes in 1999, according to the Fort Worth Star-Telegram.
Jones is Black, as are more than 40 percent of the inmates on death row in Texas. Only around 13 percent of the state's population is Black or African American, according to census data.
But clemency recommendations from the Texas parole board are rare—and Abbott has only granted clemency to an inmate once before, when he spared the life of Thomas "Bart" Whitaker about an hour before his scheduled execution in 2018.
If Jones' execution goes ahead, he will be the first inmate put to death in Texas since Billy Wardlow in July last year.
Death Penalty Action says the nine-month break, partly due to the coronavirus pandemic, is the longest hiatus between executions in 40 years in the nation's busiest capital punishment state .
Abraham Bonowitz, the group's director, and several evangelical leaders will travel to Texas on Tuesday to deliver thousands of petition signatures and hold a prayer vigil outside the Texas Governor's Mansion in Austin.
"This is a moment when Governor Abbott can demonstrate the merciful potential of his office," Bonowitz told Newsweek.
"We know he cannot grant clemency without a recommendation from the Texas Board of Pardons and Paroles, but he appoints the members of that board."
He added: "Quintin Jones is a different person now than he was when he committed his awful crime, and the family of his victim does not want this execution. There should be space to recognize that."
Earlier in May, Jones asked Abbott for "a second chance at life" in a four-minute video published by The New York Times' opinion section.
In the clip, Jones said he is nothing like the person he was when he killed his elderly great-aunt for $30 to buy drugs.
"I'm nothing like that person," he said. "I became a man on death row. So now you killing the man, and not the child."
In an opinion piece for the Times, author Suleika Jaouad advocated for Jones' life to be spared.
Jaouad, who has been Jones' pen pal for more than a decade, described him as "the epitome of a prison success story" and "the kind of person for whom clemency exists."
"He entered at an unimaginable low, as lost as a soul can be," she wrote. "And through prayer, sobriety, reconciliation with his family, and longstanding correspondence with pen pals, he has found a way to lead a meaningful life, and even to enhance the lives of others. The victim's family—who is also Quin's family—has forgiven him."
Newsweek has contacted Abbott's office for comment.