Woman Ditches Her 9–5 Manager Job To Live on a Boat As 'Digital Nomad'
After growing up on a horse ranch in small town Minnesota, Mileena Prows spent her childhood dreaming of a typical, white picket fence lifestyle.
But as she reached her early 20s, the restaurant manager, who was working over 40 hours a week for $23 an hour, felt less and less fulfilled with her life, chasing materialistic goals while feeling an underlying desire to travel the world.
When Covid hit and she lost her job, 21-year-old Mileena sold the majority of her possessions in order to move to a yurt community in Hawaii, where she met her husband Samuel.
Now 24, the self-proclaimed "digital nomad", has spent the last two years sailing the world with her husband, living on the boat which he spent his childhood years, along with their trusty "sailing" cat, Rusty.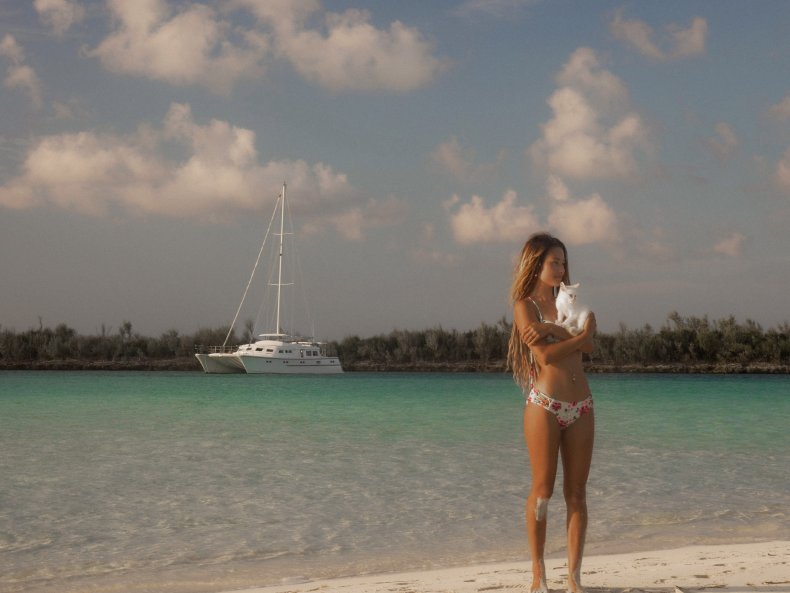 She told Newsweek: "I always wanted the opposite of what I grew up with. I wanted a white picket fence, a really fancy house and fancy clothes.
"I didn't grow up with that, so I started to chase more of that lifestyle and it just felt like it wasn't really true to who I was. No judgment to anyone who likes that, everyone has their own style and goals in life, but for me it wasn't very fulfilling."
After leaving her childhood home, Mileena spent a while working in hospitality in California, earning enough to afford a high-rise apartment in San Diego while traveling a couple of times a year.
"My life was very different," she said. "I had a lot of stuff. I had a big apartment in San Diego, two bedrooms. It was pretty fancy. Now I have a backpack of stuff."
When the pandemic struck, Mileena was left unemployed and aimless, deciding to take the plunge and move to Hawaii to live in a surfing community.
"I never had the guts until I was in California, not really with any aim. I felt like I was kind of trapped, with all the restrictions. I looked at my life and said: "I'm going to pack everything up, sell everything that I can't pack and I'm going to move to Hawaii'.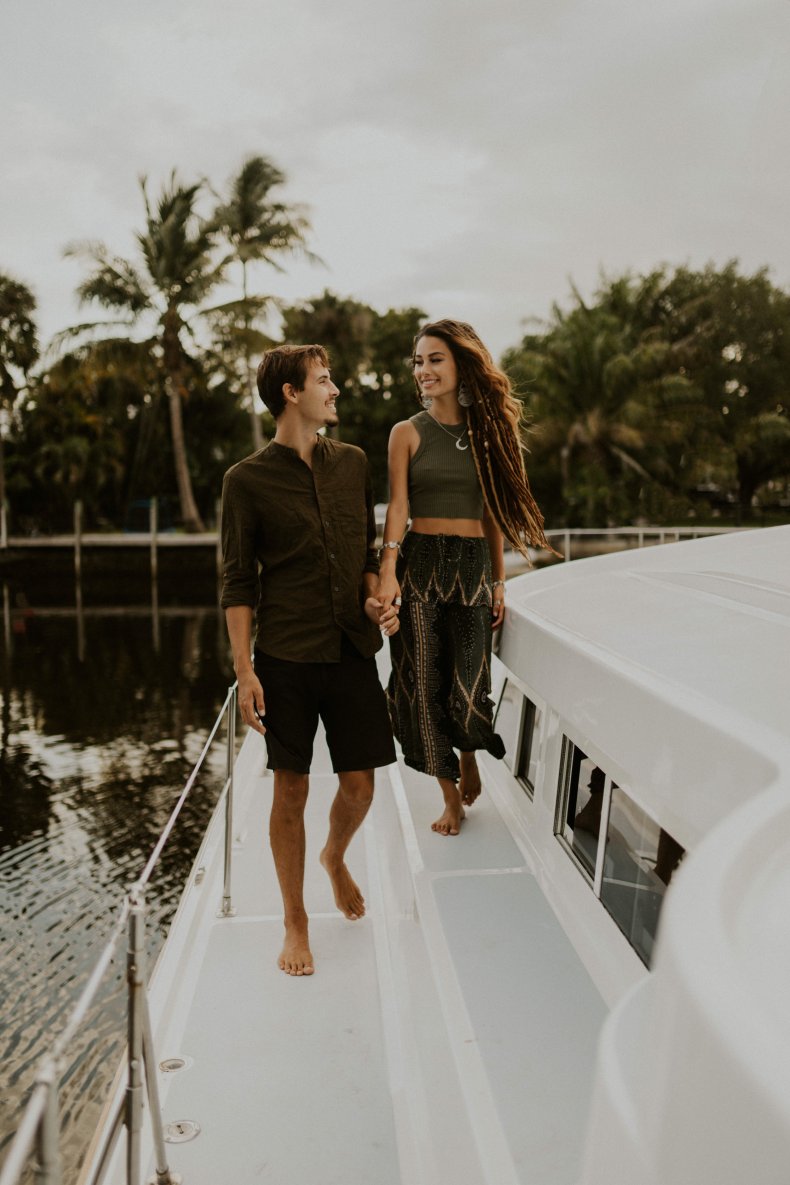 "There were still a lot of restrictions in Hawaii but I felt like Hawaii might be a more beautiful place to be trapped than California."
It was in Hawaii she met her husband, Samuel, 25, while looking for platonic friends on the section of a dating app designed to expand your social network, without romance.
She explained: "I didn't know anyone in Hawaii, so I made some friends in the surf camp. We actually met on Bumble BFF. I was like: "I just want friends, only friends. I only want to meet up in groups."
"We matched, he reached out and I actually rejected him twice. He reached out a third time and my friend said "Let's go diving", and we decided to hang out. After that first day, we have never spent a day apart. We have been together since we met."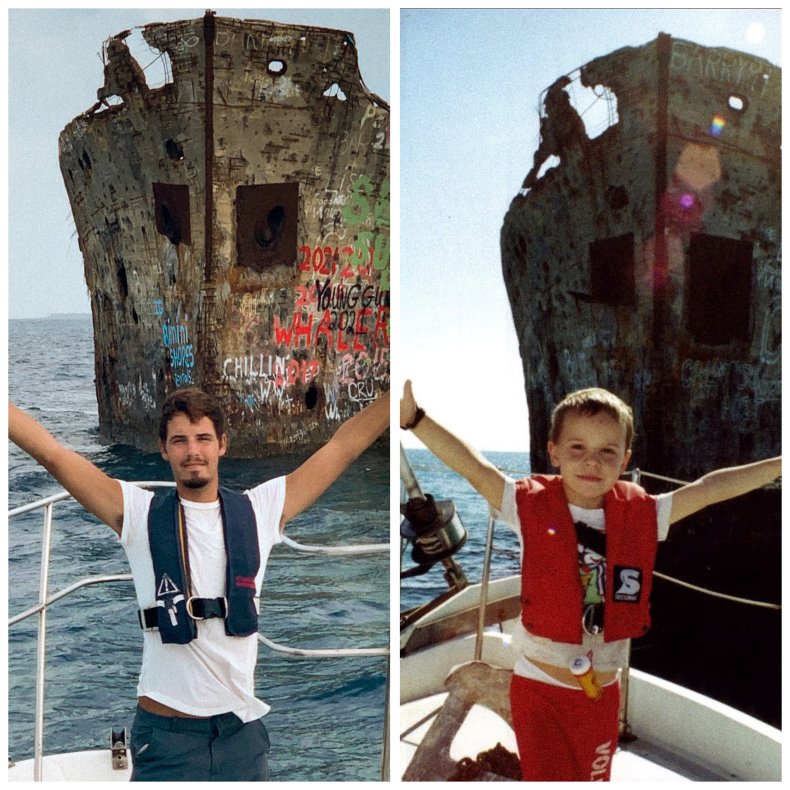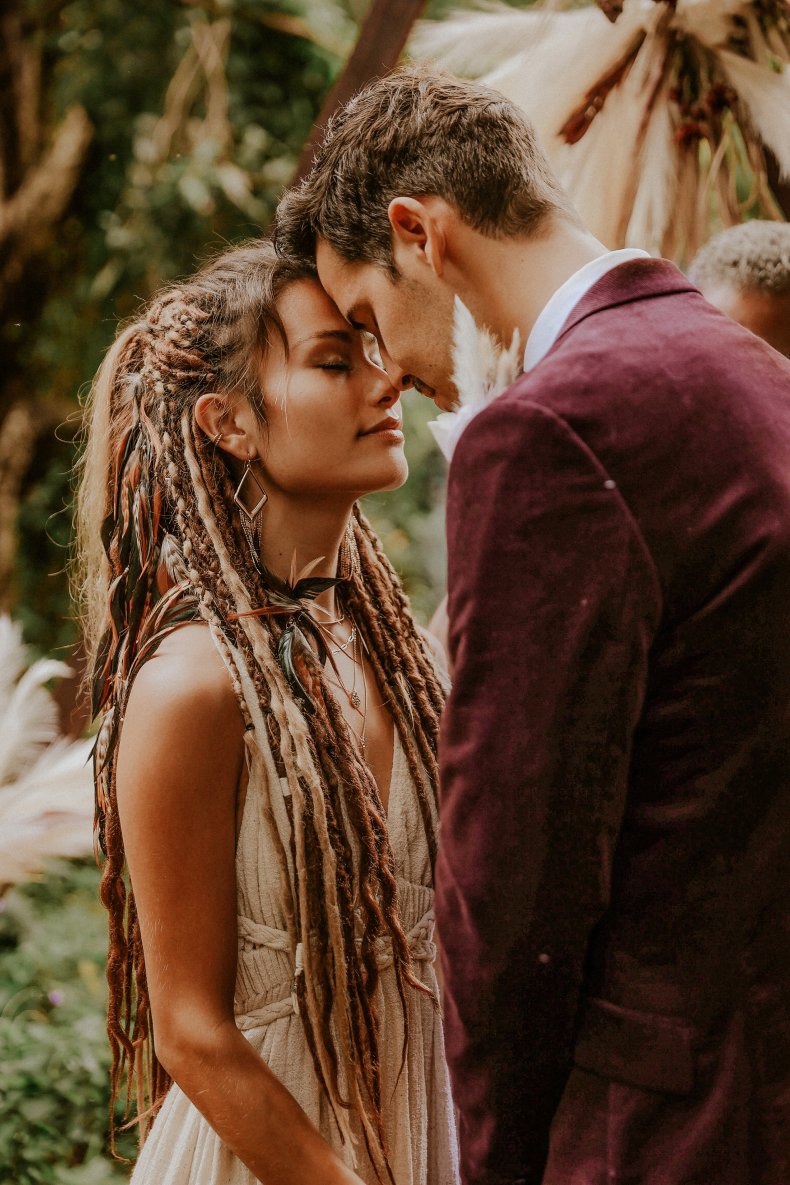 The couple tied the knot in a stunning Hawaiii ceremony in October last year. After marrying, the pair were inspired by Sam's parents to move onto the boat they had purchased back in 1996.
When Sam was a baby, his parents, Tracy and Christa Prows sold nearly everything they owned to purchase the catamaran back in the 90s, deciding to raise their seven children on the boat while sailing around the Caribbean.
"Sam's parents were and are a huge inspiration to me to keep pursuing such an adventurous lifestyle," said Mileena. "They sold everything back in the 90's and risked it all to raise their seven kids on a sailboat.
"Then his mom, Christa, got a part time job working as a baggage lady for delta so they had free flights all around the world. Due to that they have been to over 55 countries and are one of the most adventurous families I know. Their love for people, nature, and other cultures, has been really inspirational and moving to a lot of people."
Mileena and Sam fund their lifestyle by being full-time digital creators, however said living on the boat saves "a ton of money" in household bills and rent.
"Living on a boat is actually really inexpensive, once you buy the boat," she said. "The boat is expensive, but once you have that, you aren't paying rent. When we're on anchor, we're sitting anywhere for free.
"We have solar, we have a water maker, we turn all the salt water into fresh water and it's completely self sustainable, we could even just fish for the rest of our lives and never have to buy food.
"I'd say thousands of dollars a month, but you do have to take into consideration the repairs to the boat. I would say at least hundreds of dollars a month."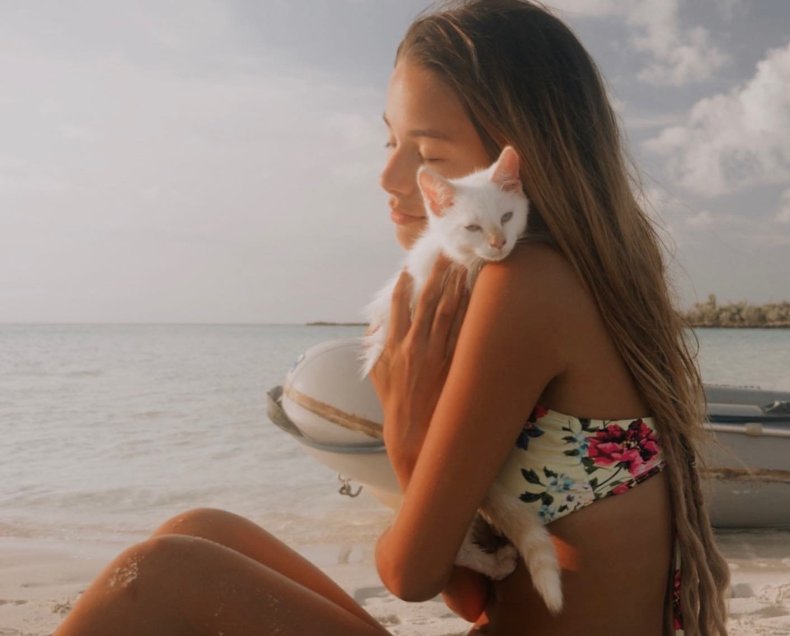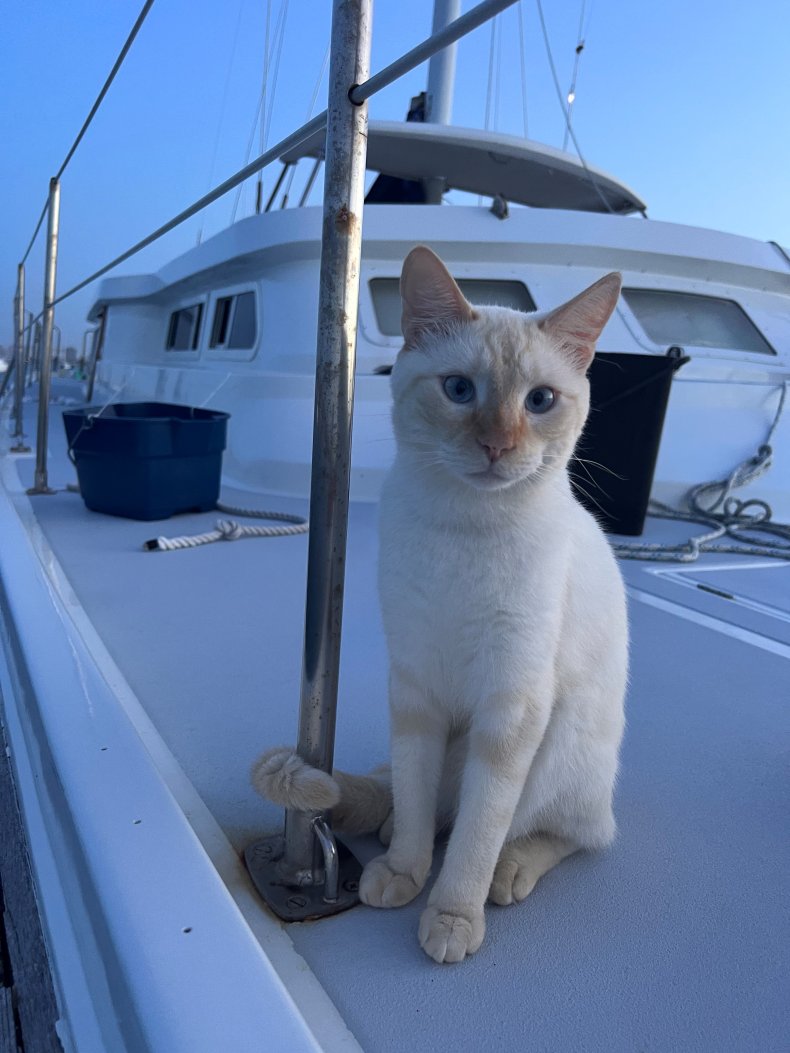 Mileena and Sam are joined on the boat by their beloved cat, Rusty, who they adopted after six months on the boat.
She explained: "We had planned this really nice trip to the Bahamas and lived there for about four months. Before we left, we were talking about how we wanted a cat and we just decided it would be best to get one right before the trip. Cats adjust very well to things, especially if you start them young."
While some of Mileena's online following expressed surprise at the couple traveling with a cat, she insisted it's perfectly safe.
"Cats are really agile and they're not stupid," she said. "When we're underway he never stands by the engine, he knows, he goes to his nice little spot."
Explaining how the couple trained Rusty to swim, Mileena added: "We got him and brought him over to the Bahamas and wanted to ease him into the water, it was gradual.
"We would take him over to a little island, at first he was like 'hmmm, what's this?' And we would be playing on the water and there would be nobody else on the island. He would want to come to us and we would sit in the water and call him, eventually he walked out to us and it was adorable."