American R&B artist R. Kelly was convicted in a sex trafficking trial on Monday following several allegations of misconduct with young women and children.
The 54-year-old singer was found guilty of all nine counts, including racketeering, on the second day of deliberations following a six-week trial.
What Is Racketeering?
Racketeering is a charge often connected to organized criminal activity involving several people.
It doesn't refer to a specific crime but rather "a way of thinking about and prosecuting a variety of crimes," attorney G. Robert Blakey, a federal criminal law professor at Notre Dame University, told CNN back in 2019.
Racketeering is used to describe various offenses under the Racketeer Influenced and Corrupt Organization Act (RICO).
Racketeering activity is defined in Section 1961 under the RICO chapter of Title 18 U.S.C.A. 1961. Racketeering activity includes kidnapping, robbery and dealing in narcotic drugs, which are "chargeable under state law and punishable by imprisonment for more than one year," the U.S. Department of Justice explains.
RICO, which forms Title IX of the Organized Crime Control Act of 1970, was passed by Congress with an aim to eradicate organized crime in the U.S., the department says.
Prosecution of Racketeering
In order to prosecute a defendant under RICO, the government must prove "beyond a reasonable doubt" that the defendant, "through the commission of two or more acts that constitute a pattern of racketeering activity, directly or indirectly invested in, maintained an interest in, or participated in an enterprise, the activities of which affected interstate or foreign commerce," the department explains.
An "enterprise" is defined as any individual, partnership, corporation, association or other legal entity and any union or group of individuals "associated in fact although not a legal entity."
At least two acts of racketeering activity committed within 10 years of each other is considered a "pattern of racketeering activity."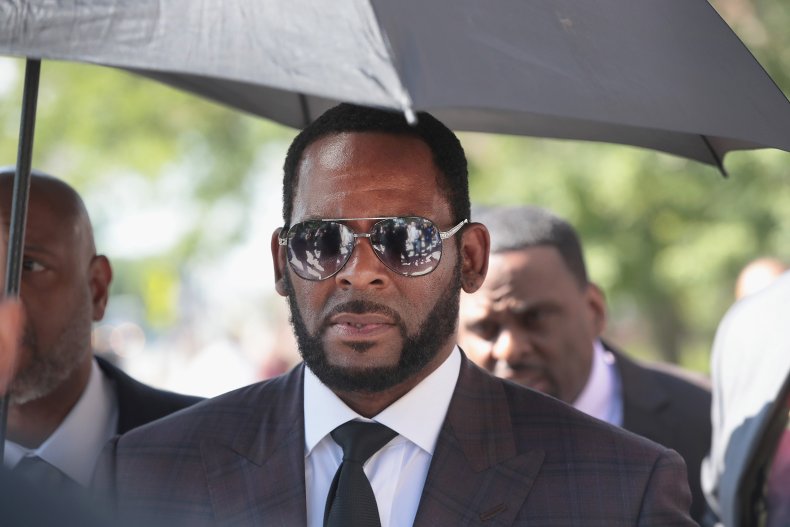 What Does This Mean in the R. Kelly Case?
Back in July 2019 prosecutors alleged he "engaged in a racketeering enterprise that preyed upon women and girls who attended his concerts so that the victims could be available to engage in illegal sexual activity with him at a moment's notice."
On Monday, Kelly was found guilty of "racketeering and multiple predicate acts," including illegal sex with minors, sexual exploitation of minors, bribery, coercion and forced labor, according to a September 27 statement from the U.S. Attorney's Office for the Eastern District of New York.
The statement said for nearly 30 years, Kelly was the leader of a criminal enterprise that included himself and a group of others who served as managers, bodyguards, accountants, drivers, personal assistants and runners for the artist.
As the leader, "Kelly used his fame to recruit women and girls to engage in illegal sexual activity with him," identifying these girls and women at concerts and directing members of the enterprise to escort them backstage following his musical performances, the statement said.
The artist issued rules that many of his sexual partners were required to follow and isolated the women and girls from their friends and family, making them financially dependent on him. Kelly also required the victims to "engage in sex with him and others and recorded many of the sexual encounters," according to the statement.
What's Happening to R. Kelly?
The artist could face life in prison following his conviction Monday. A sentencing hearing is scheduled for May 4, 2022.
"When sentenced, Kelly faces a mandatory minimum sentence of 10 years' imprisonment and up to life in prison," the U.S. Attorney's Office for the Eastern District of New York said Monday.