While R. Kelly faces a lifetime in prison after being found guilty of racketeering and trafficking in his sex abuse trial, his fans have shown they're not giving up on him.
The R&B singer, 54, was found guilty of the charges on Monday, bringing to conclusion a six-week trial that saw allegations of the sexual abuse of women, girls and boys for two decades.
And despite his stunning fall from grace, Kelly's diehard fans showed no sign of their support waning as they gathered outside the Brooklyn's Federal District Court in New York City, where the star had been found guilty of all nine charges brought against him.
In video shared by HuffPost journalist Alanna Vagianos, a faction of supporters blasted his track "F*** Y'all" as they gathered among bystanders and reporters.
A woman dressed in an all-black ensemble was also seen repeatedly yelling: "We're not giving up on R. Kelly!"
The display of support has been shown since the star's arrest on those charges in 2019, with many gathering in the streets to wave banners and placards in support of the "I Believe I Can Fly" singer.
However, after years of protesting the star's innocence, he is now facing between 10 years and life behind bars when sentenced, which is scheduled to take place on May 4, 2022.
As well as racketeering, Kelly, whose full name is Robert Sylvester Kelly, was found guilty of violations of the Mann Act, which prohibits the transportation of "any woman or girl" across state lines for "immoral" purposes.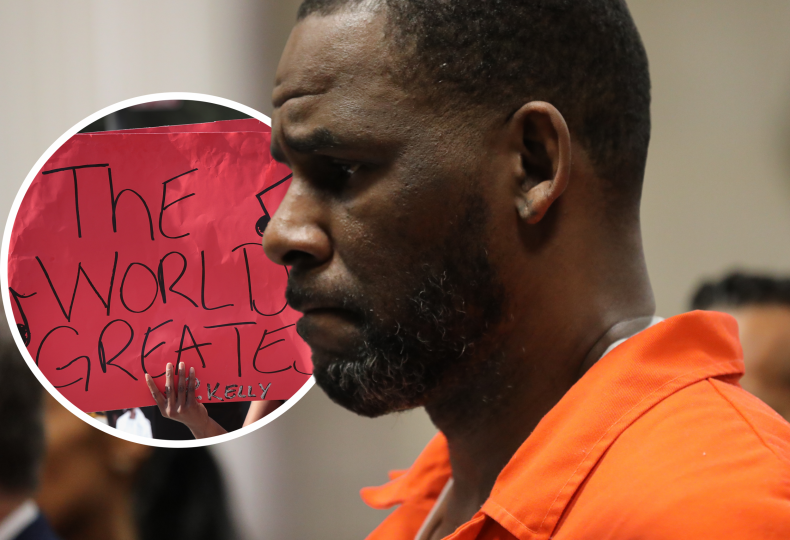 Also during the trial, the court heard how Kelly had obtained forged paperwork to allow him to marry Aaliyah when she was just 15 years old. Aaliyah died in a plane crash in the Bahamas in August 2001 at the age of 22.
Jacquelyn M. Kasulis, the Acting U.S. Attorney for the Eastern District of New York, said in a statement that "justice was finally served" following the verdict.
"Today's guilty verdict forever brands R. Kelly as a predator, who used his fame and fortune to prey on the young, the vulnerable, and the voiceless for his own sexual gratification," Kasulis said.
Lawyer Gloria Allred, who represented several victims, told reporters after the verdict: "I've been practicing law for 47 years. During this time, I've pursued many sexual predators who have committed crimes against women and children. Of all the predators that I have pursued, Mr. Kelly is the worst."
Meanwhile, Kelly's lawyer, Deveraux Cannick, told reporters on Monday he was "disappointed" with the verdict, "given all the inconsistencies."
"The government cherry-picked their version that they thought would support the continuation of the narrative," said Cannick. "Why would he expect this verdict given all the inconsistencies that we saw?"
On initially bringing charges against Kelly, prosecutors alleged that the musician had "engaged in a racketeering enterprise that preyed upon women and girls who attended his concerts so that the victims could be available to engage in illegal sexual activity with him at a moment's notice."
With his New York trial concluded, Chicago native Kelly now also faces charges related to prostitution in Minnesota and child pornography charges in Illinois.
Due to the ongoing novel coronavirus pandemic, trials relating to each of those charges—brought against the star in 2019—have yet to receive start dates.
The singer, who was acquitted of child pornography charges in 2008 in Illinois, was forced to reckon with allegations from his past when the documentary Surviving R. Kelly was aired on Lifetime in early 2019.
The documentary showed a number of women step forward to allege abuse at the hands of Kelly, including when they were underage, while the parents of young girls and women who had relationships with the star also spoke out.