R. Kelly Accusations: Complete Timeline of Singer's Sexual Misconduct Allegations
Two more women have come forward with accusations of sexual misconduct against R&B singer R. Kelly.
In a Buzzfeed report released on Friday, Lizzett Martinez said Kelly took her virginity when she was just a 17-year-old student attending high school in Miami. The singer, real name Robert Kelly, was 28 at the time.
Martinez said her romance started with Kelly during the winter of 1995 and continued until early 1999. The now 42-year-old mother of two told Buzzfeed that the singer, whose past is muddled with accusations of sexual abuse, hit her five times over the course of their relationship. "It was very controlled: what I wore, how I spoke, who my friends were, who I could bring around," Martinez said.
"I did these things, and I felt like it was always—he was directing stuff. You know, it felt really weird. He was really overbearing… I'm like, 'I don't want to do that.' But he has a way with people, with women. He's just so controlling, so abusive."
Meanwhile, a woman identified only as Michelle in the Buzzfeed report said that her daughter started a romantic relationship with Kelly in 2009 when she was 17 and living in Chicago. Michelle alleged that her daughter, who was only referred to as "N." for the sake of her privacy and safety, was one of Kelly's abuse victims being kept captive in his properties in Chicago and Atlanta (although he was evicted from his Atlanta estate in February).
Michelle is the latest parent to come forward with claims that Kelly has "brainwashed" their child and is keeping them locked in his "cult." In 2016, two other sets of parents said that their daughters met Kelly when they were 19 and 17, respectively. The parents accused the star of preventing their daughters—who are now in their 20s— and four other women from contacting their relatives. Two of the women who were a part of Kelly's alleged "cult" have reportedly left the singer in the time since.
Martinez and Michelle's allegations against Kelly comes just a few days after women of color within the Time's Up movement called a boycott against the 51-year-old, while also demanding an "appropriate investigation" into sexual abuse accusations.
Kelly has categorically denied allegations of sexual abuse and claims of sexual relationships with underage girls. In fact, Kelly's been denying accusations regarding his alleged predatory and abusive behavior over the last 24 years.
Here's a rundown of all the times Kelly has been accused of sexual misconduct.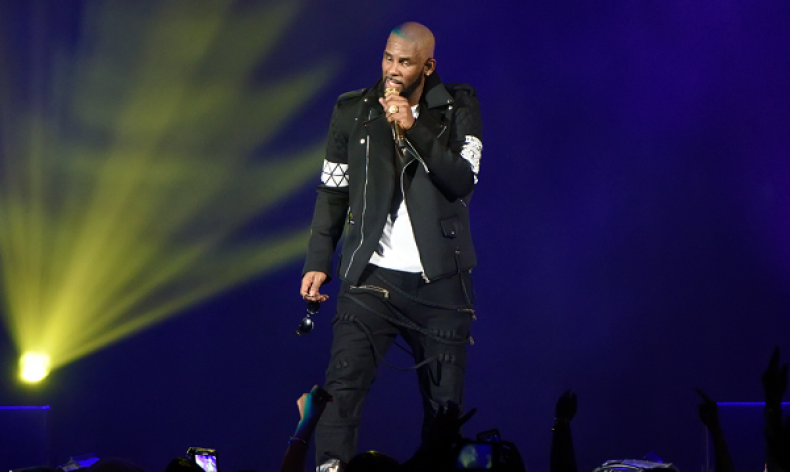 August 1994
A 24-year-old Kelly marries 15-year-old R&B singer Aaliyah. The singer, songwriter and music producer met Aaliyah when she was just 12 years old. However, it was in 1993 while working on Aaliyah's debut album, Age Ain't Nothing But a Number, when whispers of their romance first emerged. The two were secretly wed in 1994, but the marriage was annulled a few months later. Vibe magazine published a copy of their marriage license in 1995.
December 1996
On Christmas Eve, a woman named Tiffany Hawkins filed a lawsuit against Kelly and his record, management and publishing companies alleging that the singer pursued a sexual relationship with her when she was 15 and coerced her into participating in group sex with him and other underage girls. The lawsuit cited Kelly as being 24 at the time. Although she requested $10 million in damages, Hawkins settled for $250,000. In December 2000, news of the lawsuit breaks after Chicago Sun-Times publishes the first story regarding Kelly's alleged sex crimes, which included facts of Hawkin's lawsuit, as well as his short-lived marriage to Aaliyah.
January 2001
Sun-Times reporter Jim DeRogatis received a sex tape of a man who appeared to be Kelly engaging in intercourse with a young woman. DeRogatis delivered the tape—sent by an anonymous source—to the Chicago police, but because they're unable to identify the woman, no charges were pressed against Kelly. However, bootleg copies of the tape emerged and were sold around Chicago.
August 2001
Another woman comes forward with a lawsuit accusing Kelly of engaging in a sexual relationship when she was 17. Tracy Sampson, a former intern at Epic Records, said Kelly treated her "as his personal sex object" and "tried to control every aspect" of her life, including where she could go and who she could see. She also claimed the singer coerced her into receiving oral sex from a girl she "did not want to have sex with," according to court documents.
February 2002
A new sex tape emerges depicting Kelly engaging in sexual acts and urinating on a young girl. This time, the tape is anonymously sent to the Chicago Police Department, who is able to identify the girl with the help of a witness. The girl is believed to have been 14 at the time the tape was made. Bootleg copies of the video circulated across the U.S., and police indicted Kelly on 21 counts of child pornography, although the singer denied the tape showed him having sex with an underage girl.
April 2002
A third woman, Patrice Jones, filed a lawsuit against Kelly claiming that she had sex with him when she was 16 and became pregnant. Jones said Kelly forced her into having an abortion. The lawsuit is settled for an undisclosed amount.
May 2002
Montina Woods, 33, came forward with claims that Kelly taped their sexual escapade and distributed the video without her knowledge or consent. The suit is settled for an unknown amount.
September 2005
Kelly's wife Andrea Lee, whom he married in 1996, was granted an emergency restraining order against him after alleging that he physically abused, harassed and stalked her. Lee accused Kelly of pinning her down and hitting her repeatedly, while Kelly described the incident as a "heated argument." Lee requested for the order to be dismissed once it expired. The couple divorced in 2009.
May 2008
Kelly finally stands trial for 14 charges of child pornography related to the 2002 videotape of him apparently having sex and urinating on a 14-year-old girl. Neither the girl nor her parents took the stand, however 15 others identified her in their testimonies. Their statements weren't enough to persuade a jury, and after a one-month trial and one-day of deliberations, the jury finds Kelly not guilty.
July 2017
A Buzzfeed article claimed Kelly was holding six women captive in a sex cult in his properties. Sources included in the report said the women were required to refer to him as "Daddy," as well as ask his permission to use the bathroom. Sources also told Buzzfeed Kelly was forcing the women to engage in group sex and he often beat them when they did not follow his "rules." Because the women are all over the age of consent and have denied being kept against their free will, police have not investigated the issue. In a statement through his lawyer, Kelly denied the claims.
August 2017
Despite signing a non-disclosure agreement following her own settlement with Kelly in 2016, Jerhonda Pace comes forward with claims that Kelly started a sexual relationship with her in 2009 when she was 16. The details of Pace's history with Kelly heavily resemble the accounts of behavior and abuse within Kelly's alleged "sex cult." Kelly's reps deny the claims.
October 2017
Kelly's former girlfriend Kitti Jones shared the story of her relationship with Kelly in a Rolling Stone magazine interview. Jones said her history with the singer is similar to the pattern of behavior described by Kelly's sex cult accusers. She detailed an exhaustive relationship between 2011 and 2013 that included several instances of Kelly controlling and abusing her, while also forcing her to be intimate with other women.
April 2018
An unidentified woman filed a criminal complaint against Kelly, claiming she was in a romantic relationship with him for eight months while she was 19. She said Kelly was allegedly grooming her to join his sex cult and accused him of intentionally infecting her with an STD. The complaint said the woman's relationship with Kelly ended in February. Kelly, of course, denied the claims.