Rabbi Charged in Capitol Riot Wants $50 Sentence, Accuses DOJ of 'Tar and Feathering'
Michael Stepakoff, a messianic rabbi, is hoping to receive a lenient sentence for his participation in the Capitol riot, in part, because he didn't have the "luxury" of having a complete picture of the violence that was unfolding at the time.
Stepakoff is accused of taking pictures inside the Capitol and pleaded guilty to one count of parading, demonstrating or picketing in a Capitol building, a common charge for accused rioters. Prosecutors want him to spend 14 days in jail, but Stepakoff asked a judge to hand down a sentence of just $50.
Stepakoff's request for a $50 fine stems from a 2018 case involving a woman who was arrested during a protest of Supreme Court Justice Brett Kavanaugh, according to a court document obtained by Newsweek. His attorney, Marina Medvin, wrote in the court filing that the woman was charged locally for demonstrating in the Senate gallery, but had her case dismissed as soon as she paid a $50 fine.
Medvin argued the "most significant difference" between the two cases is that Stepakoff was supporting Trump and the woman was with a progressive women's group.
Prosecutors are pushing judges to consider that defendants' actions occurred in the context of a "large and violent riot" that temporarily halted the certification of a presidential election. However, Stepakoff's attorney argued in a court filing that during the riot, her client wasn't privy to the "omniscient luxury" prosecutors currently have.
"At no point on January 6 did Michael Stepakoff comprehend the magnitude of the behavior of the violent individuals in the crowd of Trump protestors," a court document obtained by Newsweek said. "Mr. Stepakoff immediately brushed the stories off as a combination of media embellishment and infiltration by Antifa or other malicious actors who were trying to make Trump supporters look bad."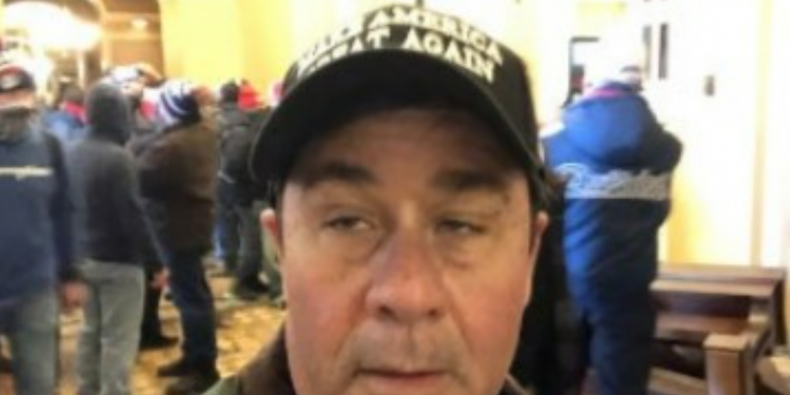 His attorney told the judge in a court filing that prosecutors were asking Judge Rudolph Contreras to "punish" the defendant for events he didn't partake in and conduct he was unaware of at the time the crime was committed. Medvin called it "unethical and inequitable" to hold Stepakoff accountable for "the results of a politically heated rally that got out of hand."
Had Stepakoff been charged with conspiracy or known about the "extent of lawlessness" occurring at the Capitol, Medvin told the judge prosecutors' attempt to lump Capitol rioters in together could be reasonable.
"But under the fact pattern at hand, the government is engaging in unreasonable overreach and fueling the fires of vindictive prosecution," she wrote.
The government has often argued that defendants need to serve jail time as a means of deterring others from engaging in similar behaviors. Judges have generally agreed that deterrence is necessary, but often buck prosecutors' recommendations that defendants receive at least some time behind bars.
Medvin argued that jail time isn't necessary because the public is already being deterred by the "relentless" prosecution of the Capitol riot participants. She also wrote that the Department of Justice is engaged in a "modern-day version of tar and feathering" by creating "public-shaming web pages for every defendant." She pointed to the minimal turnout for a protest in support of the January 6 defendants.
The 56-year-old went to the Capitol after hearing former President Donald Trump speak, expecting it to be "another protest event." His attorney alleged he wasn't aware it was illegal to be in the Capitol and that Stepakoff told the FBI he considered the Capitol as "Ground Zero for political protest."
While inside, Stepakoff shook hands with a police officer, according to court documents, and his attorney argued he didn't breach any barricades to reach the Capitol door.
Prosecutors cast doubt on the argument that Stepakoff was unaware of the illegal nature of his actions since he was an attorney who practiced criminal law for a decade. They argued that he saw people scaling the wall outside the Capitol and people climbing through the windows, but said he didn't notice it.
"At best, Stepakoff turned a blind eye, multiple times, to the signs of misconduct, violence and danger all around him as he approached and entered the Capitol in the midst of the siege that succeeded in halting the peaceful transfer of power. At worst, Stepakoff understood precisely what he was a part of, and his claims to the contrary now are disingenuous," prosecutors wrote in the court filing.
Stepakoff is scheduled to be sentenced on January 20.