In the Race for 'Climate Leadership,' Everyone's a Loser | Opinion
Last year, Joe Biden campaigned on the promise that America would lead the world in the fight against climate change. At last month's Glasgow climate conference, however, President Biden diluted candidate Biden's bold promise to a plaintive "hopefully"—implying, he said, leadership by example. At home, his climate plan in the Build Back Better bill is stalled in the Senate, and his election pledge to legislate a net-zero enforcement mechanism by the end of his first term has gone nowhere.
Aspirations to climate leadership are faring little better in Europe. Germany's new traffic-light political coalition—the red SPD, the yellow Free Democrats, and the Greens—is making the Paris climate agreement its top priority. In April, Germany's constitutional court ruled that its 2050 net-zero target was so distant that it violated the freedoms of young people. So, along with Sweden, Germany became the first country to legislate a 2045 net-zero target. Yet the new German government's net-zero plan, as outlined in the coalition agreement, may as well have been designed to worsen Europe's current energy crisis and sink its largest and most successful economy.
Under the timetable inherited from the Merkel government, zero-emitting nuclear power—which only a decade ago accounted for one-fourth of German electricity generation—will be phased out by the end of next year. To make matters worse, the new coalition is bringing forward the closure of all Germany's coal-fired power stations from 2038 to 2030 and at the same time raising the share of renewables to 80 percent. Notes energy expert Lucian Pugliaresi, Germany's energy policy initiatives "will not be sufficient to meet demand for electricity in Germany in 2030."
Germany's loss is Vladimir Putin's gain—burning more natural gas will be the only way for the country to keep the lights on. That means higher natural gas prices across northern Europe, and a continent more dependent for its energy on a dangerous geopolitical rival.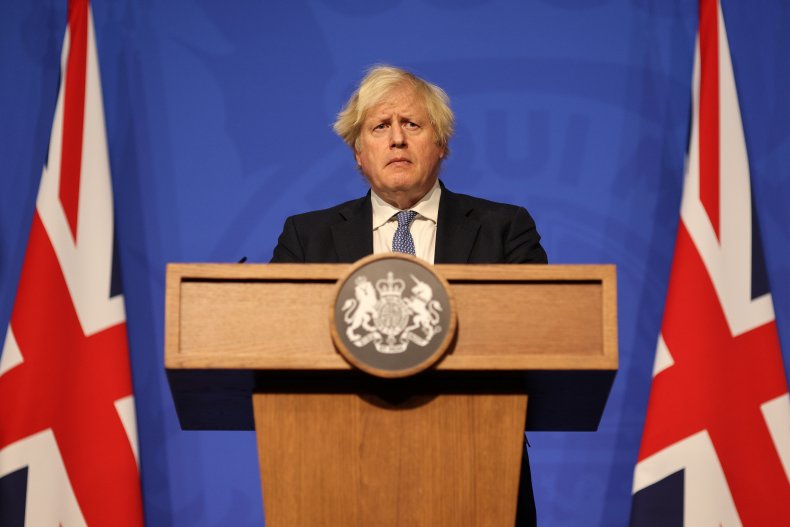 The biggest disappointment among would-be climate leaders so far has been the host of the recent U.N. climate conference: Britain and its prime minister, Boris Johnson. Britain made its bid for climate leadership in the waning days of the premiership of Johnson's predecessor in the summer of 2019. Theresa May had already announced her decision to step down when she latched on to net zero as her prime ministerial legacy. After a 90-minute debate in the House of Commons, with no cost estimates and no vote, Britain became the first major country to write net zero into law.
A small clique of politicians close to the outgoing prime minister seized on the prospect of Britain winning the presidency of the 2020 UN climate conference (later pushed back to 2021 because of COVID-19) to save face post-Brexit. One of them, former energy secretary Amber Rudd, told Politico that she thought it would "help bind the U.K. closer to the EU" on climate and energy. It amounts to a reverse case of Boris Johnson's famed cakeism—instead of having your cake and eating it, Britain would have the disadvantages of being tied to the EU without the benefits of EU membership.
Having gotten into the business of climate leadership, Britain made "keeping 1.5 alive"—the maximum temperature rise of 1.5°C that net zero is meant to deliver—the main goal of the Glasgow conference. The result was humiliation. By its end, UN secretary general António Guterres had declared 1.5 "on life support" and the British president of the conference was fighting back tears.
Better, by far, to be an energy realist like Norway. A week before the Glasgow conference, newly elected prime minister Jonas Gahr Store defended Norway's production of oil and gas because both are needed for the transition to net zero. Similarly, Japan—the only country to have hosted a UN climate conference that resulted in treaty-based emissions cuts—is dragging its feet on phasing out coal and encouraging Japanese companies to invest in oil and gas production. In October, the Japanese cabinet approved a plan prioritizing energy security. "No compromise is acceptable to ensure energy security," it said.
Different countries choose different priorities. For Europe, it's the existential threat posed by climate change. If Congress lets them, Joe Biden and John Kerry would make that America's priority, too. Meanwhile, in October, it emerged that China had successfully tested a hypersonic missile that circled the globe. General Mark Milley, chairman of the Joint Chiefs of Staff, described the test as "very concerning." It provides a reality check. Climate leadership or hypersonic leadership—which one, would you bet, will win the race of the 21st century?
Rupert Darwall is a senior fellow of the RealClear Foundation and author of Green Tyranny. In November, he published a new research report, "Climate-Risk Disclosure: A Flimsy Pretext for a Green Power Grab."
The views expressed in this article are the writer's own.