The Mayor of London Sadiq Khan has ordered a review into all statues in the capital for their links to slavery, with the hope of removing those found to be involved in the slave trade.
Khan ordered the review after protesters in the city of Bristol in western England tore down the statue of slave trader Edward Colston and dumped it in the harbor.
The move by protesters received criticism from U.K. Prime Minister Boris Johnson who described it as a criminal act and urged people who wanted to "change the urban landscape" to "stand for election, or vote for someone who will" and to follow democratic processes.
"I'm all in favor of our city reflecting the values we have but also the diversity we have," he told the BBC's Today programme, as the mayor launched The Commission for Diversity in the Public Realm, a review the city's landmarks.
This will include not only statues but also street names, murals, street art and other memorials, before making recommendations.
"There are some statues that are quite clear cut: slavers, are clear cut in my view, plantation owners are quite clear cut," Khan said.
"It's inappropriate for me as mayor on the day I'm announcing the commission [what it will find about which statues should be taken down]."
Khan told the BBC that he did not condone unlawful acts but wanted there to be a proper procedure in place for the removal of statues that are at odds with London's values.
He said: "I'm quite clear, the law has got to be followed. What I'm also clear about is that I don't lead with words like "thuggery", "recklessness" and "lawlessness".
"I lead with empathy and emotional intelligence, recognizing the upset and anger people have about their voices not being heard for many years and many decades."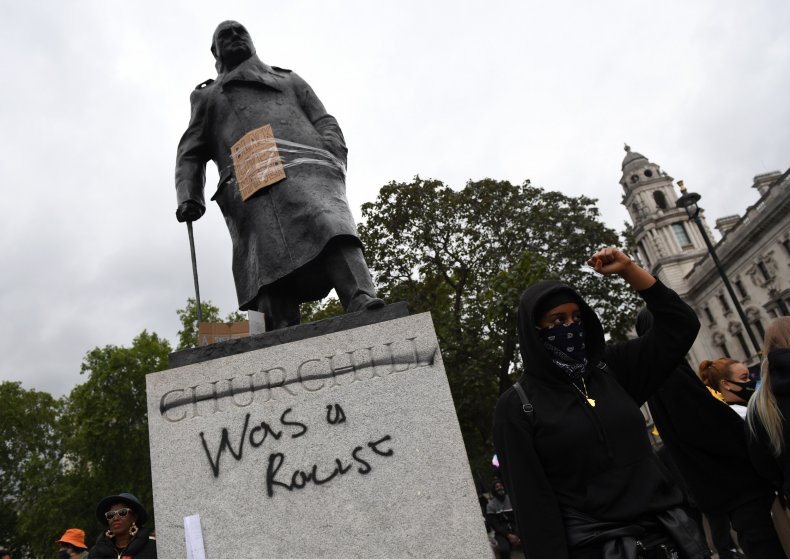 When asked if that could mean statues could be taken down, Khan said: "I hope so. One of the things I realize is that I've not got ownership of the statues and indeed some of the land some of these statues are on but it's a wider conversation I want to have which is the diversity of the public in our city."
The mayor also said there were not enough statues and monuments dedicated to people of color, women or those from the LGBT community.
The mayor also tweeted: "Today we've unveiled a new commission to review and improve the diversity of London's public landmarks.
"We must commemorate the achievements and diversity of all in our city - and that includes questioning which legacies are being celebrated."
The words Churchill was a racist were also sprayed on Winston Churchill's statue on Parliament Square by protesters.
Asked on Sky News where he would draw the line, Khan said he did not consider the statue of Churchill to be included in the review and that no historical figure was perfect but that history should be taught "warts and all".