'Racist Dog Whistle' to Call Black Female SCOTUS Pick 'Affirmative Action'
As a part of his pledge to create a government that "that reflects the nation," President Joe Biden promised that he would select the Supreme Court's first Black female justice to replace the retiring Associate Justice, Stephen Breyer.
His commitment to choosing a nominee of a specific gender and race was met with criticism by conservative politicians and commentators who argued that a candidate should be selected based on their merit alone.
"I think the important thing is that this is someone who will uphold the Constitution faithfully, regardless of their ethnic background or gender or anything else," Republican Senator Josh Hawley of Missouri told CNN. "I think it sends the wrong signal to say that, 'Well if a person is of a certain ethnic background, that we don't care what their record is, we don't care what their substantive beliefs are.'"
Conservative commentator Ben Shapiro offered some of the strongest statements against Biden's pledge:
"Joe Biden will nominate a black woman for the Supreme Court because he said he would select someone based on race and sex, and then we will be told that noting that this is definitionally affirmative action and race discrimination is itself racist," he tweeted.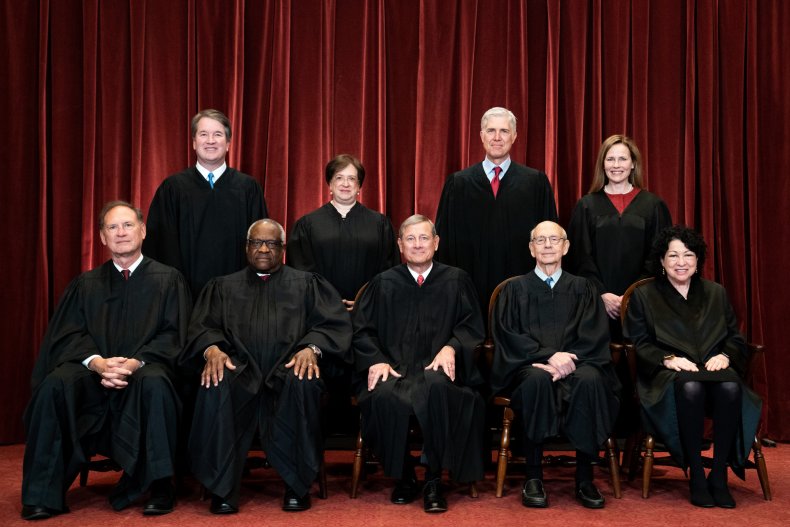 While these claims could make it seem as though Biden's nominee would be the first justice selected to the court based on her identities and background, Gregory Magarian, a professor at the Washington University in St. Louis School of Law and expert in constitutional law said there is clear precedent for presidents from both parties to choose nominees based on their background.
In 1967 Democratic President Lyndon B. Johnson successfully nominated Thurgood Marshall, the first African American justice, to the court. And in 1981, Republican President Ronald Regan successfully nominated Sandra Day O'Connor, the first woman justice, to the court.
A number of names have been floated for Biden's pick; however, the three front runners appear to be Judge Ketanji Brown Jackson of the U.S. Court of Appeals for the District of Columbia Circuit who attended Harvard Law School and clerked under Breyer, Justice Leondra Kruger of the California Supreme Court who attended Yale Law School and clerked under former Justice John Paul Stevens, and Judge J. Michelle Childs of the South Carolina U.S. District Court who attended University of South Carolina School of Law.
With all the potential nominees boasting strong legal resumes, Magarian said whoever the president picks should have a resume worthy of the nation's highest legal body, saying that to delegitimize this person's qualifications and worthiness based on the president's pledge should be viewed as racist.
"The way the term [Affirmative Action] is being used in this case, it's absolutely a racist dog whistle," Magarian told Newsweek. "We're at a point now where finding people with a conventional resume who are really really good within any of these groups is not a problem."
He said that while "firsts" presented with the nominations of Marshall, O'Connor, and this future justice jump out in terms of representation, it is standard for the court to welcome someone with perspectives that add some level of diversity with almost any new appointment.
For example, in Barrack Obama's nomination of Justice Elena Kagan, who was the former Solicitor General of the United States, the court received a new perspective in the form of executive branch experience, as nine of the previous justices before her had all served on appellate courts, he said. With Donald Trump's nomination of Amy Coney Barrett, the court received the perspective of someone who had served on the Appeals court for the Midwest.
Andre Perry, an expert in race and structural inequality with the Brookings Institution, agreed with Magarian's assessment, also saying that with each new appointment comes the sitting justices to be exposed to insights based on unique lived experiences. He told Newsweek that shifting the court through the addition of these individuals plays a key role in bringing forth a legal framework that reflects America's values and the interests of its people.
"One would think that new voices would provide new opportunities to engage in conversation that may influence a decision," Perry told Newsweek. "When you introduce new people, you're going to learn new perspectives, and it's going to influence your decisions."
He looks at the example of Marshall and O'Connor as a prime example of this. When O'Connor was struggling over how to rule in the tightly contested 2003 case on Affirmative Action Grutter v. Bollinger, she stated that her conversations with Marshall on inequality from years prior would push her to vote in favor of protecting Affirmative Action.
Perry said the consideration of interpersonal relationships, which can be lost while deliberating over politics, should be seen as a reason why Biden's selection to nominate the court's first Black female justice should be seen with added significance in the 6-3 conservative-majority court.
"It's hard to look a friend in the face and not acknowledge their perspective," Perry said. "I think what goes into the calculus is not just political transactions, it's also to think deeply about who in the long-term can be a positive force for the court and for democracy."