Racist Rant Against Asian Woman Exercising in California Park Caught on Camera: 'We Do Not Want You Here'
Police have launched an investigation after a woman was seen delivering a racist rant against an Asian woman at the Charles H. Wilson Park in Torrance, Los Angeles County, in a video shared on social media Wednesday.
A video of the incident, which saw the woman shouting, "We do not want you here," among other comments, was posted on Twitter by @mynamegangg, a friend of the victim. The video has had nearly 5.5 million views, as of Thursday.
The woman was reported to have walked by the Asian woman and bumped her while the Asian woman was exercising on some steps at the park. The Asian woman then said: "Jesus."
The other woman then launched into a racist tirade, including profanity, which was captured on video.
The woman shouted: "Why don't you go somewhere else where you can go to a gym. This is not just for you. Get the [expletive] out of this world. Get the [expletive] out of this state. Go back to whatever Asian country you belong in.
"This is not your place, this is not your home. We do not want you here. Put that on Facebook. I hope you do. Because every [expletive] person will beat the crap out of you from here on out. Don't you ever say oh Jesus to me when I want to use the stairs you little [expletive].
"Listen to me. We don't play games here anymore. Next time you talk to me like that you're going to get your ass kicked by my family. They're gonna [expletive] you up," the woman said.
After walking away, the woman looked back towards the Asian woman and yelled: "Who wears black in California sun? Who the [expletive] wears black. Are you an idiot, you wear black in California sun? Seriously?"
City officials were notified of the incident and Torrance Mayor Patrick Furey confirmed police are investigating, ABC7 reports.
Condemning the racist act, Furey noted: "Conduct like that displayed on the video cannot be tolerated. Public safety is a high priority in the City of Torrance. And all visitors to our open spaces should always feel safe and free to exercise while practicing social distancing without conflict."
A slightly longer video of the incident was also shared on Twitter by @rmtennell, another friend of the Asian woman.
"My friend was threatened in Wilson Park in Torrance, California today while she was working out in a public park by a Karen. She now does not feel safe to exercise in the park because of this. This is infuriating," @rmtennell wrote in the post sharing the video.
Several other users on Twitter have dubbed the ranting woman a "Karen," a term which has become a popular insult for a very specific type of person online. It can be used to describe someone "characterized as an irritating, entitled woman," according to Know Your Meme.
"She's at that karen stage where she dares you to post it online. She'll soon be at the stage where she's crying and writing fake apologies when the consequences start coming in. This one is too old for redemption," wrote @AnisonII.
"Where does she even think she lives? Doesn't Torrance have a diverse population? And even if it didn't, shut the hell up Karen," wrote @theeniebeanie.
"These Karens always screaming in that high pitch," wrote @chappie_cat.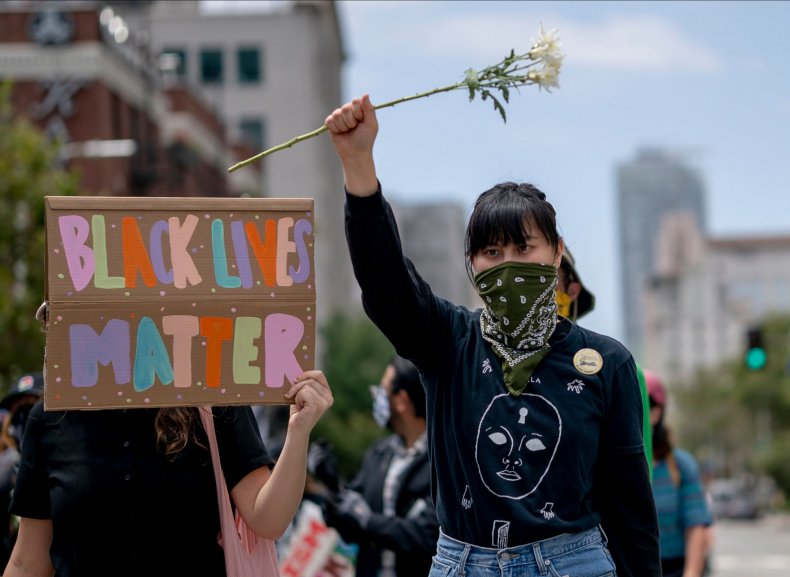 The latest incident comes amid ongoing protests worldwide following the death of George Floyd, who died shortly after being pinned to the ground with a knee to his neck during an arrest by the Minneapolis Police Department.
Last month, the New York City Commission on Human Rights announced it will be launching an investigation on behalf of the city into Amy Cooper, a white woman who called the cops on a black man at Central Park when he asked her to put her dog on a leash.
The incident was recorded by the man, Christian Cooper, after he asked Amy to leash her dog in accordance with Central Park regulations. In the video, Amy can be heard saying, "I'm going to tell them there's an African American man threatening my life."