Radiohead Get Hacked for Ransom, Release All Stolen Material to Donate to Climate Change Protests
Experimental rock band Radiohead has released 18 hours of material that was stolen from lead singer Thom Yorke's archived MiniDiscs by an unknown hacker.
The group announced on its social media platforms today that the archive—consisting mostly of unfinished music and clips from the mid-90s—had been stolen last week. The hacker, or hackers, demanded $150,000 to keep it from being released to the public, Radiohead said.
In response, the band decided not only to ignore the ransom demand but release the entire trove of music to Bandcamp in aid of Extinction Rebellion, the new climate change movement.
"Just for the next 18 days. So for £18 you can find out if we should have paid that ransom," the group said in a Facebook post, also shared to Twitter by guitarist Jonny Greenwood.
"Never intended for public consumption (though some clips did reach the cassette in the OK Computer reissue) it's only tangentially interesting. And very, very long," the note continued, referencing the file's download size. "Not a phone download. Rainy out, isn't it though?"
A note on Bandcamp alongside the new release, seemingly penned by Yorke himself, read: "We've been hacked. My archived mini discs from 1995-1998(?). It's not [very] interesting.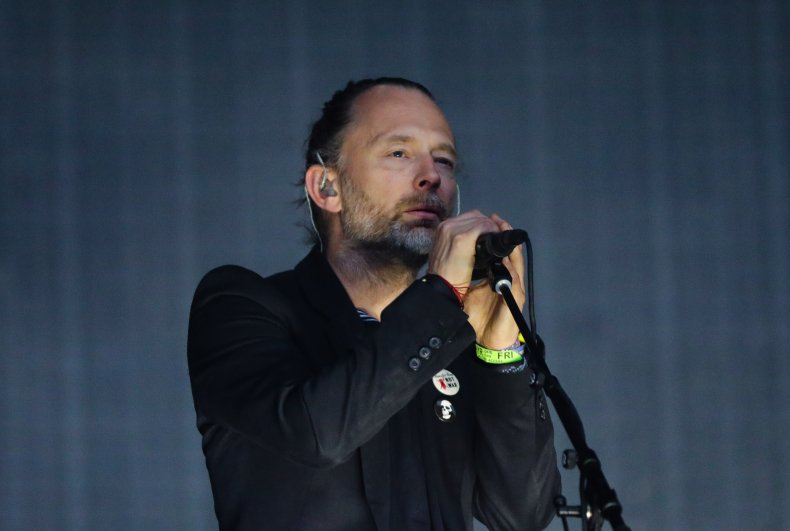 "There's a lot of it. If you want it, you can buy the whole lot here. 18 minidisks for £18. The proceeds will go to Extinction Rebellion. As it's out there, it may as well be out there. Until we all get bored and move on." The download—which comes in at a whopping 1.8GB in size—was posted alongside labels that had been on the covers of the compromised MiniDiscs.
Speculation about the leaked material surfaced on the Radiohead Reddit page in recent days. Fans are now compiling and analyzing the vast batch of music for hidden gems. One group has created a Google document and is now time-stamping and organizing the files. Those behind the effort stress they are not the leakers and had no involvement with the ransom demand.
Extinction Rebellion, which recently hit the headlines for its public demonstrations that were intended to raise awareness for the devastation caused by the world's changing climate, posted a tweet today that offered a "massive thank you" to the band for helping the movement.
Yorke made a reference to Extinction Rebellion in an interview with Crack last month when asked about his use of social media. At the time, the movement's protests were in full swing.
"I use it as a vehicle to retweet positive messages," he said. "You can only use the tools at your disposal to get the messages across. You're left no choice. It's the same thing that's happening at the moment with Extinction Rebellion who have run out of choices and are acting." In 2015, Yorke told French magazine Télérama that fears about climate change had kept him awake at night.
"When my second child arrived in 2004, I got unhealthily obsessed with it," he told columnist George Monbiot. "But when I started to get involved in doing something about it, that helped me a lot. But I always have the impression that I am not doing enough at all."