RAICES Dedicates $3 Million to Flights and Housing for Separated Immigrant Families
The Refugee and Immigrant Center for Education and Legal Services (RAICES) has announced it will dedicate at least $3 million toward flights to reunite families separated under the Trump administration's hard-line immigration practice.
RAICES has received a donation windfall of more than $20 million after independent fundraisers launched a Facebook appeal, which went viral.
In a joint initiative with rights groups FWD.us and Families Belong Together, RAICES said in a statement sent to Newsweek that its "Flights for Families" effort will provide a "travel help desk" to families affected by the "zero tolerance" practice that will help cover their travel fees for reunification, as well as their temporary housing costs.
Pro bono attorneys working with clients are also being offered travel assistance and can fill out intake forms online.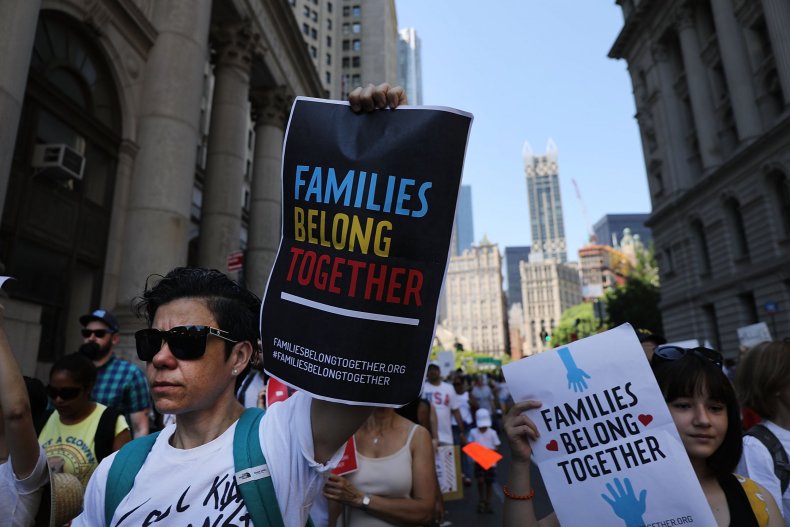 RAICES said it felt the need to step in and provide families with assistance as the Trump administration struggles to reach its looming court-ordered deadline on Thursday to reunite the thousands of families separated at the U.S.-Mexico border.
After widespread condemnation of the separation practice, Trump signed an executive order overturning it in June.
"While the Administration and Congress have failed to reunify all the families separated at the border, RAICES, FWD.us and the Families Belong Together coalition have stepped into the breach, announcing today that they are supercharging their combined efforts to date to speed family reunifications by paying for flights and assisting with travel logistics," RAICES said in a statement.
It said it would be providing all of its services "free of cost," adding that its "travel help desk" is "already operational."
Executive Director of RAICES, Jonathan Ryan, said in a statement to Newsweek that the outpouring of support the organization has received is a "direct response to the Trump administration's brutal policy to separate and detain families for indefinite periods."
"We are proud to stand together with our communities who represent vulnerable people to reunite every family," Ryan said, adding: "In the face of gross negligence from the administration and a dereliction of their duties, we are determined to do this as quickly as possible."
RAICES stressed the need for the Trump administration to bring together families as quickly as possible.
"The need to reunify children as quickly as possible is urgent," RAICES said in a statement. "Doctors and experts warn that separating children from their parents causes long-term mental and emotional trauma and babies the Administration took away months ago are now toddlers who no longer recognize their parents," the organization said.
Director of the Families Belong Together Coalition, Jess Morales-Rocketto, who is also the political director of the National Domestic Workers Alliance, said the Trump administration is "failing to fix the humanitarian crisis they created."
Related: RAICES rejects $250,000 donation from Salesforce over its contract with Trump administration
"Flights for Families represents the best of our country," Morales-Rocketto said in a statement sent to Newsweek. "Americans are coming together in love to support children and families and reject the inhuman treatment of immigrant children."
RAICES recently made headlines after rejecting a $250,000 donation from cloud computing company Salesforce after the firm refused to cancel a contract with Customs and Border Protection (CBP)
The immigrant rights group said that after "careful consideration," it could not accept the contribution after Salesforce rejected employees' calls for it to end the contract with CBP over its role in enforcing the Trump administration's hard-line immigration policies.