'Whimpering' Jimmy Fallon Responds to Trump's 'Be a Man' Taunt With Donation to Immigration Nonprofit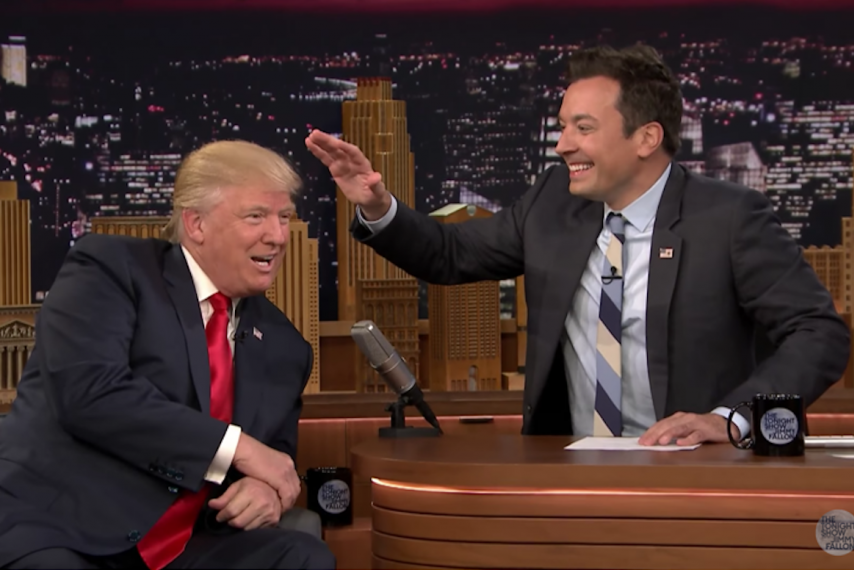 Jimmy Fallon has promised to make a donation to a nonprofit helping undocumented immigrants detained at the border in President Donald Trump's honor. That's after the U.S. leader hit out at the comedian, telling him to "be a man."
Fallon became Trump's latest Twitter target after the late-night host expressed regret over a controversial Tonight Show interview he did with the now-president in September 2016. Back then, Trump was still widely considered a longshot to win the presidency.
Speaking to The Hollywood Reporter, the comedian said he did not do the interview, in which he joked around with the then-candidate and jokingly tousled his hair, "to 'normalize' [Trump] or to say I believe in his political beliefs or any of that stuff."
He said criticisms over the episode, which many said helped "normalize" Trump for voters who were on the fence about the billionaire, spiraled "out of control."
"Of all the people in the world, I'm one of the good people—I mean, really," Fallon said. "But people just jump on the train, and some people don't even want to hear anything else. They're like, 'No, you did that!' You go, 'Well, just calm down and just look at the whole thing and actually see my body of work'."
Read more: Jimmy Fallon says he was 'devastated' by backlash over Donald Trump interview
The comedian's comments received a rapid-fire response from the president, who took to Twitter on Sunday to rant over Fallon "whimpering to all that he did the famous 'hair show' with me (where he seriously messed up my hair) and that he would have now done it differently because it is said to have 'humanized' me," adding: "He is taking heat."
Trump intimated that Fallon had called him at some point after the show, telling him the episode had received "monster ratings," before writing: "Be a man, Jimmy!"
In a swift response, Fallon, whose show saw a significant drop in ratings after the infamous September episode, tweeted: "In honor of the president's tweet, I'll be making a donation to RAICES in his name."
RAICES, the Refugee and Immigrant Center for Education and Legal Services, identifies itself as the largest immigration legal services nonprofit in Texas, with a focus on immigrant children, families and refugees.
The nonprofit thanked Fallon in a tweet, calling the donation a "tremendous honor."
"It's hard to resist supporting reuniting families. Thanks, Jimmy! This is a tremendous honor. A hugely winning choice!" RAICES wrote.
It is unclear how much money Fallon plans to donate. However, his contribution will add to a more than $20 million windfall RAICES received in a matter of days, after a Facebook fundraiser for the nonprofit went viral.
The organization has said it plans to use the funds to help reunite families separated under the Trump administration's "zero tolerance" policy, which saw children separated from parents caught crossing the U.S. southern border illegally. The president rescinded the rule last week, after facing widespread backlash.