Rainbow Fentanyl Sales on Popular Apps Spark Concern on West Coast
The sale of rainbow fentanyl on some popular social media apps has prompted concern from officials on the West Coast.
In a recent press release, the Placer County District Attorney's Office in California reported the discovery of "rainbow-colored batches of fentanyl making its way into the county, seemingly designed to market to minors."
"Reports are showing that many of these sales are happening on app-based programs such as Instagram, Snapchat and TikTok," the district attorney's office said, adding that fentanyl can come in the form of fake prescription pills and off-market vape pens and has been reported to be found in marijuana.
The report by the Placer County District Attorney's Office comes just a few weeks after officials in Oregon warned of rainbow fentanyl possibly being targeted to adolescents. While executing a search warrant at a suspect's home on August 16, the Multnomah County Sheriff's Office said that a "new form" of rainbow fentanyl was discovered.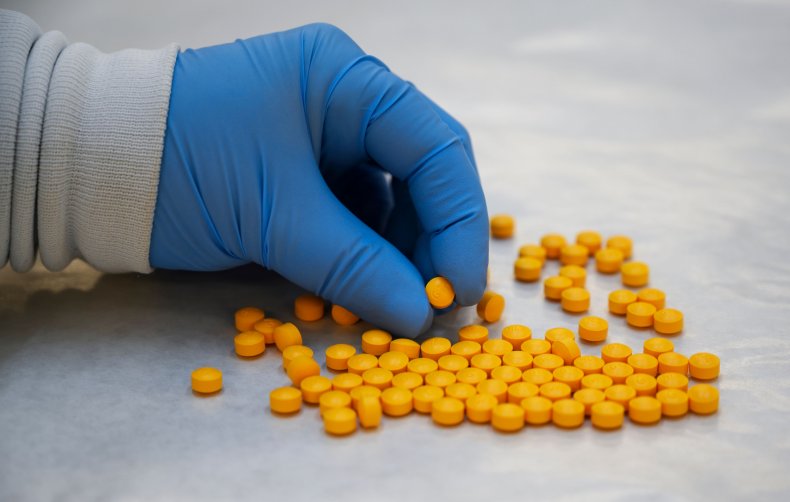 "Deputies are particularly concerned about rainbow fentanyl getting into the hands of young adults or children, who mistake the drug for something else, such as candy or a toy, or those who may be willing to try the drug due to its playful coloring. The powdered fentanyl found during this investigation resembles the color and consistency of sidewalk chalk," the sheriff's office said in a press release.
Kelly Sloop, a pharmacist and executive director of the Need 4 Narcan organization, told Newsweek earlier this month that rainbow fentanyl "is very appealing" due to its looks and colors. She noted that she is concerned "for our young adults and our youth."
"There's this new rainbow-colored fentanyl because the drug dealers and drug cartels are trying to reinvent the wheel to find another means of appealing to kids and young adults," Sloop said.
On Tuesday, Sloop told Newsweek: "Rainbow Fentanyl is making its way along the West Coast. Law Enforcement in Portland, Oregon have seized both powder and pressed pills of the rainbow-colored Fentanyl."
"What is concerning is the blocks of Rainbow Fentanyl powder and the pressed pills of Rainbow Fentanyl are reported to be 100% Fentanyl...These Rainbow-colored pressed pills of Fentanyl are being sold on social media sites like Snapchat and TikTok because they do look like candy or even like a kids' vitamin," Sloop said.
"With school starting, it's important to raise awareness so parents and educators can talk to our youth and tell them to never accept a pill from anyone unless the medicine is picked up from a pharmacy."
The U.S. Attorney's Office in Oregon and the Drug Enforcement Administration (DEA) also reported a similar discovery of rainbow fentanyl this week.
"Rainbow fentanyl has appeared recently in several forms in cities across the country. A version seized recently in the Portland area resembles thick pieces of brightly-colored sidewalk chalk. Some versions seized elsewhere in pill or tablet form resemble candy," the attorney's office said in a press release.
In a statement on Tuesday, DEA Administrator Anne Milgram said, "Rainbow fentanyl—fentanyl pills and powder that come in a variety of bright colors, shapes, and sizes—is a deliberate effort by drug traffickers to drive addiction amongst kids and young adults."
"The men and women of the DEA are relentlessly working to stop the trafficking of rainbow fentanyl and defeat the Mexican drug cartels that are responsible for the vast majority of the fentanyl that is being trafficked in the United States," Milgram continued.
Newsweek reached out to the Placer County District Attorney's Office for further comment. Newsweek also reached out to TikTok and Instagram for comment.
Update 8/31/22, 9:34 a.m. ET: This story was updated with additional comment from Kelly Sloop.