'Raised By Wolves' Boss Teases Season 2 and 'Five or Six' More Seasons
Raised By Wolves has now released its season finale onto HBO Max, which promises a very different looking Season 2 that splits the cast up among the different terrains of Keplar 22B.
With the last episode unveiling a giant monster onto the planet, fans are eagerly awaiting news on the future of the show. Luckily, HBO Max has already commissioned Raised By Wolves for Season 2, and showrunner Aaron Guzikowski has revealed to Newsweek that the next set of episodes are already being "sketched out."
He also teased that this is far from the end of the road for Mother (played by Amanda Collin), Father (Abubakar Salim) and the rest of the planet's inhabitants, whose stories could run for "five or six seasons."
The showrunner also gave his take on the fan theories trying to place Raised By Wolves into the timeline of films made by the show's executive producer Ridley Scott like Alien and Blade Runner—especially now that the show has a fearsome alien monster of its own.
Below is part two of Newsweek's interview with Guzikowski—in part one, we discussed all the biggest moments of the Season 1 finale, and here we explore what is in store in Raised By Wolves Season 2: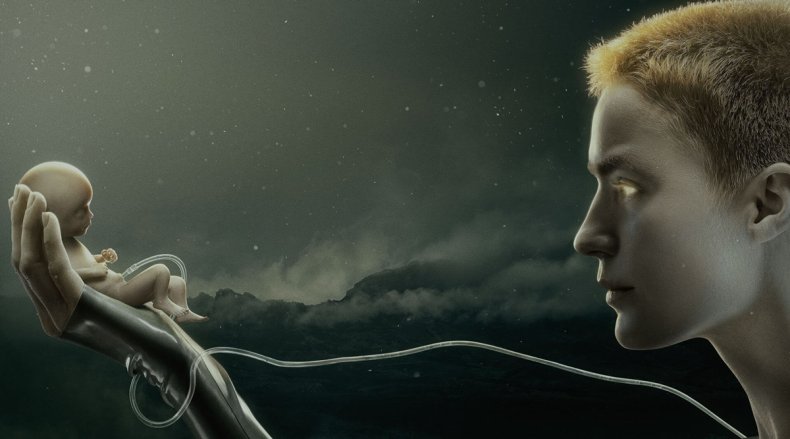 Newsweek: The show got an early Season 2 renewal. At what point in the development of it are you currently?
Aaron Guzikowski, Raised By Wolves creator: I am a way into it, definitely. We have sketched out a lot of the storylines and I have started to work on concepts for some of the new tech we are going to see, some of the new environments and a few new characters. So, definitely, well into the process of creation there.
NW: What can you say so far about what fans can expect from Season 2?
AG: Well, I would say that we are starting to put some big pieces on this big empty game board.
This massive threat has been born of the Necromancer. This creature has been unleashed on the planet now that Mother has inadvertently brought it from extinction, and suddenly her mission is much more complicated because she is responsible for creating this threat now that she has to deal with.
In addition to that, we are going to have some new arrivals from Earth, the atheist army, we are going to change the power dynamics on the planet. So there is quite a bit that lies in store.
NW: Do you think that Raised By Wolves will be a self-contained story over a few seasons, or is it something that you can see expanded over many years, if you get the choice to do that?
AG: If given the opportunity, it could go for five or six years. I think I worked out five or six seasons of story and it could be condensed, depending on how things go.
But there is definitely a larger arc that has been worked out, that could go on for about that long, for about six seasons. To tell a very, very epic tale of basically the population and the restarting of civilization on this planet.
NW: What has surprised you the most about the way that the audience has responded to the show?
AG: It has been really gratifying to see people really digging into the density of it, all of the various mysteries, and all of these, the clues, and really trying to puzzle it out. I think that is what the show was built for. It is a show that runs on mystery. So, it is very gratifying that people have dug into that.
Also, it has been great to take these android characters and getting people to really invest in them, even if we are not exactly sure if they are entirely trustworthy, or if everything they are doing is for the best in terms of the future of humanity. It has been really cool to see people really getting into the nuances of these two characters and the relationship they have and their family.
NW: On the subject of fans digging into the mysteries of the show, what do you make of the fan theories that try and link Raised By Wolves and Alien and Blade Runner—there's definitely a lot of viewers that might try and link the serpent to a Xenomorph from Alien.
AG: Yes, I have definitely heard that theory. I think there is definitely a lot of thematic connection. Certainly, there is some homage in there. It is Ridley Scott, so Ridley has this kind of visual vocabulary that is constantly expanding. All of his work, there is this kind of connectivity to that sort of aesthetic.
But directly in terms of the actual mythology in the story and the timeline, it is not supposed to be of the same timeline as Alien or Blade Runner or anything else. But at the same time, again, we are definitely dealing with a lot of the same themes and ideas and concepts. There is some DNA that they have in common, but we are not literally trying to connect with those mythologies.
Interview has been edited for clarity.
Raised By Wolves Season 2 is coming soon to HBO Max.