Church Opens Doors to Muslims for Ramadan as Mosques Face COVID-19 Restrictions in Germany
A church in Berlin has opened up to worshippers from a nearby mosque who had nowhere to go for Friday prayers during Ramadan because of coronavirus restrictions on gatherings.
Congregations of people in religious services were suspended in Germany during March to mitigate the spread of the virus. Gatherings are now permitted, but with a maximum of 50 people at a time.
Dar Assalam mosque in the Neukölln district of the German capital would typically host 1,000 people, but with the new measures only a fraction of worshippers would be able to attend Friday prayers. Martha evangelical church located about a mile away, stepped in to help.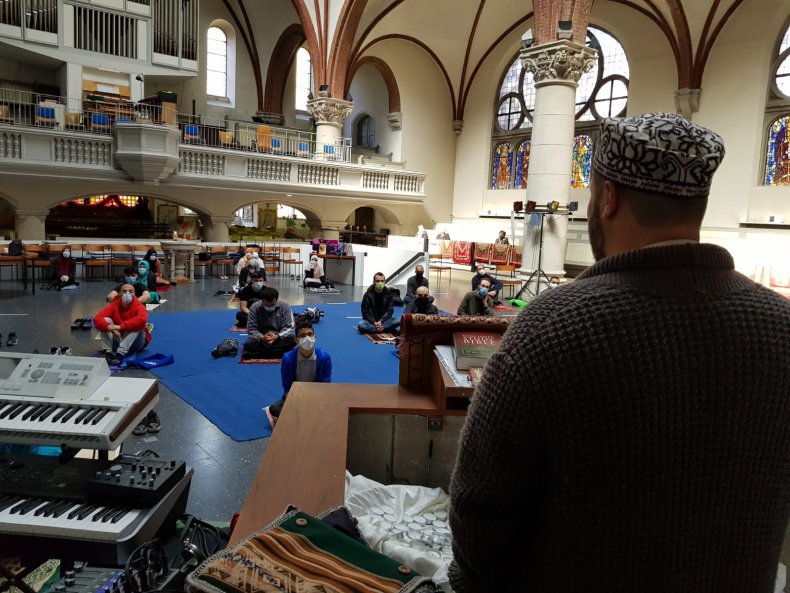 Two services of Friday prayers now take place at the church, one in German, one in Arabic. Worshippers wear protective masks while practicing social distancing during prayers.
"It is a great sign of solidarity. We are just thankful, this is a good chance of inter-religious dialog and it is wonderful that the church is doing this," mosque spokesperson Juanita Villamor, told Newsweek.
The church's offer has doubled the number of people who can attend with many prospective worshippers applying online for the available spaces.
"For us it is really helpful because we have now one preacher at the mosque and one preacher at the church on Friday so a lot more people can be reached. If we didn't have the church then a lot of people couldn't go to Friday prayers. This is really nice of them."
"Interreligious dialog is very good in Neukölln, we have very good connections," she said.
Monika Mathias, who is a priest at Martha church, explained the reason behind the gesture, telling Deutsche Welle: "We see Ramadan as a very valuable thing, we think that prayer and opening ourselves to each other and to God, helps to reinforce humanity and peace."
Meanwhile Dar Assalam mosque's imam, Mohamed Taha Sabry, also praised the church's gesture of "solidarity," telling the German channel: "It is a great initiative and we thank them for this."
Last month, Sabry warned that many mosques face bankruptcy because of the coronavirus shutdowns, especially during Ramadan which is a crucial time for them to get donations.
"Mosques are going through a massive crisis. I think that some mosques are going to be forced to close, especially those which have to pay rent," he told Reuters.
Earlier in May, Germany's Chancellor Angela Merkel announced an easing of restrictions, including the gradual reopening of shops and schools, in measures undertaken by the country's 16 federal states.
There were more than 178,000 confirmed COVID-19 cases in Germany and more than 8,000 deaths, as of Thursday, according to Johns Hopkins University.
The infographic below, provided by Statista, shows the countries with the most confirmed COVID-19 cases across the U.S. as of May 20.