Rand Paul Claims 'Hatred for Trump' Hindering Research Into Ivermectin as COVID Treatment
Senator Rand Paul, a Kentucky Republican, argued that "hatred for Trump" is hindering research into ivermectin as a treatment for COVID-19.
Some conservatives and supporters of former President Donald Trump have promoted ivermectin, a drug primarily used to deworm livestock such as horses and cows, as a viable treatment for COVID-19. Scientific research has not shown the drug to be effective in treating the novel coronavirus, and the Food and Drug Administration (FDA) has warned Americans not to use the drug for COVID-19 infections.
But Paul told constituents in Kentucky on Friday that opposition to ivermectin was related to pushback towards the former president.
"The hatred for Trump deranged these people so much, that they're unwilling to objectively study it," the GOP senator told a crowd of about 60 people, the Cincinnati Enquirer first reported. "So someone like me that's in the middle on it, I can't tell you because they will not study ivermectin. They will not study hydroxychloroquine without the taint of their hatred for Donald Trump."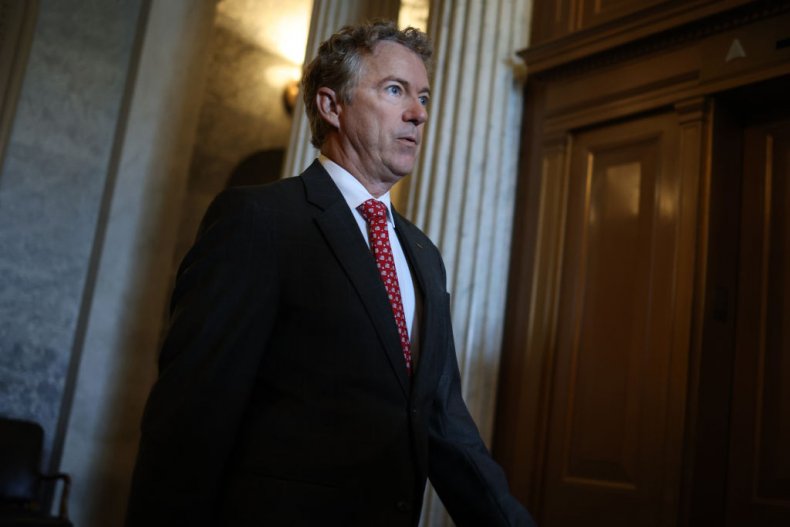 Hydroxychloroquine, an anti-malarial drug, was readily promoted by Trump and other conservatives as a viable treatment for COVID-19, despite a lack of scientific evidence corroborating those claims. In April, the World Health Organization (WHO) found based on six clinical trials that the drug had "had little or no effect on preventing illness, hospitalization or death from COVID-19."
Trump has not previously promoted ivermectin as a treatment for COVID-19, but some of his supporters and allies have. NBC News reported this week that Americans eager to get their hands on the drug have turned to the pro-Trump telemedicine website SpeakWithAnMD.com. The high demand has reportedly led to significant delays and users are greeted with the message: "Due to overwhelming demand, we are experiencing longer than usual wait times."
Paul, an ophthalmologist, told the Enquirer after the event that he couldn't vouch for ivermectin's efficacy. "I don't know if it works, but I keep an open mind," the senator said.
Ivermectin was originally introduced as a veterinary drug in the 1970s to treat livestock. However, it was also shown to be a viable treatment against human diseases caused by parasites. While the drug has been referred to as a "wonder drug," it has not been shown to be effective against COVID-19 or other viruses.
The FDA tweeted earlier this month, urging people not to use ivermectin to treat COVID-19.
"You are not a horse. You are not a cow. Seriously, y'all. Stop it," it wrote.
Dr. Joseph Varon in Houston told local channel KTRK-TV this past week that he's treated thousands of COVID-19 patients with ivermectin without observing adverse side effects. He said he turned to the drug when there were no other options.
"We were in the middle of a pandemic," Varon said. "You have to try things. You have no choice."
The doctor said that he does not believe that ivermectin alone is a cure for COVID-19, however. "It's not just ivermectin," he said. "That's where people get confused. ivermectin helps you, but it helps you when you are giving it in addition to other components of treatment protocols that are out there."
Newsweek reached out to Trump's press office for comment on ivermectin, but did not immediately receive a response.