Republican Senator Rand Paul has said that President Joe Biden's call for an end to lies in public discourse was a veiled accusation of racism towards people like him who held different political views.
During Wednesday's inauguration ceremony in front of the U.S. Capitol, Biden described how there were "lies told for power and for profit," and that everyone had a duty "to defend the truth and defeat the lies."
This was an apparent reference to debunked claims his election victory had been marred by voter fraud, which spurred supporters of former President Donald Trump to gather outside the Capitol on January 6. Trump has been impeached on an article that says he incited the supporters to storm the building.
"We must reject the culture in which facts themselves are manipulated and even manufactured," Biden said.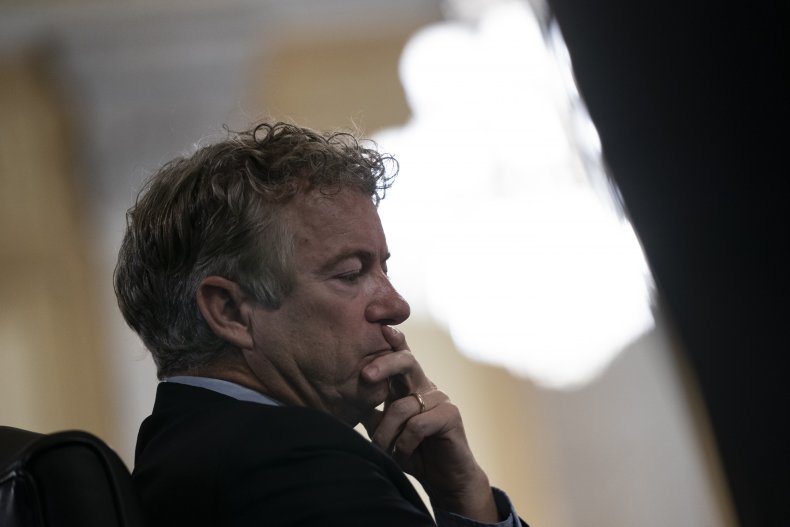 But Paul took exception to Biden's speech, telling Fox News: "Much of it is thinly veiled innuendo calling us white supremacists, calling us racists, calling us every name in the book, calling us people who don't tell the truth."
Paul was a staunch defender of Trump, and had repeatedly backed the former president's claims of voter fraud.
Mimicking the new president's words, the Kentucky lawmaker continued: "(Biden said) 'going forward we are not going to have manufactured or manipulated truth'—that's another way of saying, 'all of my opponents manufacture and manipulate the truth and are liars.
"He just said it in a nicer way but that really was the gist of what he was telling us," said Paul, who also reiterated in the interview his call for Biden to reject Trump's impeachment which he believed is "just going to divide the country further."
Biden did not mention Trump by name during his speech, nor did he explicitly refer to his allies who supported his unsubstantiated election fraud claims. While Biden did speak broadly of "the rise of political extremism, white supremacy" he did not directly link it to the unrest on January 6 which he said had "sought to shake the Capitol's very foundations."
Regardless of Paul's misgivings on the president's speech, a snap poll by Ipsos found that the vast majority of Americans (88 percent) agreed with Biden's assertion that everyone had "a responsibility to defend the truth and defeat the lies."
Among those who agreed with that were 98 percent of Democrats and 78 percent of Republicans. Meanwhile, 83 percent of respondents thought that Biden's speech was either "very" or "somewhat good."