Comedian Jon Stewart was praised on Twitter, while Republican Senator Rand Paul of Kentucky was denounced, following the passage of a bill to expand health care for veterans.
The bipartisan Sergeant First Class Heath Robinson Honoring our Promise to Address Comprehensive Toxics (PACT) Act passed in the Senate on Tuesday by a vote of 86 to 11, and is expected to be signed into law soon by President Joe Biden. The bill, which expands medical coverage for millions of veterans exposed to toxic burn pits during their service, was passed after being blocked by Senate Republicans in a vote last week.
Paul was one of the 11 Republicans senators who voted against the bill on Tuesday. Stewart, a longtime advocate for veterans and emergency responders and one of the most outspoken proponents of the legislation, was present when the bill passed and later commented on Twitter that "Congress did the right thing."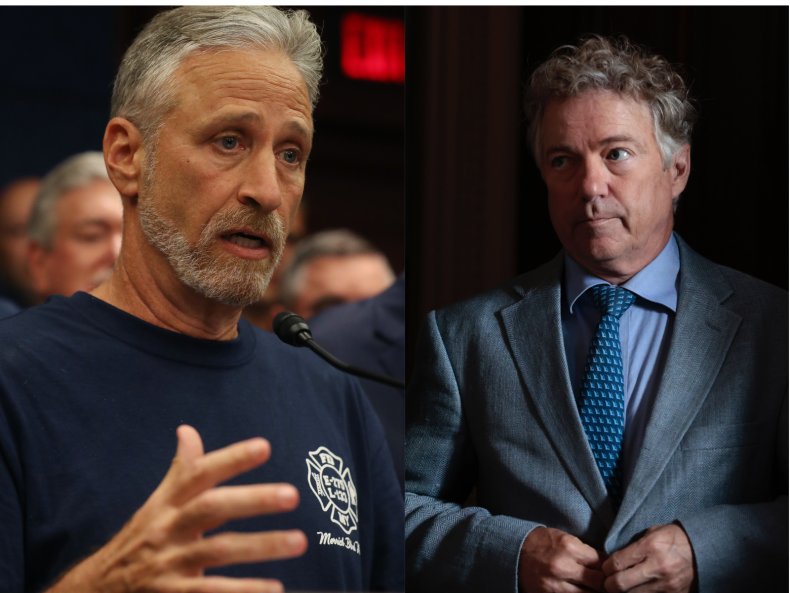 Paul argued that the $278 billion bill would put the economy "at risk" and expressed concerns about veterans proving that their illnesses were related to their service before the Senate voted down his amendment to offset the costs by cutting foreign aid. The senator received heavy criticism online for the reasoning behind his "no" vote.
"There are about 7M surviving Vietnam vets," tweeted political consultant Fred Wellman. "They are in their 70's now. Probably around 3M total [Gulf War on Terrorism] vets. Rand Paul wants them to have a harder time getting healthcare for their illnesses because...you know...budgets. We need to die faster and save those taxes!"
"That's the beauty of being rand Paul- you simply don't have to care about anything or anyone else," tweeted Democratic strategist Jim Manley.
"Why is it every time it's time to put rubber to the road people like Rand Paul go from supporting our military and veterans to calling them scummy grifters who take advantage of the system?" tweeted TV writer Kevin Biegel. "Rand's argument is vets would abuse the system. This guy is a donkey with stupid hair."
"Rand Paul just announced that he opposes the PACT Act because veterans cannot prove they got health issues while serving in combat," tweeted Charles Booker, Paul's Democratic opponent in this year's midterm election. "He is absolutely shameful, and has made a mockery of the office he occupies. I will defeat him."
"Senator Rand Paul said on the Senate Floor tonight that he questioned the PROOF that Veterans suffered from toxicity during their tours," patient advocate Peter Morley tweeted. "He is truly an evil man & does NOT support OUR Veterans!"
"Rand Paul would reject vital help for Kentucky flood victims because his house didn't get flooded out," tweeted Johnny Akzam, a former Democratic Minnesota congressional candidate.
Newsweek reached out to Paul's office for comment.
Stewart was praised by Senate Majority Leader Chuck Schumer of New York from the Senate floor for helping to lead a "righteous movement, mighty movement to get this bill done." Schumer said that the bill "wouldn't have happened without" advocates including Stewart. Others followed suit in praising the former Daily Show host on Twitter.
"American hero: @jonstewart," actor George Takei tweeted. "Well done, sir."
"What @jonstewart has done for America and its veterans is a remarkable thing," tweeted communications strategist Brooke Hammerling.
"Hat tip to @jonstewart and the battalion of veterans, blue and gold start family members that took this burn pit fight to Capitol Hill," author and veteran Jake Wood tweeted. "They deserve so much credit. They took action and made a difference. Amazing work."
"@jonstewart is a national treasure #PACTAct," tweeted actor Sebastian Roché. "He honors our #Veterans as we all do."