Representative Adam Kinzinger, an Illinois Republican, took aim at GOP Senator Ted Cruz of Texas—calling him an "utter fraud" on Saturday—after he defended his vote against a bill to expand medical coverage for millions of veterans exposed to toxic burn pits during their service.
Senate Republicans on Wednesday blocked the PACT Act, a bill to assist former combatants exposed to toxic chemicals, drawing significant backlash from veterans organizations and comedian Jon Stewart, as well as many others. Cruz drew further criticism after a video circulated widely online of him fist-bumping fellow GOP Senator Steve Daines of Montana on the Senate floor after the controversial vote.
In comments to TMZ, Cruz said that he supports the PACT Act, but said that Democrats had played a "budgetary trick" that he and other GOP senators did not support. Stewart, a leading advocate for additional aid to veterans, shared a video to Twitter on Friday, and said that Cruz's defense was "inaccurate, not true, bullsh*t." Kinzinger retweeted the comedian's video the following day, sharing his own criticism of the Texas Republican.
"Honestly @tedcruz is a gigantic fraud. And always has been. He once debated me, against military action in Syria (i supported... the red line thing). Then a year later is attacking Obama for not enforcing the red line. He is an utter fraud charlatan clown," the GOP congressman wrote.
Kinzinger was referencing the so-called "red line" that former President Barack Obama threatened and then failed to enforce when it came to Syria's civil war. The former Democratic president had warned that the United States would get involved militarily in the conflict if Damascus' forces utilized chemical weapons.
In 2013, the GOP lawmaker was part of a small group of House Republicans that were pushing to authorize Obama to use military force in Syria after evidence of chemical weapons use was widely reported. Cruz, however, rallied GOP lawmakers against the president potentially getting the U.S. involved militarily. Then, as he sought the 2016 Republican presidential nomination, Cruz criticized Obama for not enforcing his so-called "red line."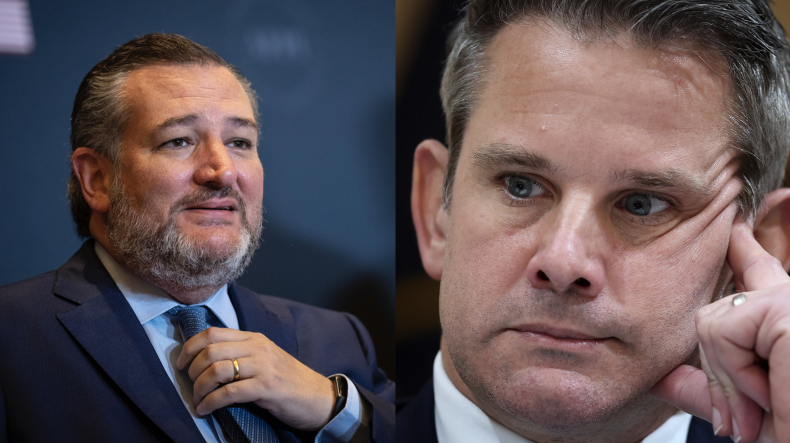 "I think Ted Cruz bears some responsibility for not enforcing the red line," Kinzinger told a writer for The Washington Post in 2015. "The Republican support began crumbling the more Cruz spoke. His words implied that anyone who voted for strikes would be acting as an agent of al-Qaeda."
In regards to the PACT Act vote, Cruz posted a video to Twitter on Friday, responding to the criticism he received from Stewart.
".@jonstewart you're wrong here. The bill gives a $400B blank check—separate from vets care—for unrelated pork that will supercharge inflation. I support the PACT Act & the $679.4B it would dedicate to vets. It's ppl trying to use PACT to shovel more pork who are exploiting vets," the senator wrote.
A Cruz spokesperson told Newsweek in a Sunday email that the Texas Republican and his GOP colleagues "are working to advance the bill while removing" the provision they disagree with.
"Democrats were aware of this concern before [Wednesday's] vote but ignored it and refused to allow a vote to fix the bill. That refusal is why the bill is currently stalled. Democrats must work with Republicans and fix this issue to prevent inflationary spending that will hurt all Americans. Once that happens, the PACT Act will quickly become law," the spokesperson wrote.
Veterans groups have strongly condemned the senators for voting against the bill. A group of former combatants even traveled to Congress to sit in protest at the Capitol over the weekend.
"We're here to let the Senate know that we're not going home and neither should they until they get the PACT Act done," Patrick Murray, director of the Veterans of Foreign Wars (VFW) National Legislative Service, told Military Times on Friday.
"We've seen partisanship and games within Congress for years," Jeremy Butler, CEO of Iraq and Afghanistan Veterans of America, a nonprofit veterans' organization, told NBC News on Thursday. "But what is shocking is that so many senators would literally be willing to play with veterans' lives so openly like this."
On Sunday morning, Kinzinger shared a Twitter post from the VFW National HQ account, which said: "25 senators changed their votes and no longer support toxic-exposed veterans. No more delays! No more games! Tell your senators to #PASSTHEPACTACT!"
The GOP congressman took aim at the senators in his retweet, writing: "Because they have DC brain worms."
The legislation had previously passed in the Senate 84-14 on June 16 before being sent to the House, where it was also approved in a bipartisan vote with only minor modifications. Veterans groups have said they expected the bill to pass again in the Senate, including the modifications, last week without a hitch—and were blindsided by the GOP opposition.
Update 7/31/22, 10:37 a.m. ET: This story has been updated with a statement from a spokesperson for Cruz.