Senator Rand Paul, a Kentucky Republican, does not plan to get vaccinated against COVID-19 because he already contracted and recovered from the novel coronavirus last year.
Paul, an ophthalmologist, has been highly critical of many public health directives and guidelines throughout the COVID-19 pandemic. The GOP senator has had several viral clashes with Dr. Anthony Fauci, the director of the National Institute of Allergy and Infectious Diseases, over the government's guidance on COVID-19 and the science behind those decisions.
The Kentucky lawmaker tested positive for COVID-19 back in March of last year.
"Until they show me evidence that people who have already had the infection are dying in large numbers, or being hospitalized or getting very sick, I just made my own personal decision that I'm not getting vaccinated because I've already had the disease and I have natural immunity," Paul insisted during a Sunday morning interview with billionaire John Catsimatidis on his WABC 770 AM radio program, The Hill first reported.
Paul argued that "in a free country you would think people would honor the idea that each individual would get to make the medical decision." He compared COVID-19 vaccine guidance to "big brother coming to tell me what I have to do."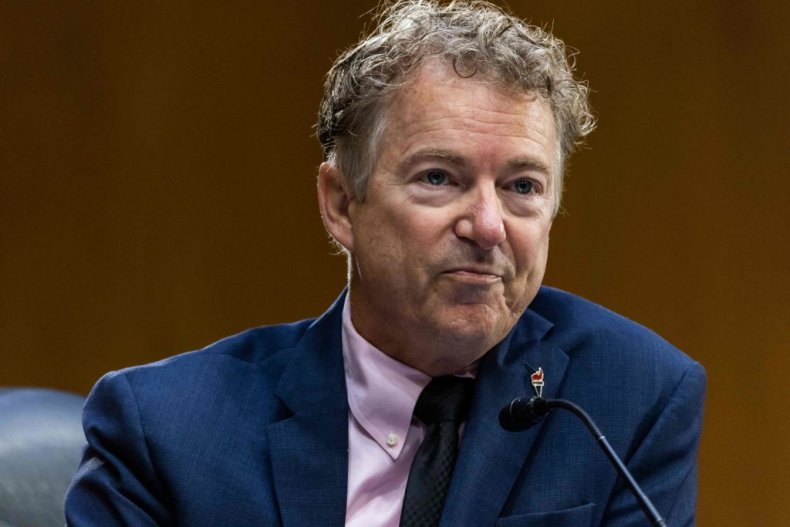 "Are they also going to tell me I can't have a cheeseburger for lunch? Are they going to tell me that I have to eat carrots only and cut my calories?" the senator asked. "All that would probably be good for me, but I don't think big brother ought to tell me to do it."
The Centers for Disease Control and Prevention (CDC) currently advises those who previously contracted COVID-19 to get vaccinated alongside other Americans.
"You should be vaccinated regardless of whether you already had COVID-19. That's because experts do not yet know how long you are protected from getting sick again after recovering from COVID-19. Even if you have already recovered from COVID-19, it is possible—although rare—that you could be infected with the virus that causes COVID-19 again," the CDC website explains.
It's currently unclear how long natural or vaccine immunity against COVID-19 lasts. Scientists and public health experts have speculated that individuals will need a regular booster—possibly every six months to a year—to remain protected against COVID-19. However, it will take time for scientists to better understand how long immunity lasts.
Although Paul suggested the government is compelling people to get vaccinated, there are not currently any federal mandates regarding vaccines. Americans are strongly encouraged to get vaccinated, but this is just federal guidance and not a requirement.
Notably, the Republican senator's comparison of vaccine guidance to a hypothetical situation in which the government tells people not to eat cheeseburgers is not directly analogous. While that hypothetical guidance would only impact the individual's health, being vaccinated against COVID-19 protects the individuals as well as those they interact with.
Paul's comments came as polling has shown that Republicans are less likely to get vaccinated than other Americans. A recent survey conducted from May 4 to 10 by PBS NewsHour/NPR/Marist showed that 41 percent of Republicans said they do not plan to be vaccinated compared to just 4 percent of Democrats. Meanwhile, Republican leaders—including former President Donald Trump and Senate Minority Leader Mitch McConnell—have urged Americans to get vaccinated.
"I would recommend it, and I would recommend it to a lot of people that don't want to get it, and a lot of those people voted for me, frankly," Trump said during a March interview with Fox News.
"It is a great vaccine. It is a safe vaccine, and it is something that works," the former GOP president asserted. Trump received his first vaccine dose in January while he was still in the White House. He later received his second dose in Florida.
"There's no good argument not to get the vaccination," McConnell said at the beginning of April. "I would encourage all men, regardless of party affiliation, to get the vaccination." The Republican leader from Kentucky made the remarks after polling showed that male GOP voters were more skeptical of the vaccine than other demographics.
Later on Sunday, GOP Representative Adam Kinzinger sarcastically mocked Paul for refusing to get vaccinated. "So brave...Such a leader... so manly...," the Illinois Republican tweeted, sharing a link to an article about Paul's remarks.
Newsweek reached out to the CDC for further comment, but did not immediately receive a response.
Newsweek, in partnership with NewsGuard, is dedicated to providing accurate and verifiable vaccine and health information. With NewsGuard's HealthGuard browser extension, users can verify if a website is a trustworthy source of health information. Visit the Newsweek VaxFacts website to learn more and to download the HealthGuard browser extension.
This article has been updated with a tweet from Kinzinger.