Rand Paul Seen on Video Telling Students 'Misinformation Works' and 'Is a Great Tactic'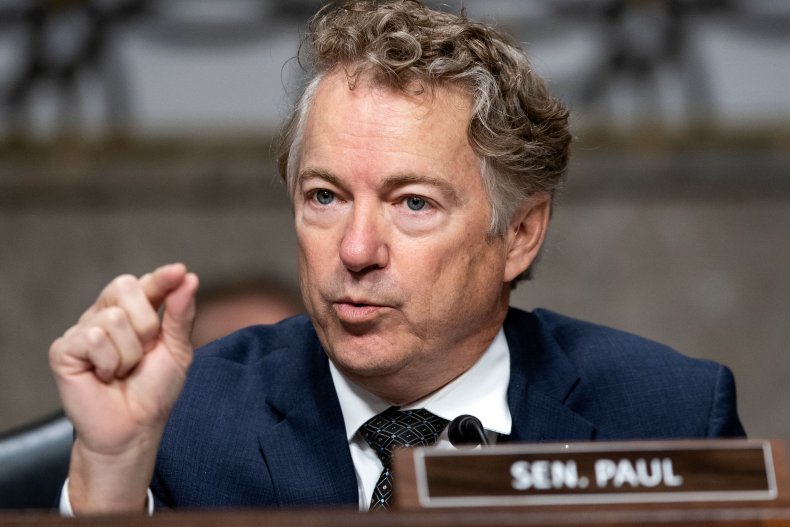 Senator Rand Paul (R-Ky.) said that "misinformation" could be a "great tactic" during a speech to a group of medical school students in 2013.
In a video shared to Twitter by epidemiologist Eric Feigl-Ding on Wednesday, the Kentucky Republican can be seen telling students that "misinformation works" during an Aug. 22, 2013, lecture at the University of Louisville School of Medicine.
A student asked Paul, who worked as an ophthalmologist for many years before entering politics, for advice on taking a midterm exam. Paul responded by recalling his own college strategy of using misinformation to "trick" fellow students that he viewed as "opponents."
"I never ever cheated and I don't condone cheating, but I would sometimes spread misinformation," the then first-term senator said during the lecture. "And this is a great tactic. Misinformation can be very important."
Paul explained that he and a group of fellow students had once "started spreading the rumor that we knew" what was on an upcoming test, to "try to trick all of our competing students" into studying for the wrong subject.
"That's my advice, misinformation works," said Paul. "So, try to trick your opponents into knowing that the test is about something that it's not."
In a statement to Newsweek, a Paul spokesperson said that "anyone who watches the video can clearly see that Dr. Paul was making a lighthearted joke addressing the very real stresses of medical school."
The video was shared one day after Paul squared off against Dr. Anthony Fauci, chief medical adviser to President Joe Biden and longtime director of the National Institute of Allergy and Infectious Diseases, during a Senate hearing on COVID-19.
While Paul and Fauci had clashed over the virus during many similar hearings, on Tuesday Fauci accused the senator of attacking him for "political gain." Paul has asked supporters for online donations while advocating that Fauci be fired.
"Pandemic political profiteering by raising donations calling for 'Fire Fauci' on your website is the most disgusting & depraved thing I've ever witnessed @RandPaul," Feigl-Ding tweeted shortly before sharing the clip of Paul's 2013 lecture. "You spit on the grave of all who have died & spit on face of human decency @SenRandPaul."
During the Senate hearing, Fauci said that Paul profited off the pandemic by engaging in a directed misinformation campaign that was laced with personal attacks.
"You personally attack me, and with absolutely not a shred of evidence of anything you say," Fauci said. "It distracts from what we're all trying to do here today—get our arms around the epidemic and the pandemic that we are dealing with, not something that is imaginary."
"I have threats upon my life, harassment of my family and my children with obscene phone calls because people are lying about me," he added.
Shortly after the hearing ended, Paul's campaign sent out a fresh round of "fire Fauci" fundraising emails, asking for more donations because "Fauci is hysterical."