Rand Paul Suggests Chuck Schumer Should Also Face Impeachment Under Same Standards for Trump
Kentucky Senator Rand Paul again defended his stance against Donald Trump's impeachment on Sunday, arguing that lawmakers' push to convict the former president of inciting last month's Capitol attack unfairly targets political speech.
The Republican lawmaker further claimed that Senate Majority Leader Chuck Schumer, a Democrat, could theoretically be subject to impeachment charges based on logic used to impeach Trump.
Members of the U.S. House of Representatives voted to oust the former president from office ahead of President Joe Biden's inauguration, passing a single article of impeachment that charged him with "incitement of insurrection" for his role in precipitating the January 6 Capitol riot.
Trump's impeachment trial will begin in the Senate on Tuesday.
"I think if we're going to criminalize speech, and somehow impeach everybody who says, 'Oh, go fight to hear your voices heard,' I mean, we really ought to impeach Chuck Schumer then," said Paul during an appearance on Fox News Sunday. His remark came in response to an inquiry from host Chris Wallace about whether Trump bears any responsibility for the violence carried out by thousands of his supporters at the Capitol.
"[Schumer] went to the Supreme Court, stood in front of the Supreme Court and said, specifically, 'Hey, Gorsuch. Hey, Kavanaugh. You've unleashed a whirlwind, and you're going to pay the price,'" the senator continued.
Paul referenced Schumer's comments to conservative justices Brett Kavanaugh and Neil Gorsuch in March that used strong language to urge against their potential votes to restrict abortion rights. Schumer was criticized for the remarks, and later said that he should have used different wording to convey his defense of reproductive freedoms.
Paul likened the Senate Majority Leader's comments to Trump's rhetoric surrounding the Capitol siege on Sunday, and said the former president's possible impeachment represents an infringement on "political speech." Trump promoted baseless allegations of "rigged" election proceedings, and went so far as to accuse Democrats of "stealing" the election from him, for months after polls closed on November 3.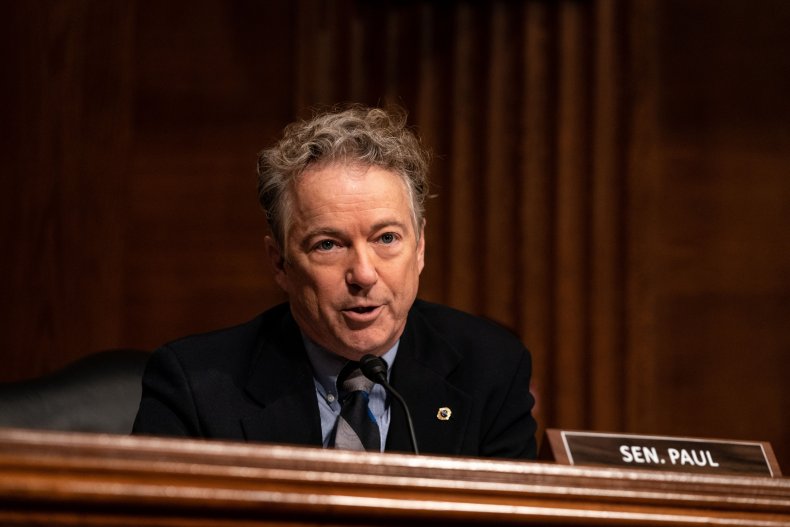 Speaking to supporters during a "Save America" rally in Washington, D.C., just before the Capitol attack, Trump directed attendees to proceed toward the federal complex and "give [Republican lawmakers] the kind of pride and boldness that they need to take back our country." The rally and subsequent riot took place as congressional leaders met to certify the presidential election's outcome.
Although Trump's presidential term has ended, a conviction during the Senate's upcoming impeachment trial could act as a first step toward preventing him from launching another re-election campaign during the 2024 election season. Doing this would require two-thirds of the Senate to vote for his impeachment during trials, and a subsequent majority to support his prohibition from future presidential races.
Newsweek reached out to Paul's office for further comment, but did not receive a reply in time for publication. Itadditionally contacted Schumer's office for a response to Paul's comments during his Fox News Sunday appearance. This story will be updated with any response.