Rand Paul Suggests Donald Trump Use Lie Detector Tests to Find Anonymous Op-Ed Author
Since President Donald Trump has taken office, various Republicans have suggested lie detector tests as viable solutions to the frequent leaks that come from within the administration.
In the wake of the anonymous op-ed essay published in The New York Times on Wednesday written by a senior administration official who claimed to be part of a "quiet resistance" against the president, Republican Senator Rand Paul recycled the idea of administering lie detector tests. The Kentucky senator said anyone with a security clearance who works in the White House should be subjected to one, according to multiple media reports that were confirmed to Newsweek by Paul's press office.
"It's not unprecedented for people with security clearances to be asked whether or not they're revealing things against the law under oath and also by lie detector," Paul said. "We use the lie-detector test routinely for CIA agents and FBI agents. If you have a security clearance in the White House, I think it would be acceptable to use a lie detector test and ask people whether or not they're taking to the media against the policy of the White House."
It would not be the first time Trump has acted on an idea that Paul, a close friend and ally to the president, has suggested to him.
Paul urged Trump to revoke the security clearances in July of ex-CIA Director John Brennan, former FBI Director James Comey and other Obama-era officials who have been critical of Trump.
Following leaked transcripts of former National Security Adviser Michael Flynn, who later plead guilty for lying to the FBI about his contact with Russia's U.S. ambassador, Paul said in March 2017 that the federal government should administer polygraph tests.
Attorney General Jeff Sessions also reportedly floated the idea of administering lie detectors tests in 2017 after Trump's phone calls with Mexican President Enrique Peña Nieto and Australian Prime Minister Malcolm Turnbull were leaked. Sessions suggested the National Security Council staff be subjected to the tests during a private White House meeting, according to Axios.
The group Americans for Limited Government also called for a lie detector test after the anonymous Times op-ed.
Paul said he did not believe Congress should investigate who wrote it.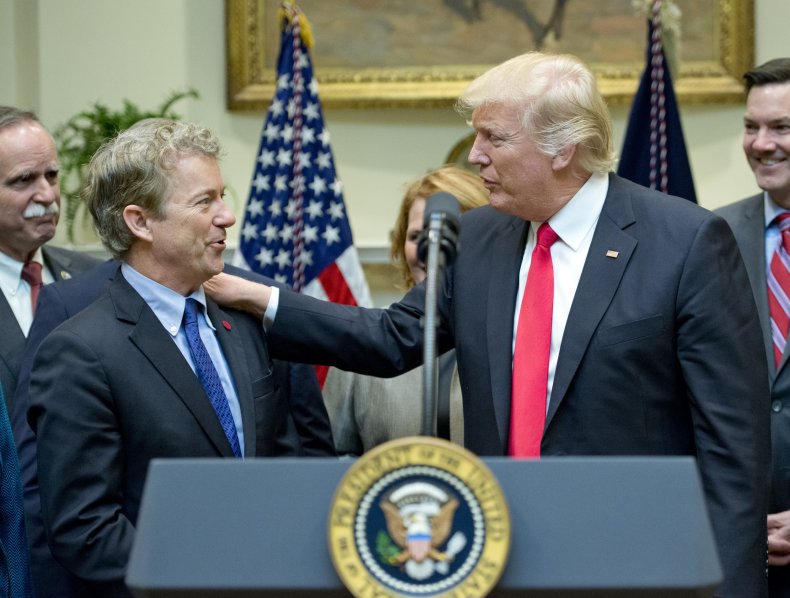 The list of Trump administration officials who publicly denied being the anonymous author ballooned to at least two dozen people as of Thursday afternoon.
In the blistering op-ed, the senior administration official wrote there is a "quiet resistance" within the administration where "unsung heroes" are battling "erratic behavior" and "choosing to put country first."
The anonymous official continued: "Meetings with him veer off topic and off the rails, he engages in repetitive rants, and his impulsiveness results in half-baked, ill-informed and occasionally reckless decisions that have to be walked back. Given the instability many witnessed, there were early whispers within the cabinet of invoking the 25th Amendment, which would start a complex process for removing the president."
In response, Trump labeled the report as "treason," and "fake news," adding that "If the GUTLESS anonymous person does indeed exist, the Times must, for National Security purposes, turn him/her over to government at once!"
He also suggested that by the time he's finished as president, "The New York Times, CNN and all of these phony media outlets will be out of business."