Who Is Randy Feenstra? Steve King Loses to Iowa State Senator in House GOP Primary
Randy Feenstra, a Republican state senator, defeated long-serving Iowa Rep. Steve King in a GOP House primary on Tuesday night.
King, shunned by mainstream Republicans and removed from committees he had been assigned to after being denounced for his comments on white supremacy, had faced four GOP challengers.
Feenstra, 51, came top and led King by 45.58 to 36.02 percent, with 95.2 percent of precincts reporting, according to Associated Press.
King said he called Feenstra to concede, in a video statement on his Facebook.
Feenstra, in a Facebook Live, in which he had his family by his side, thanked those who supported him.
"I said from day one that Iowans deserve a proven, effective, conservative leader, that will deliver results," he said. "I promise you, I will deliver results in Congress. Thank you for putting trust in me."
Having won the GOP primary, Feenstra will now turn his attention to the November election, where he will hope to win Iowa's 4th congressional district to attain a seat in the House of Representatives, running against the Democrat's J.D. Scholten.
Who is Randy Feenstra?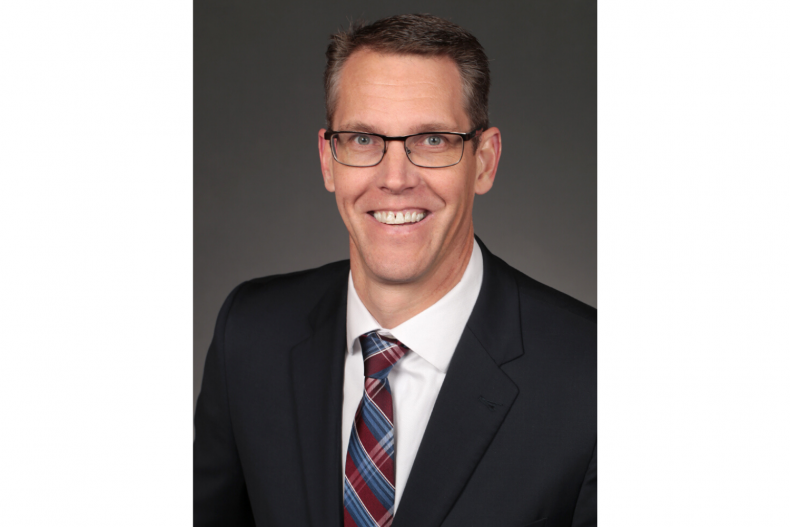 Feenstra chooses the following phrase to describe himself on Twitter: "Husband, father, and life-long Iowan."
Born in Hull in 1969, he still lives there with his wife Lynette. He has two sons and two daughters.
He has a bachelors degree from Dordt College, where he now teaches business classes, and a Masters in Public Administration from Iowa State.
In previous roles, he spent seven years as a sales manager for the Foreign Candy Company, six years as the Hull City Administrator and also spent time as Sioux County Treasurer, a post to which he was elected in 2006.
What is his political experience?
Feenstra was elected to the state senate in Iowa in 2008, taking his seat in January 2009, representing the 2nd District. In the state senate, he has served as the assistant majority leader, District 2, and sits on several committees: commerce, legislative council, rules & administration, state government, and ways and means.
According to his website: "Randy is currently a leading conservative voice in the State Senate with a record of results defending Christian values, innocent life, the 2nd Amendment and Iowa taxpayers."
During his tenure, he has supported major tax cuts, with his website describing him as a "Taxpayer Champion." He has said he would support Trump-proposed tax cuts should he make it to Congress.
Feenstra is pro-life and his website says he is a "is a true Christian conservative and has been a leading voice defending life, including fighting to defund Planned Parenthood, sponsoring a bill that defined life at conception and is a strong supporter of amending the Iowa Constitution to not grant the right to an abortion."
If he were to make it to Congress, he says he would fight to defund planned parenthood and to pass legislation restricting abortions.
Who has supported him?
Financially, Feenstra had the most backing of any GOP candidate taking on King.
According to the website OpenSecrets.org, he raised $925,849 as of May 13, compared to King's $330,997.
His website describes him as "the only candidate with both" referring to an NRA "A" Rating and a National Right to Life endorsement.
He has said he is "100% opposed to any infringement on our 2nd Amendment rights."
"I will staunchly defend our God-given liberties from liberal attempts to infringe on them," Feenstra said. "In Iowa, we've blocked liberal gun control schemes like red flag laws while dramatically expanding 2nd Amendment rights for Iowans. In Congress, I'll keep fighting to protect these rights, just as I've done in Iowa."
The National Right to Life committee described him as a "strong advocate for life" in its endorsement, adding: "You have been a leader in Iowa's state Senate on life issues. This endorsement reflects your commitment to strengthening a culture of life throughout the nation and in the U.S. Congress."
He has also been backed by the U.S. Chamber of Commerce, which described him as "the architect of Iowa's largest income tax cut."
The National Association of Realtors and the Defending Main Street super PAC also backed him financially, according to The Hill.
He has also received support from Republicans including former chair of the National Republican Congressional Committee Steve Stivers and Republican consultant Karl Rove.
Newsweek has contacted Feenstra for comment.