Iowa Republicans Reject Steve King, a Racist Who Voted to Condemn His Own Views
Iowa's Republican Representative Steve King has lost the primary to State Senator Randy Feenstra on Tuesday night.
Feenstra led King 45.58 percent to 36.02 percent, with 35,685 votes to 28,200 with 95.2 percent of precincts reporting, according to the Associated Press. Many polls leading up to the election put Feenstra in a statistical tie with King.
King had served nine times in the House, however, in this latest election his victory was anything but guaranteed. In 2019, King was removed by GOP leaders from all committees to which he was assigned after asking in an interview with The New York Times, "White nationalist, white supremacist, Western civilization—how did that language become offensive?"
His comments were denounced by many Republican officials, including Senate Majority Leader Mitch McConnell.
"If he doesn't understand why 'white supremacy' is offensive," McConnell said in 2019, "he should find another line of work." He added that King's comments were "unworthy of his elected position."
That year, the House voted 424-1 on a resolution of disapproval over King's comments. King himself voted in favor of that resolution, saying he was taken out of context and does not have racist views.
"I'm putting up a 'yes' on the board here because what you say is true, is right and is just," King said.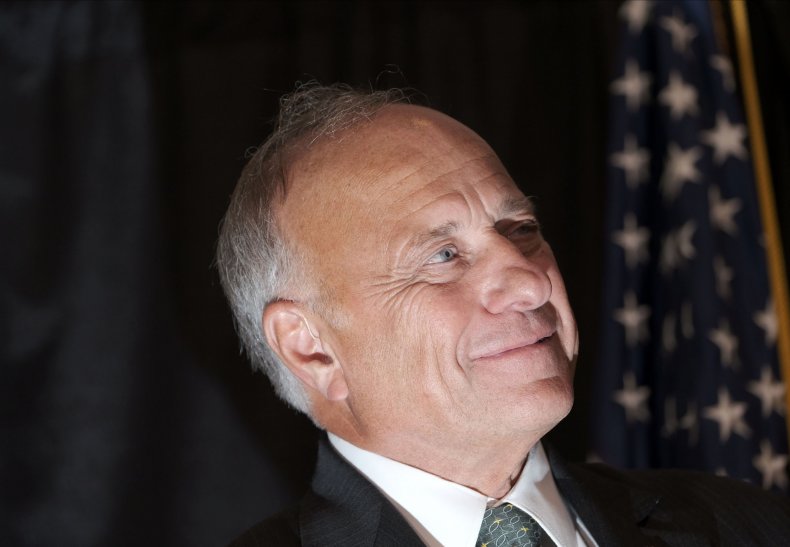 Last May, King said he had reached an agreement with House Minority Leader Kevin McCarthy that McCarthy would advocate for King's reinstatement on the Agriculture, Judiciary and Small Business Committees. However, other GOP leaders denied they would let him back on any committees.
"As long as I am a member of the Steering Committee," Republican Ohio Representative Steve Stivers said at the time. "I will not allow that type of person or that type of ideology to influence the legislation passed by Congress. Steve King does more to hurt Republican and conservative causes than help."
King had made a number of controversial comments beyond the 2019 New York Times interview. In August of that year, he defended the Heartbeat Protection Act of 2019, a anti-abortion bill he sponsored that would outlaw nearly all abortions, and provided no exceptions for rape or incest. Speaking to a group of conservatives in Des Moines, Iowa, he rhetorically asked, "What if we went back through all the family trees and just pulled out anyone who was a product of rape or incest? Would there be any population of the world left if we did that?"
In 2018, he won his ninth term after a controversy in which King spoke to Unzensuriert, a publication associated with the Freedom Party in Austria. The Freedom Party was founded by a former Nazi SS officer. King was interviewed by the publication during a trip funded by From the Depths, a Holocaust memorial nonprofit.
In the interview, King was critical of "diversity," saying "Mexican food, Chinese food, those things—well, that's fine. But what does it bring that we don't have that is worth the price? We have a lot of diversity within the U.S. already."
Earlier in 2018, King came under fire for retweeting Mark Collett, a self-proclaimed Nazi sympathizer. Collett shared a Breitbart article titled "Vast Majority of Under-35 Italians Now Oppose Mass Migration." King added the comment, "Europe is waking up...Will America...in time?" King has not deleted the tweet.
Newsweek reached out to King for comment. This story will be updated with any response.