Rangers Fan Facing Assault Charges After Knocking Out Fan in Viral Video
A New York Rangers fan is currently facing assault charges after he was caught in a now-viral video, punching a Tampa Bay Lighting fan following the team's Thursday night playoff game at Madison Square Garden.
A spokesperson for the New York Police Department (NYPD) confirmed to Newsweek that 29-year-old James Anastasio of Staten Island was arrested on Thursday night after an incident where he appeared to punch a Lighting fan in the face.
The arrest of Anastasio came just hours after the incident was caught on video and has now been viewed on Twitter over two million times.
In a video of the incident, which was posted to Twitter by Scott Kaplan, fans can be seen leaving Madison Square Garden following the NHL's Eastern Conference Finals Game 5 between the Rangers and the Lightning.
As the fans left the arena, the video appears to show a verbal altercation between a Rangers fan and a Lighting fan. The video then captures the Rangers fan, who was later identified as Anastasio, turning around and punching the Lighting fan in the face. The Lighting fan then fell to the floor after he was punched, while Anastasio was seen fleeing from the scene.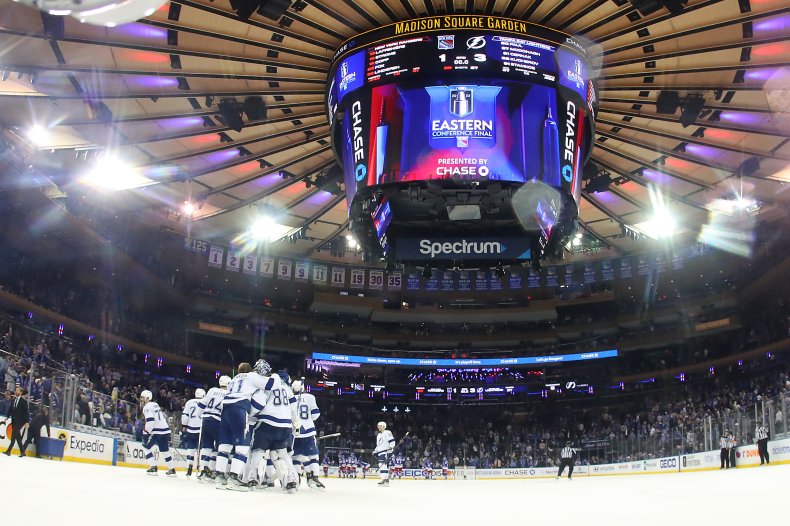 A number of Rangers' fans can then been seen attempting to help the individual that was punched, as he laid on the floor. Numerous calls for "security" can be heard in the video as the fan remained on the floor, appearing unconscious.
The NYPD spokesperson told Newsweek that prior to the punching incident, "a 37-year-old male observed two individuals engage in a verbal dispute."
"The dispute escalated into a physical encounter, with one individual punching a 26-year-old male in the face, causing him to fall to the floor and lose consciousness," the NYPD spokesperson told Newsweek.
According to the NYPD, after Anastasio fled the scene of the incident, a "Good Samaritan," attempted to stop him, however, Anastasio "punched the Samaritan in the face before fleeing."
"The individual was located inside the facility and arrested. Although both victims sustained pain and bruising, both individuals were not hospitalized at the time of the incident," the NYPD said.
Following the arrest, Anastasio was charged with two counts of assault, disorderedly conduct and harassment, according to the NYPD.
The NHL playoff game on Thursday night saw the Rangers lose to the Lighting 3-1. The Lighting lead the Rangers 3-2 in the best of seven series. The winner of the series will go on to play in the NHL Stanley Cup Finalas, where they could face the Colorado Avalanche, who defeated the Edmonton Oilers in the Western Conference finals.