Rap Lyrics Can't Be Used Against Artists, California Lawmakers Decide
A California bill that prevents prosecutors from using rap lyrics and other creative works during criminal proceedings could soon become law.
Last week, California's State Senate and Assembly both unanimously approved the bill. California Governor Gavin Newsom, a Democrat, is reportedly expected to sign the bill into law and has until September 30 to do so.
The bill, AB 2799, states prosecutors cannot cite a defendant's creative works in court unless it can be proven that the evidence won't "inject racial bias into the proceedings." The measure applies to any creative work, including novels, poetry, film, performance art, etc. However, words from hip-hop songs are specifically cited in the bill's text.
"In particular, a substantial body of research shows a significant risk of unfair prejudice when rap lyrics are introduced into evidence," the bill states.
News about the California bill's success with state lawmakers comes as a Georgia district attorney continues to make headlines for using lyrics and music videos as evidence during cases against Atlanta rappers Young Thug and Gunna, who were both indicated on RICO charges in May.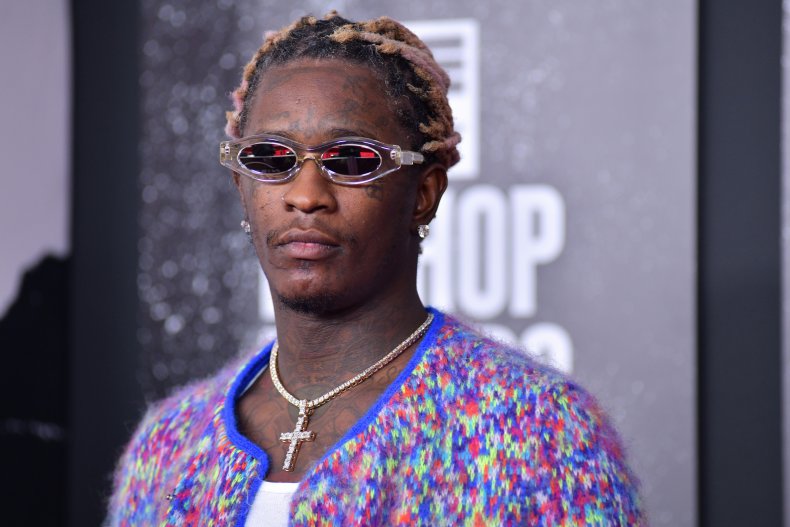 Fanni Willis, the district attorney for Georgia's Fulton County, on Monday, defended the use of lyrics from Young Thug and Gunna as evidence. The two rappers are suspected to be members of the Drug Rich Gang, who have been tied to a string of alleged home burglaries of wealthy people in Atlanta.
"If you decide to admit your crimes over a beat, I'm gonna use it," she told reporters during a press conference.
Democratic State Assemblyman Reginald Jones-Sawyer, who represents communities of South Los Angeles, introduced AB 2799 in February.
"Under current law rap artists can feel as though they are being read their Miranda Rights before they even begin to write music: 'You have the right to remain silent. Anything you say can and will be used against you in a court of law,'" Jones-Sawyer said in a statement provided to Pitchfork. "Rap music lyrics share many similarities to that of other musical categories yet are singled out by the judicial system to characterize an artist. AB 2799 would disallow prosecutors from triggering racial biases or reinforcing racial stereotypes and it gives judges guidance on the use of creative expression in court."
The New York State Senate in May passed a bill that would similarly restrict prosecutors from using creative expression, including song lyrics, in criminal cases. However, that bill—which received public endorsements from Jay-Z, Meek Mill, Killer Mike, Fat Joe and other music stars—was not approved by the New York State Assembly.
Newsweek reached out to Jones-Sawyer for comment.