Video of Raphael Warnock Arrested for Praying in U.S. Capitol Resurfaces after Riot
Video of Senator-elect Raphael Warnock being arrested in the Capitol rotunda for peacefully protesting against a GOP healthcare initiative has resurfaced amid criticism of how the police handled Wednesday's siege.
Rev. Warnock, a pastor of Ebenezer Baptist Church, was detained in 2017 while praying against the repeal of the Affordable Care Act and the passage of a Republican budget proposal.
He was arrested along with Democratic Congressman Hank Johnson and Pastor Cynthia L. Hale in the rotunda of the Russell Senate Office Building on July 18 and later released.
Warnock said at the time his arrest was a "small price to pay" for standing up for the "least of these," according to OCGNews.
"As a pastor, I believe the national budget is not just a fiscal document but a moral document. It reflects what we believe and who we are for one another.
"And if this mean spirited budget were an EKG, it would indicate that America has a heart condition.
"The government is taking student aid, job training and medicine from those who need it most in order to give a tax cut to those who need it least. We came to Washington as voices of healing and justice.
"America is better than this. That's our message. And when I consider those who will suffer, my getting arrested is a small price to pay."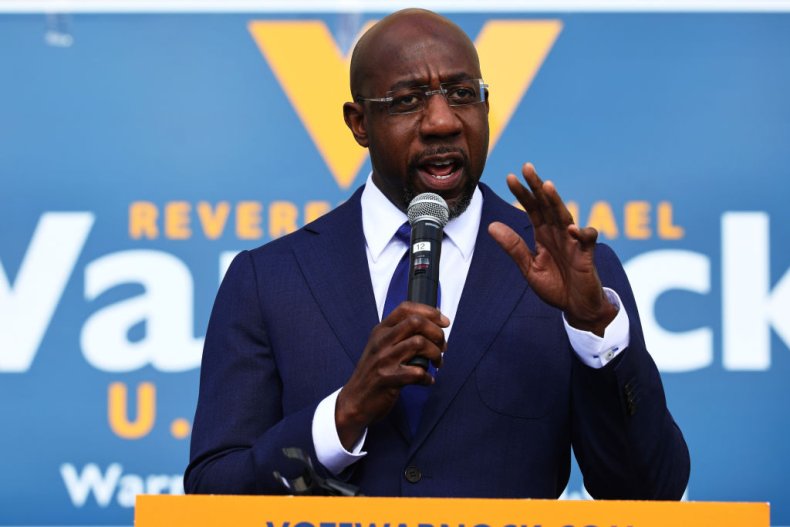 Footage of the arrest was shared widely in the aftermath of the siege of the Capitol on Wednesday afternoon by supporters of Donald Trump.
Similar comparisons have also been drawn between the apparently light-touch policing this week and more heavy handed tactics with Black Lives Matter protests in the city in recent months.
Politicians have pledged an investigation into the violence in Washington D.C. amid accusations officers were under-prepared for the breach.
Attempts to secure the Capitol building took several hours and a woman was shot and killed inside.
Particular focus is being put on why the policing plan was not robust enough despite Wednesday's protests having been planned well in advance, with many of those in attendance having warned of violence for weeks.
Unverified footage which appeared to show a police officer posing for a selfie with protesters also drew criticism.
Rep. Karen Bass, D-Calif., expressed outrage over the photo being shared on social media. "Would you take a selfie with someone who was robbing a bank?" she asked.
"I can't imagine if a couple of thousand of (Black Lives Matters) protesters had descended on the Capitol... that there would be 13 people arrested."
However a widely shared video clip of police appearing to allow protesters access to the building has been disputed by the person who filmed the clip.
Marcus DiPaola, a freelance journalist working at TikTok, told Newsweek officers only backed away after being threatened while being vastly outnumbered.