Georgia's Raphael Warnock Questions Park Cannon Arrest, Responds to Voting Bill
Georgia Senator Raphael Warnock has condemned the arrest of state lawmaker Park Cannon who was detained after she knocked on Governor Brian Kemp's door as he signed a bill that tightens voting rules.
Warnock also said that the bill itself marked a "very sad day" for democracy in the Peach State.
The Democratic senator, who won a crucial Georgia runoff in January, told reporters that Cannon was a "very dignified and committed public servant," and questioned why she was being punished for her actions.
"I saw a state representative knocking on the door of the governor, and she was arrested," he told reporters outside Fulton County Jail where she was being held.
"Meanwhile, we saw a violent insurrection attack on the United States Capitol, and police officers died in that case," he added, referring to the riots on January 6.
"I want to know what makes her actions so dangerous, and the actions of those who were trying to undermine an actual election so benign in the minds of some politicians. She did not deserve this."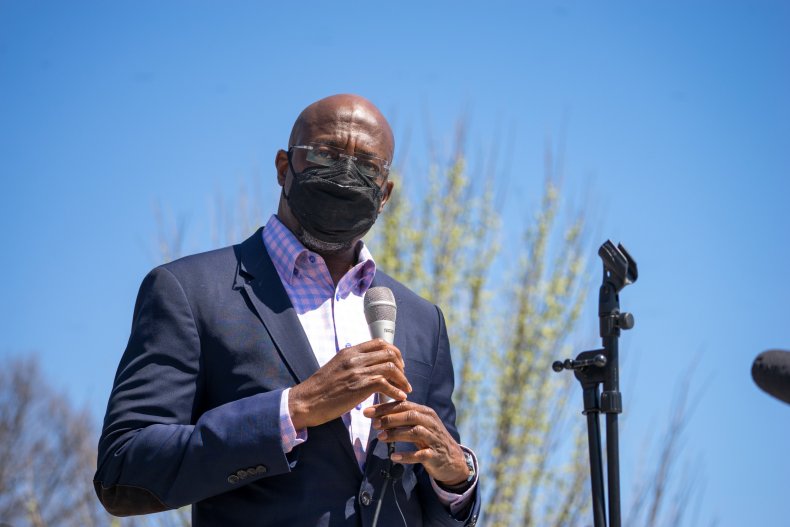 Cannon was arrested as Kemp signed Senate Bill 202 which would limit early and absentee voting. The bill is among dozens being considered in state legislatures across the country in response to the false claims spread by the former President Donald Trump that the 2020 election was marred by voter fraud.
But there are fears the bill will effectively mean the suppression of the Black vote in the state and Warnock described the legislation as marking "a very sad day for the state of Georgia."
"It is that big lie that is the fuel for these terrible voter suppression laws that we see coming out of the state of Georgia and we have to push hard against the big lie and make sure that we secure democracy for all of our citizens," Warnock said.
Meanwhile, Cannon, who was released after being charged with obstruction of law enforcement, issued a defiant statement on Twitter.
"We will not live in fear and we will not be controlled. We have a right to our future and a right to our freedom," she tweeted.
U.S. Senate Majority Leader Chuck Schumer (D-NY) condemned the bill as "despicable" and vowed to take action, tweeting that since 2012, the Georgia GOP had closed more than 200 polling places.
"Voters in mostly Black precincts now wait 8X LONGER to vote than voters in mostly white precincts," he tweeted, adding, "now the GOP makes it a crime to give water to people standing in long lines THEY CREATED."
Newsweek has contacted the Georgia Republican Party for comment.