Raphael Warnock, Jon Ossoff's Georgia Wins Raise Progressive Hopes of Shaping Biden Agenda
Raphael Warnock and Jon Ossoff's historic wins in Tuesday's Georgia Senate runoff election will give the Democratic Party a unified government once President-elect Joe Biden takes office on January 20.
Following the general election, the runoffs emerged as a battle for the country's legislative future, with Republicans determined to hold a majority in the Senate and Democrats eager to capitalize on Biden's win. Progressives sought to help shape Biden's administration in the days after the November 3 election, with the possibility of a Democrat-controlled Senate serving as another variable that could help in pursuing their legislative agendas.
"The ceiling of possibility goes up on every issue progressives care about" with dual Democratic wins in Georgia, according to Stephanie Taylor, the co-founder of the Progressive Change Campaign Committee. "We can actually get votes on major COVID relief, Joe Biden's promise of $2 trillion for clean-energy jobs, corporate accountability, universal health care, and challenging Big Pharma on behalf of Americans," Taylor told Newsweek.
The crux of the Georgia runoffs lay in where the balance of power in the Senate would be as Biden entered the White House. Republicans won the majority in the Senate following the 2014 midterm elections and have retained their hold in the chamber ever since. Once the votes cast on November 3 were tallied, Republicans retained 50 seats while Democrats had 48, with Georgia's two seats still up for grabs.
Senators Kelly Loeffler and David Perdue, Georgia's Republican incumbents, ran competitive campaigns against their Democratic challengers in an effort to protect their party's power in the Senate. Loeffler, whom Georgia Governor Brian Kemp appointed to fill former Sen. Johnny Isakson's seat after he retired in 2019, ran against Warnock, the senior pastor at Ebenezer Baptist Church in Atlanta. Perdue, who won his first term in the Senate in 2014, ran against Ossoff, a media executive. A win from either Loeffler or Perdue on January 5 would have granted their party that continuation of power.
Instead, Democrats now run the executive branch, have a majority in the House and have enough seats in the Senate to tie their Republican colleagues on legislative votes, with Vice President-elect Kamala Harris able to break ties as needed as the president of the Senate.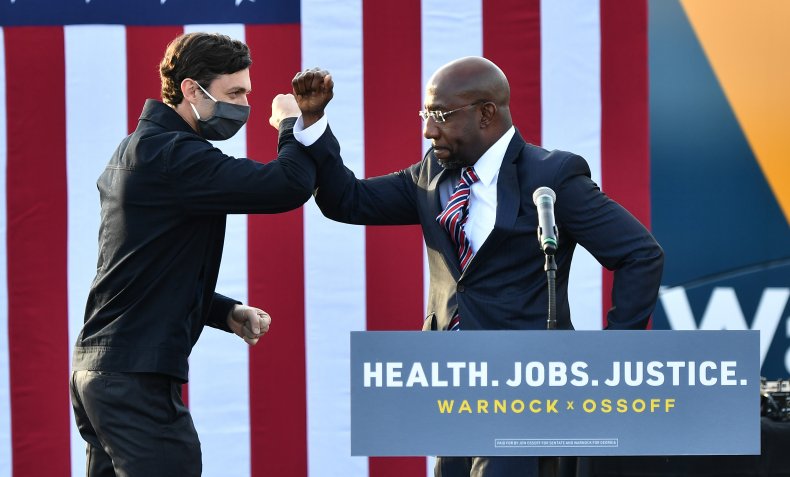 Congressional progressives took to social media on Tuesday to encourage voters in Georgia to cast their ballots in the runoff. In one video Vermont Sen. Bernie Sanders posted on Twitter, he and other progressives gave a brief overview of what they hoped to achieve with Democratic victories.
Sanders identified the runoffs as a "huge deal" and mentioned expanded health care, higher minimum wages and additional COVID-19 relief legislation as agenda items for like-minded legislators. Some Democrats in the House championed those kinds of initiatives, but "because Republicans control the Senate, none of that legislation came from the House to the Senate," Sanders said. As he spoke, a pop-up box appeared beside him containing text that read, "The Georgia runoff election will decide the direction of the U.S. Senate and what we can pass in the Biden-Harris administration."
Congresswoman-elect Nikema Williams, who won Georgia's 5th district race in November, reiterated the importance of the runoffs in Sanders' video.
"Everything is on the line in Georgia," she said.
With Warnock and Ossoff now heading to the Senate, many progressives are hopeful that their wins will grant Democrats a smooth path forward in implementing a more left-leaning agenda. But during a recent conversation with Newsweek, Jennifer Lawless, a professor of politics at the University of Virginia, said the reality likely won't be as clear-cut. With narrow majorities in the House and Senate, Democratic leaders will have to strike a balance between securing legislative victories and avoiding alienating the more moderate members of their party.
"He won't be coming into this with a filibuster-proof Senate, or a substantial-enough majority where potentially vulnerable Democrats can opt not to toe the party line on a vote here or there," Lawless told Newsweek. She pointed to the 2010 midterm election as an example of when the unified Democratic government brought about by the 2008 election fractured following the legislation passed during former President Barack Obama's first two years in office.
"I think the goal will be to avoid what happened in 2010," Lawless said. "It's not just the Senate. There's a razor-thin margin in the House. So even if Democrats are able to hold the Senate, it might not be as easy to pass legislation in the House now as it has in the last two years, just because these Democrats see how vulnerable many of their colleagues were."
Biden's tendency to work with legislators on both sides of the aisle will also likely play a role, Lawless said.
"Given Joe Biden's proclivity to try and compromise, I can also imagine a scenario whereby he's going to, on occasion, want bipartisan support," she said. "If he can get a couple of those Republican votes, then that frees up some of these Democrats to vote no."
Even if Biden pursues bipartisanship on some legislative initiatives, Lawless said it is unlikely there will be much of it during his early days in office due to the current political climate.
"I think bipartisan support will be infrequent. I think there will be occasions where [Biden] feels like he can get it and he'll try for it. But I think the goal on most pieces of legislation will be to secure those 50 votes so that [Harris] can then cast the tie-breaking vote," Lawless said.
Now that Democrats have secured the seats needed to give Harris that power, "Harris is going to spend probably more time in the Senate than in the White House," Lawless told Newsweek.
The time Harris is anticipated to invest in the Senate as a result of the 50-50 party split also means she'll play a different role than that granted to most vice presidents. While some vice presidents take charge of a specific project or legislative issue, others are more involved in the day-to-day decision-making processes, as Biden was during the Obama administration.
"I think she'll have a much clearer legislative legacy than vice presidents typically do," Lawless said. "If Kamala Harris is the tie-breaking vote, there's nothing that's behind the scenes. She becomes basically the legislator-in-chief."
Though small majorities and concerns about the 2022 midterm elections could inspire some caution among Democrats, Lawless pointed out that having a united government means Biden will be able to push through policies not just by relying on executive orders, but with the weight of the legislature behind him.
"A lot of the activity that Biden might otherwise have to relegate to executive order—I'm thinking particularly issues regarding immigration—can now be codified into law, which makes it a lot more difficult for a Republican president to just undo these actions in the future," Lawless told Newsweek. "It's not only smoother sailing to get the agenda implemented. I think the agenda also then has more staying power."