Rapper Wyclef Jean Introduces Attuck Apex AP0 Electric Supercar
Wyclef Jean is following fellow hip hop star Will.I.Am into the automotive business. Jean is premiering his first vehicle, the Attucks Apex AP0 at The Ritz-Carlton Amelia Island Country and Golf Course on March 5, 2023 at 1:30 p.m. The lightweight electric supercar promises expectedly impressive numbers, though few details were given.
The most notable number is the curb weight, which checks in at 2,646 pounds using a carbon fiber monocoque. That's far less than anything but the lightest roadsters today. It's undercut only by the electric $2.2 million Rimac Nevera supercar; it's lighter than even the Lotus Evija EV, from the company famous for lightweight vehicles.
The AP0 has a claimed top speed of 190 miles per hour and a 0-60-mph acceleration time of just 2.3 seconds. Power comes from a 90-kilowatt-hour battery through a 650 horsepower, 427-pound-foot of torque electric motor mounted in the rear.
Jean created the vehicle with partner Elo, owners of Supercar Room Miami, and plans to headquarter the business in Little Haiti, Miami. The rapper wants to help the community, therefore the Attucks company will be responsible for discovering, grooming, and developing technology, starting with inventions, technological solutions, sustainability, creativity and design, coding and web3.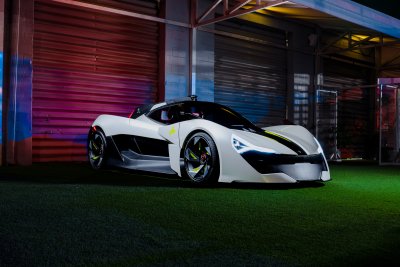 Jean is a notable car collector, being one of the first Americans to import a McLaren F1 and Pagani Zonda to the U.S. He has several other supercars along with the Spider-Man custom motorcycle, built by Orange County Choppers.
The two-seat Attucks EV features a flat underfloor for aerodynamics along with a sculpted body and doors that open upward. LED headlights at the corners are set above rectangular air intakes.
Personal touches from Jean include an "enhanced music and sound experience, analyzing the driver and playing song selections that best fit the mood for optimal driving experience."
Eleven years ago Black Eyed Peas star Will.I.Am attempted to start his own car company, announcing the IAMAUTO brand on Jay Leno's Tonight Show. The company never sold a car, using Chrysler parts to put together its first show car. In May of last year Will.I.Am helped West Coast Customs design a Frankenstein's monster of a Mercedes AMG GT Four-door with the nose of a G-Class SUV.
Alongside Jean's AP0 debut, the Ritz-Carlton Amelia Island Country Club and Golf Course will also be displaying a concept motorcycle built by the Parker Brothers for Wyclef personally called the Attuck Cleftron, as well as Wyclef Jean himself.
The Attuck Apex AP0 will be released in winter of 2024 with a $350,000 price tag, which is actually a good deal, if you consider the alternatives.